This giveaway is now closed.  Thanks for stopping by.  The winner is Janet C.  Congrats!  And thank you for the AWESOME tips!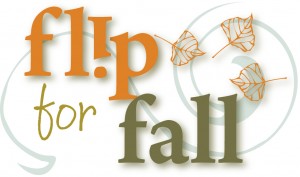 I'm working quickly with my husband to show you (via video) how we Flip for Fall.  The seasons are changing and very soon, we'll be experiencing the dry, Santa Ana winds which just kick start my allergies.  Fortunately, there is much we can do to alleviate and even prevent allergy flare-ups.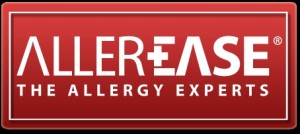 Earlier this year, I reviewed some bedding products from Aller-Ease.  I titled my post, "What Lies Beneath (Your Mattress)" and I still feel like it fits so well.  If you only knew what lies beneath your fluffy pillows and mattresses.  Sorry to be the bearer of bad news, but dust mite droppings, pollen, fungal and mold spores, and pet dander all love squishy bedding, pillows and mattresses (I know..YUK!). All of these microorganisms have the potential to trigger allergy and asthma symptoms so protecting yourself and your family is important.  The most compelling statistic I read about the subject came from Aller-Ease:
"The average bed can contain up to 10 million dust mites and mattresses can double in weight every 10 years due to microscopic allergens that accumulate inside."
It was enough to make me evaluate the place where my family spends a large majority of our lives (in bed!).  I would say that most of our pillows and all three of our mattresses (including my son's) are covered with protective bedding systems.  I sleep with four pillows and we're working on getting them all covered!  Here is a little more information about the Aller-Ease protective bedding systems from the site:
Aller-Ease uses innovative fabric engineering techniques to provide a range of allergen-filtration bedding products, including a breathable, cotton product that filters up to 95% of all particles at the one-micron size, so you can breathe easy while sleeping allergen-free.
The company's product line includes pillow encasements, mattress encasements, and pillows.  They're soft, comfy, and easy to use.  I like the fact that the company offers a range of products in both waterproof and breathable options.  We were away for 2 weeks on vacation, sleeping in hotel rooms and I noticed that my allergies definitely flared up.  It was most likely a combination of a change in climate and temperature and the fact that I was sleeping on unknown pillows and mattresses in hotel rooms (I don't even want to think about it).
The Aller-Ease website is very informative and includes information on how to keep allergens in the bedroom in check:
Encase your mattress, box spring and pillows in highly effective allergen barrier covers, such as Aller-Ease protective bedding products
Wash bed linens weekly in 130-degree Fahrenheit water
Consider traveling with your pillow protector to help minimize symptoms in hotels or while on the road
Remove dust collecting clutter from the bedroom and other areas of your home
Place non-washable plush toys in a zip-lock bag and put them in the freezer for 3-5 hours every week to kill off any dust mites
Air conditioner filters should be changed frequently during the allergy season
Use a low cost home hygrometer to help keep humidity below 50 percent as dust mites thrive in higher humid environments
Use easy to clean hardwood, tile, or linoleum flooring instead of carpeting
If you have carpeting, use a vacuum equipped with a HEPA filter to reduce airborne dust
Shampoo hair nightly and change clothes before entering the bedroom to avoid transferring outdoor pollens into your bedroom
Aller-Ease protective bedding products are very affordable.  If you go to their website, you'll find a list of retailers where the products are sold.  And if you go on Amazon, I'm certain you'll find incredible deals!
Win It! Ok…are you ready for this?  Read carefully ok?  : )  One of you will win 2 pillows, 2 pillow covers, and a mattress protector from Aller-Ease!  It's an awesome package! But that's not all. The other nine bloggers will be hosting the same giveaway (listed below).  But that's STILL not all.  There will be one more winner chosen from the Flip for Fall circle to receive an Aller-Ease prize package (1 pillow, 2 pillow covers, and 1 queen cotton mattress protector).  Eleven chances to win?  That isn't bad!  Here is what you need to do to enter MY giveaway (It's not hard, I promise!):
1.  Leave me a comment on how you Flip for Fall.  In other words, what do you do to prepare for the upcoming season.
2.  Because Aller-Ease wants to hear ALL of your tips, you can enter as many as you like (just leave a separate comment for each one).
3.  Here is the catch!  In order to be eligible for the prize package on the Flip for Fall Circle, you MUST leave your tip on their site as well, with the code "RM."  Please don't forget!  But you can enter here too!
4.  On Twitter?  Tweet with the hashtag #flipforfall and receive another entry (once per day until this giveaway closes).
5.  Support the members of the team by visiting their sites (just leave me a comment on who you visited)
6.  Questions? Just contact me.  I tried to make it as easy as possible for you!
7. Giveaway closes at midnight (PST) on Sunday, September 20, 2009.
The TEAM!
Stephanie of And Twins Make 5
twitter @andtwinsmake5
Kimberly of Pretty Pink Momma
twitter @PrettyPinkMomma
Robyn of Robyn's Online World
twitter @robynsworld
Bing (aka icefairy) of Icefairy's Treasure Chest
twitter @luckytoddler
Dianne of Something Snappy
twitter @somethingsnappy
Whitney of It's Gravy, Baby
twitter @whitneybaugh
Stacie of The Divine Miss Mommy
twitter @stacieinatlanta
Tonya of A Family Completed
twitter @Mom2LinzNOkie
Angie of My Four Monkeys
twitter @MyFourMonkeys
Latest posts by Caryn Bailey
(see all)