Think left and think right and think low and think high. Oh, the thinks you can think up if only you try!
-Dr. Seuss
Every day, I'm fascinated by the pictures my daughter is drawing…the stories my son is telling me. This is an exciting time in each of their lives…filled with imagination and possibility.

Because my children are in school quite a bit during the week, that leaves evenings and weekends open for play, amongst other things.  Interestingly enough, they don't get a lot of time in front of the television, and not because they don't have access to it. My children have such a yearning to build and create that they often prefer their toys over the tube.
One of my daughter's new favorite toys is Fisher Price's Servin' Surprises Kitchen & Table. Both of my children absolutely love "helping" me cook and bake in the kitchen, so an interactive toy like this one is very appropriate for them.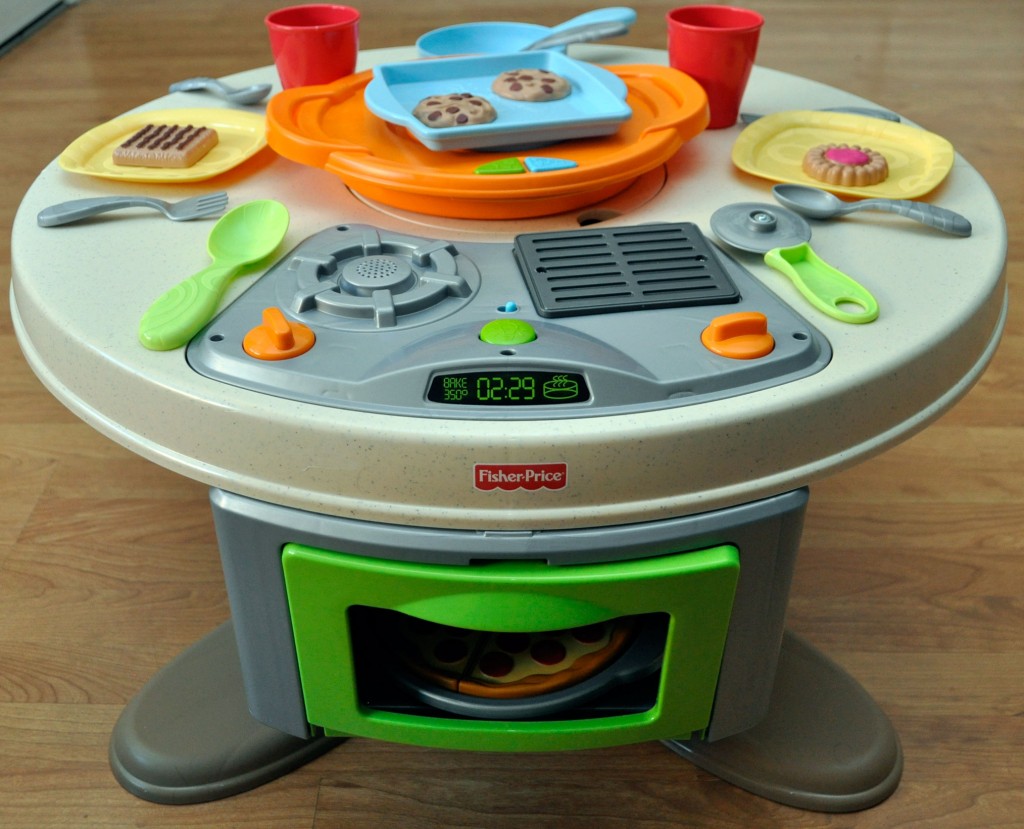 This 2-in-1 kitchen and activity table grows with the child and can be used at 2 different heights. As a kitchen, it features 2 place settings (including plates, utensils and cups), a serving tray, a pan, a cookie sheet, and play pizza and cookies.  Once children are done playing, they can store all of these items in the center of the table.  The stovetop can be flipped over for conversion into an activity table and the oven can be removed.

My daughter's favorite part of this toy are all the sounds, songs, and phrases that play whenever either buttons are maneuvered or a food is served. The "magic" serving tray actually recognizes the foods and responds with the appropriate phrases.  One of the songs teaches children about cleaning up and I have found that this is a great way to remind my daughter about the importance of cleaning up.

While the table wasn't difficult to put together, it took some time since there are 24 screws that need to be secured. I recommend using an electric screwdriver if you have one.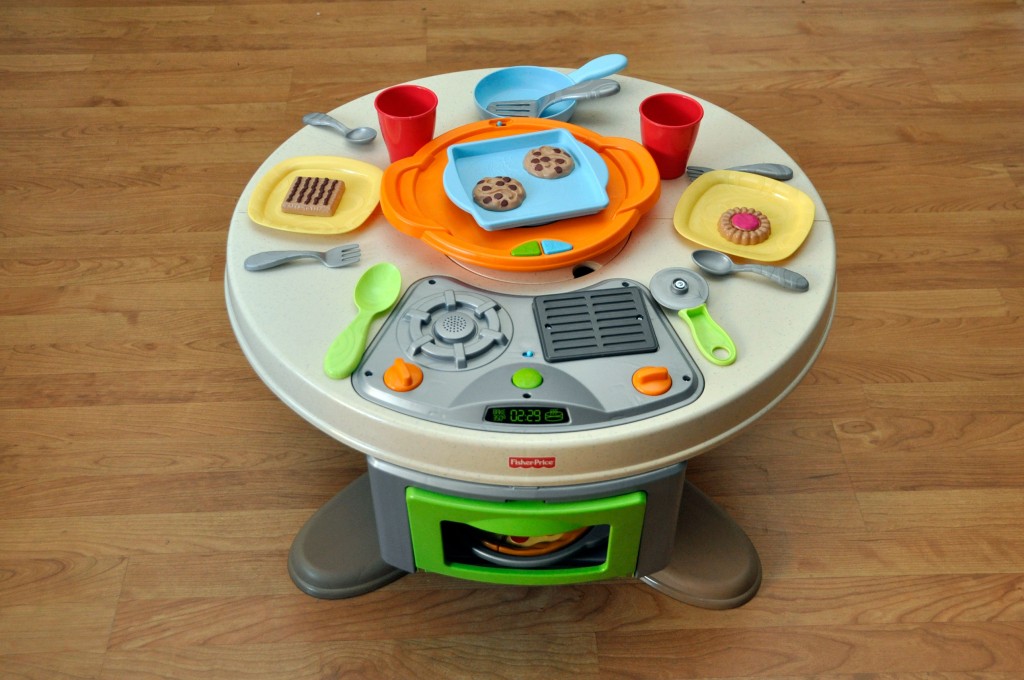 The table is a wonderful and interactive way for children to "pretend" to cook and bake. I like how it doubles as an activity table (we need to find some chairs!). Fisher Price sells additional Servin' Surprises sets which are also recognized by the "magic" tray for additional songs and phrases.
Right now, Fisher Price's Servin' Surprises Kitchen & Table is featured as a Top Toy in Walmart's online Wish List.  You can purchase it for $69.97.
No compensation was received for this post.  A product was provided which helped facilitate this review.