This giveaway is now closed. Congrats to Helen S!
I grew up as an only child so I spent a lot of time doing things with my parents (specifically my mom).  We read stories and played games and dressed dolls and did crafts.  Every year around the holidays, we would go out together and buy a gingerbread house kit.  I have so many fond memories of our holidays together and this is just one of them.
For the first time (I know it's early), we decided that my son was old enough to actually participate and enjoy making a gingerbread house.  Of course he needed a lot of help.  But he was talking about making the gingerbread house all evening (he even told my mom about it on the phone this evening).  I definitely want to continue this with our children in the years to come.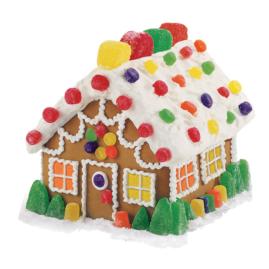 Thanks to Wilton, we had an opportunity to pick out a Gingerbread House Kit from their collection.  Knowing that a 2 year old wouldn't persist through the assembly and drying process, we chose the Pre-Baked and Pre-Assembled Gingerbread House Kit (which was really smart).  I highly recommend this kit for those of you with young children who may not have the dexterity and attention span necessary to assemble a gingerbread house.  At this point, decorating is what really excites them (at least that's the case for my 2 1/2 year old).
I had no idea that Wilton has been around for 80 years!  They make it so easy for people like you and I to make incredible looking (and tasting) cakes, cookies, and other sweet treats!  I'm sure you're familiar with the company but here is a little overview from the site:
For 80 years, Wilton has been the industry leader in cake decorating, quality bakeware and food crafting. We are the number one resource for nationally-located decorating classes, proven supplier of professional Wilton decorating bakeware and provide step-by-step information online and thru our publications to help you make your celebration special with Wilton cakes, cookies, cupcakes and candy.
You don't have to be a Martha Stewart to create professional looking cakes for any occasion.  Their website is incredibly informative and a great resource for everything from recipes to cake decorating to wedding planning!
But back to their gingerbread houses…which by the way, are so easy to assemble and decorate and a lot of fun!  All three of us got in on the fun…check out our video here:
While I'd like to bake and cook everything from scratch, it just isn't feasible for me.  That's why this pre-baked, pre-assembled kit is perfect!  The kit comes with everything you'll need to decorate the gingerbread house, however, you can also purchase additional items such as their Gingerbread House Holiday Candies Assortment, Gingerbread House Handmade Icing Decorations, Gingerbread House Stand Kit, and Gingerbread House Frosty White Icing Mix (which were all used in the decorating of our gingerbread house).  To be honest, the kit came with enough icing to decorate the entire house and we STILL had plenty left for my husband to taste!  If you need gingerbread decorating ideas, just check out their site! Each house also offers it's own ideas on decorating.  Just check the insert that comes with the house or online.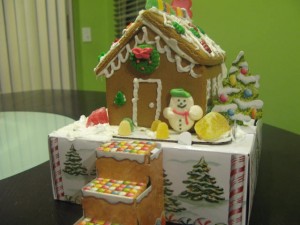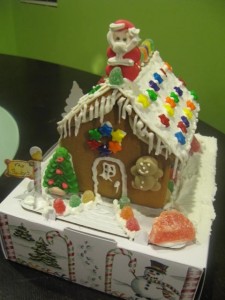 Since we did this so early in the season, I'm not sure how long it will last.  But no worries…we'll be buying another before the holiday season is over!  This particular kit retails for $16.49 but Wilton offers several in prices that range from $12.99 to $49.99.

Win It! One of you will win a prize pack that will include the following: Pre-Baked and Pre-Assembled Gingerbread House Kit, Gingerbread House Holiday Candies Assortment, Gingerbread House Handmade Icing Decorations, Gingerbread House Stand Kit, and Gingerbread House Frosty White Icing Mix.  Simply leave me a comment with something fun and interesting you found on the site (other than gingerbread). Comments will close on December 1, 2009 at 10 pm PST. One comment per person, please (unless you do the extra credit). US residents only. Duplicates and comments not including the above information will be disqualified. Comments are moderated. If you don't see your comment in a reasonable amount of time, send me an email. Bloggers and non-bloggers may enter. If you don't want to leave your email address, please be sure to check back for my announcement on the winner. Please note that winners must respond within 48 hours of being announced/contacted or another winner will be drawn.
Want an extra entry? Do any or all of the following and receive an extra entry for each one.
Be sure to leave me a separate comment for each additional entry.

Add the "Holiday Gift Guide" button to your sidebar and leave me a comment (be sure it's up for the duration of the gift guide!)
Check out my Holiday Gift Guide and leave a comment on that site about a product you like! (Maximum of 1 Comment for this).
Follow me on Twitter AND tweet about the contest. Be sure to use the hashtag #holidaysurvivalguide
Enter Shannon's giveaways (Maximum of 1 Comment for this).
Subscribe to my feed via email or reader.
Blog about this giveaway. It doesn't have to be a separate post. Just include a blurb about it when you blog about other giveaways.
Click on one of the very cute buttons below and digg, stumble, fav, etc. Just let me know what you did in the comments!
For more fabulous Holiday Gift Ideas, visit The Mommy-Files