This giveaway is now closed. Congrats to Maggie C!
This year's holiday season is sure to bring out the best in toys from a variety of companies.  And if you're like me, choosing the right toy…one that will turn your tot into a little genuis…isn't necessarily straightforward.  There are things to think about…like price and availability and durability and lasting value.
JAKKS Pacific has an incredible holiday lineup of toys for children.  Some of my favorite brands represented include Discovery Kids, GX Racers, Girl Gourmet, and Style Six.  Here are just a few holiday gift ideas, courtesy of the company: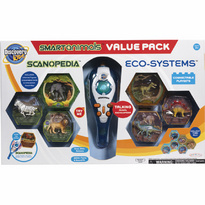 If your children enjoy animals (what child doesn't?) Discovery Kids Smart Animals Eco-Systems allow children to collect, build, and play with a full set of miniature animal habitats.  Or better yet, check out their Yuck Bugs! toys.  Fortunately (for the sake of moms) they're not real!
Little boys love cars.  And racing.  And things that go go go!  Just released this summer are the GX Racers.  They combine speed with stunts and just look like a lot of fun.  My picks?  The GX Motorized Launcher and GX Racers Tightrope Terror Playset (because I want to see these cars defy the norm).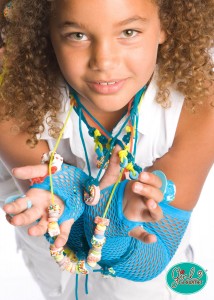 When I was a little girl, I had a little play oven that my mom and I would bake small cakes in.  These days, little girls can make edible gourmet cupcakes and design cakes (for the aspiring Martha Stewart) with Girl Gourmet's line of "fun and fashionable bakeware."  Baking is not only fun, it teaches children about life (because we all know how great of a cook I am!).  New to the line is the Girl Gourmet Candy Bead Studio.  These necklaces and bracelets look good enough to eat (and fortunately, they're edible!).  The set includes a vacuum-molded beading compartment and bead guide along with the resources required to make 24 edible necklaces and bracelets.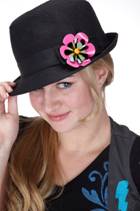 If you have a crafty tween, check out Style Six's fashion activity kits.  Where was this when I was growing up?  Girls can design their own t-shirts, jeans, purses, hats, belts, and more using silkscreen, airbrush, stencils, felt, paint, ribbons and gems (so cool!).  A perfect activity for aspiring fashion designers!  Check out the entire line of activity kits.
Much of JAKKS Pacific's toy lineup includes activities that will inspire creativity and foster learning.

Win It! One of you will win a Girl Gourmet Candy Bead Studio!  Simply leave me a comment with ANOTHER product from the site that you'd like this holiday season for your child.  Comments will close on December 1, 2009 at 10 PM PST. One comment per person, please (unless you do the extra credit). US residents only. Duplicates and comments not including the above information will be disqualified. Comments are moderated. If you don't see your comment in a reasonable amount of time, send me an email. Bloggers and non-bloggers may enter. If you don't want to leave your email address, please be sure to check back for my announcement on the winner. Please note that winners must respond within 48 hours of being announced/contacted or another winner will be drawn.
Want an extra entry? Do any or all of the following and receive an extra entry for each one.
Be sure to leave me a separate comment for each additional entry.

Add the "Holiday Gift Guide" button to your sidebar and leave me a comment (be sure it's up for the duration of the gift guide!)
Check out my Holiday Gift Guide and leave a comment on that site about a product you like! (Maximum of 1 Comment for this).
Follow me on Twitter AND tweet about the contest. Be sure to use the hashtag #holidaysurvivalguide
Enter Shannon's giveaways (Maximum of 1 Comment for this).
Subscribe to my feed via email or reader.
Blog about this giveaway. It doesn't have to be a separate post. Just include a blurb about it when you blog about other giveaways.
Click on one of the very cute buttons below and digg, stumble, fav, etc. Just let me know what you did in the comments!
For more fabulous Holiday Gift Ideas, visit The Mommy-Files