This giveaway is now closed.  Thanks for stopping by. The winners are Lisa767 and Lee T. Congrats!
To those of you who read my blog and represent companies with edible products…just ignore the fact that I'm currently trying to lose that last 10 (+) pounds that stuck around after my son was born.  I will sacrifice for the greater good of promoting your delectable edible delight. Ok…so I'm totally not joking!  Seriously…I am constantly amazed at how much companies value the opinions of moms (and consumers) like myself.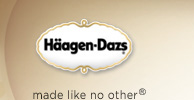 I was fortunate enough to review the new Haagen-Daz's Five series of all-natural ice cream.  Thanks to Mom Central, I was shipped a box of 4 DELICIOUS flavors on dry ice.  I was so impressed when I opened the box and they were frozen solid like ice cream should be.  Kudos to Mom Central…and if you haven't signed up, what are you waiting for? *Smiles*
Ice cream is the type of food I like to eat without worrying about fat and calories.  I like real ice cream made with cream and milk!  I don't want added sweeteners, preservatives and ingredients I can't pronounce. When I think of Haagen-Daz, I think of quality.  They're known for using the finest, all-natural ingredients to create a supreme ice cream.  They also disclose all ingredients which is important for consumers looking for tranparency.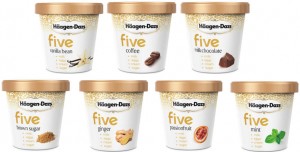 The Haagen-Daz Five series is comprised of five ingredients that you can pronounce and find in your kitchen.  Each of the seven varieties include milk, cream, eggs, sugar, and the ingredient that represents the dominant flavor (Chocolate, Mint, Passion Fruit, Ginger, Coffee, and Brown Sugar).  The ice cream…is divine.  I have no idea how something so simple could taste so good.  It's rich, creamy, and sweet, but not overwhelming.  I love being able to taste that one focus ingredient without being distracted by anything else.  Of the four flavors I tried (Mint, Passion Fruit, Ginger, and Brown Sugar), Mint and Brown Sugar are my favorites.  I honestly wouldn't expect anything less of a brand that really is the Cadillac of ice cream purveyors.  I really hope they introduce some new flavors in this line.  I'd love to see Strawberry and Cinnamon, added as new flavors! I also plan on experimenting by mixing different flavors together (Chocolate and Mint and Chocolate and Coffee sound delish!).
The Haagen-Daz Five series is in stores now and retail for $4.29.  Be sure to use the Flavor Finder to find out where your favorite flavor is currently in stock!  Here is an exclusive recipe using Brown Sugar:
Häagen-Dazs Five Brown Sugar Ice Cream with Warm Apple Cinnamon Blossoms

Makes 4 servings
1-1/2 tablespoons butter, melted
2 sheets filo dough (about 12"x15" each)
2 medium Granny Smith apples
2 tablespoons lemon juice
1/4 cup granulated sugar
1 tablespoon butter
1/2 teaspoon cinnamon
1/4 teaspoon nutmeg
Häagen-Dazs Five Brown Sugar Ice Cream

Preheat oven to 350oF.  Invert a muffin tin and brush the
bottom and sides of the four corner cups with a little of the
melted butter.

Lay one sheet of filo dough on a dry surface. Brush with half the remaining butter. Lay second sheet of filo on top. Brush with remaining butter. Trim one short end to make an even square. Cut square into four squares.

Place each square of filo over one of the buttered muffin cups. Gently fold and crimp filo around edges of cups to form an inverted bowl. Place inverted pan in oven and bake 6-8 minutes until filo is golden brown. Cool filo cups on pan.  (Can be baked up to two days ahead and stored in an airtight container.)

Peel and core apples. Cut into 1/8-1/4-inch slices and toss with lemon juice in a medium bowl. Combine sugar, butter, cinnamon, nutmeg and 1/3 cup water in a wide skillet; bring to a rapid simmer over medium-high heat. Add apples and lemon juice. Cook 5-7 minutes stirring frequently until apples are tender, adding 1-2 tablespoons water if liquid evaporates. With a slotted spoon remove apples to a bowl to cool slightly. Continue cooking liquid 1-2 minutes until syrupy.

Gently lift filo cups from pan. Spoon warm apples into cups. Place a scoop of Brown Sugar Ice Cream over apples and drizzle with syrup. Serve immediately.
Win It! I received some coupons from Mom Central with the package of ice cream.  My dad heard about my ice cream delivery and made me promise to save him a container and I MUST try chocolate so two of you will receive a coupon to try a 14 ounce container of the Haagen-Daz Five series in the flavor of your choice.  Simply head on over to the site and take a look around.  Come back here with a flavor you want to try and a flavor you'd like to see that isn't available in the Five series.  Comments will close on April 17, 2009 at 10 PM PST.  One comment per person, please. US residents only. Duplicates and comments not including the above information will be disqualified. Comments are moderated. If you don't see your comment in a reasonable amount of time, send me an email. Bloggers and non-bloggers may enter. If you don't want to leave your email address, please be sure to check back for my announcement on the winner. Please note that winners must respond within 48 hours of being announced/contacted or another winner will be drawn.
Want an extra entry? Do any or all of the following and receive an extra entry for each one.
Be sure to leave me a separate comment for each additional entry.
Follow me on Twitter AND tweet about the contest.
Subscribe to my feed via email or reader.
Blog about this giveaway. It doesn't have to be a separate post. Just include a blurb about it when you blog about other giveaways.
Place my button on your site. If you have difficulty, please let me know.
Click on one of the very cute buttons below and digg, stumble, fav, etc. Just let me know what you did in the comments!

Latest posts by Caryn Bailey
(see all)