This giveaway is now closed. Thanks for stopping by. The winner is Deb K. Congrats!
By now I've shared with you my heart and passion for breast cancer awareness. I went to nursing school with a girl who was a breast cancer survivor. She shared her story in front of all of us and the one thing that stuck in my mind, was how doctor after doctor after doctor had dismissed her symptoms as benign since she was so young. How years (yes years) went by before she was officially diagnosed with breast cancer. How it had metastasized to various parts of her body. How she was a survivor. How she was the one who had found her cancer in the first place.
We all know about monthly self breast exams and how important they are. We all know we need to get a yearly exam. But how many of us actually do these things? October is Breast Cancer Awareness month. Every year the goal is to get this information out to as many women as possible. Every year companies work to raise money towards a cure. This year is no different. If one woman goes to get her mammogram or starts to do her monthly self breast exams, then it will have been worth it (at least to me).

I hope none of you who read this have been affected by breast cancer. But that is just a hope…it's not a reality. The reality is that one of you probably has been affected…a friend…a sister…a mother. Pink Together is an online community where those touched by breast cancer can connect, provide support, comfort, and encouragement to one another. You'll find inspiring stores of survivors and supporters within in the community. The site is part of a national campaign to support those affected by the disease and it's goal is to raise awareness.
Many companies are doing their part and one such company is General Mills who donated $2 million to Susan G. Komen for the Cure. They have turned many of their packaging pink and will continue to donate $1 (up to $20,000) each time a comment of encouragement is posted, a virtual flower bouquet is sent or a story is shared on the site through the end of October. I hope many of you will check out the site.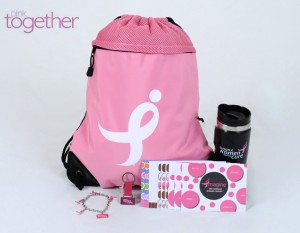 Win It! I really want to help generate awareness so I'm offering one of you the chance to win an Inspiring Hope gift basket that includes a sleeved travel mug, a running ribbon charm bracelet, a pink leather strap keychain, a pink cinch bag, and a set of inspirational note cards. All of the gift basket items are from ShopKomen.com, where 25 percent of the merchandise purchase price benefits Susan G. Komen for the Cure® in the fight against breast cancer. Simply leave me a comment with something you found inspiring on the site. Comments will close on November 2, 2009 at 10 PM PST. One comment per person, please (unless you do the extra credit). US residents only. Duplicates and comments not including the above information will be disqualified. Comments are moderated. If you don't see your comment in a reasonable amount of time, send me an email. Bloggers and non-bloggers may enter. If you don't want to leave your email address, please be sure to check back for my announcement on the winner. Please note that winners must respond within 48 hours of being announced/contacted or another winner will be drawn.Want an extra entry? Do any or all of the following and receive an extra entry for each one.
Be sure to leave me a separate comment for each additional entry.
Follow me on Twitter AND tweet about the contest.
Subscribe to my feed via email or reader.
Blog about this giveaway. It doesn't have to be a separate post. Just include a blurb about it when you blog about other giveaways.
Click on one of the very cute buttons below and digg, stumble, fav, etc. Just let me know what you did in the comments!
Profuse thanks to MyBlogSpark for this review opportunity!