This very quick giveaway is now closed!  Thank you so much for stopping by.  The winners are Kristie, Jessica M., Amanda S., and Nancy M. Congrats and Happy Thanksgiving!
In one week, we'll head over to my parent's house to sit down as a family for a Thanksgiving meal.  This year, we were unable to visit my husband's family because I'm about to have a baby!  Thanksgiving at each of our respective families' homes is very different.  My husband's familial celebration is large and traditionally Southern in all aspects (think green bean casserole and football).  My familial celebration is intimate with foods that are mostly representative of a traditional Thanksgiving meal.  Both are casual and involve a lot of discussion and lounging around (I prefer it that way these days).  And in each of our homes, food is abundant.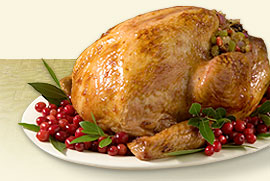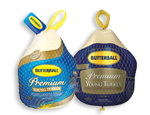 This year (and every year before for as long as I can remember), we'll have a turkey from Butterball.  I've had many a Butterball turkey in years past.  And this year, my father will do a majority of the cooking (just like he's always done).  I enjoy a variety of traditional Thanksgiving foods…cranberries…stuffing…rice pilaf…potatoes.  But everyone knows to leave dessert up to me!  While it varies from year to year, pumpkin pie MUST be one of the desserts at our meal.  So, in light of the fact that we'll be celebrating in one week, I thought I'd share with you one of my favorite pumpkin pie recipes:
Spiced Pumpkin Pie (courtesy of Williams-Sonoma):
Ingredients:
1 small pumpkin, 2 1/2 lb.
Pastry for a 9-inch pie
1/4 cup maple syrup
1/4 cup firmly packed light brown sugar
1 1/2 tsp. ground cinnamon
1 tsp. ground ginger
1/2 tsp. freshly grated nutmeg
1/4 tsp. ground cloves
3 eggs, beaten
3/4 cup half-and-half
Sweetened whipped cream for serving
Directions:
Preheat an oven to 350°F. Lightly oil a baking sheet.
Cut the pumpkin in half through the stem end and place, cut side down, on the baking sheet. Bake until easily pierced with a knife, about 1 hour. Let cool. Scoop out the seeds and fibers and discard. Puree the flesh in a food processor fitted with a metal blade until smooth. Measure out 1 1/2 cups; set aside. Increase the oven temperature to 375°F.
On a well-floured work surface, roll out the pastry into a 12-inch round. Transfer to a 9-inch pie dish and gently press into the bottom and sides of the dish. Trim the edges, leaving a 1 1/2-inch overhang, then fold under the overhang and crimp to form an attractive rim. Prick the bottom and sides of the pastry with a fork. Freeze for 10 minutes. Line the pastry with aluminum foil and fill with pie weights. Bake for 15 minutes. Remove the weights and foil and continue to bake until lightly golden, 10 to 15 minutes. Transfer to a wire rack and let cool. Leave the oven set at 375°F.
In a bowl, whisk together the pumpkin puree, maple syrup, brown sugar, cinnamon, ginger, nutmeg, cloves, eggs and half-and-half until well mixed. Pour into the baked pie shell. Bake until a skewer inserted into the center comes out clean, 45 to 55 minutes. Let cool for at least 30 minutes. Serve the pie with the whipped cream on the side. Serves 10.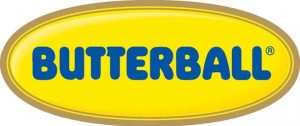 Win It! FOUR of you will win a voucher which you can redeem for a Butterball turkey (10-12 pounds, RV $15).  Simply leave me a comment with either a Thanksgiving recipe or a Thanksgiving memory.  Comments will close on Monday, November 23 at 9 am PST.  One comment per person, please (unless you do the extra credit). US residents only. Duplicates and comments not including the above information will be disqualified. Comments are moderated. If you don't see your comment in a reasonable amount of time, send me an email. Bloggers and non-bloggers may enter. If you don't want to leave your email address, please be sure to check back for my announcement on the winner. Please note that winners must respond within 48 hours of being announced/contacted or another winner will be drawn.
Want an extra entry? Do any or all of the following and receive an extra entry for each one.
Be sure to leave me a separate comment for each additional entry.
Follow me on Twitter AND tweet about the contest.
Subscribe to my feed via email or reader.
Blog about this giveaway. It doesn't have to be a separate post. Just include a blurb about it when you blog about other giveaways.
Click on one of the very cute buttons below and digg, stumble, fav, etc. Just let me know what you did in the comments!
Latest posts by Caryn Bailey
(see all)