{Sponsored}
So much of my passion for cooking involves sharing my culinary creativity with friends and family to enjoy.  Food is an experience and every step that leads to the final dish is an opportunity to make memories. Growing up, I was always assigned dessert and a side dish and I remember that even as a young girl, I was looking for gourmet and elaborate as opposed to simple and ultra-traditional.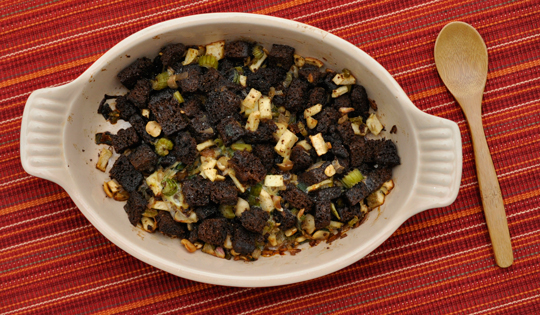 This year, I'm making a new version of the stuffing our family has enjoyed throughout the years. Traditionally, my stuffing has included apple, cranberries and fennel alongside some incredible brioche. This year's Gingerbread stuffing incorporates both sweet and savory flavors but utilizes one of my favorite holiday breads as the hero. The result is a sweeter stuffing that still pairs nicely with turkey or ham or can be served on its own as a side dish.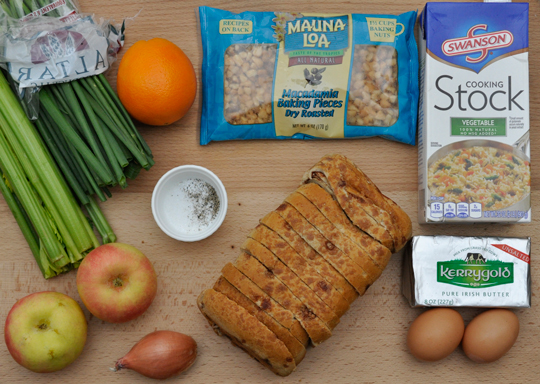 Everything for this Gingerbread Stuffing Recipe can be found at your local Walmart.

Gingerbread Stuffing Recipe
Ingredients
6

cups

of cubed gingerbread

3-4

T

butter

3

shallots

diced

3

stalks of celery

diced

2

apples

diced

12

green onions

diced

3/4

cup

chopped macadamia nuts

The zest of 1 orange

1/2-3/4

cup

vegetable broth

2

eggs

lightly beaten

Salt and pepper to taste
Instructions
Preheat oven to 350°F

Prepare baking dish with non-stick cooking spray or butter

Spread cubed gingerbread out onto baking sheet and dry out for approximately 20 minutes

In a medium-sized skillet over medium-high heat, sauté shallots, celery and apples until soft (do not brown)

In a large bowl, combine dried bread crumbs with sautéed vegetables/fruit, green onions, macadamia nuts and orange zest

Add just enough broth to moisten mixture

Mix in 2 eggs

Season with salt and pepper

Pour mixture into prepared baking dish and cover with aluminum foil

Bake at 350°F for 35-40 minutes, then uncover and bake an additional 10 minutes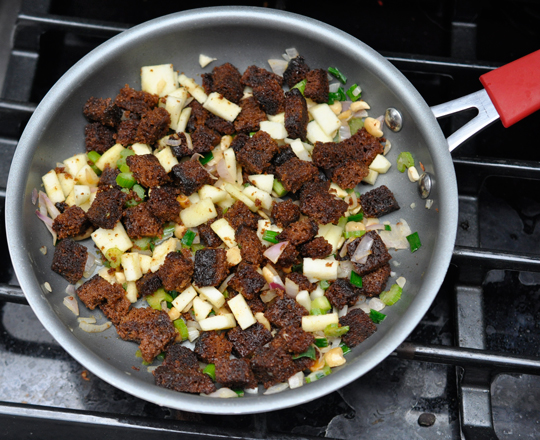 One of the things I love about stuffing recipes is that they are very forgiving. If you start with a few basic ingredients, you can generally vary them with your favorites and the result is still nothing short of amazing. This particular stuffing merges my favorite sweet holiday flavors but retains its identity as a stuffing with the inclusion of more savory flavors like shallots and onions. I really like the added crunch afforded by the macadamia nuts. Interestingly enough, I thought about adding fennel since it's one of my favorite ingredients in stuffing. The result would be equally amazing.
If you're short on time, I highly recommend buying gingerbread since a stuffing recipe should be quick and easy to prepare. If you enjoy making gingerbread during the holidays, make a larger batch a few days before you plan to prepare this dish for guests. And since gingerbread is a moister bread, making (or buying) it ahead of time will allow it to naturally dry out.
If you are unable to find gingerbread, any spiced bread could easily be substituted.
For additional holiday entertaining recipes, visit Walmart's Holiday Entertaining Guide. In it, you'll find holiday ideas and inspiration from Pinterest, recipes and tips from The Pioneer Woman, and easy, delicious recipes you can re-create at home. You'll also find holiday entertaining tips & hacks and simple solutions to make your next gathering memorable. I've also compiled a list of my top 5 Holiday Entertaining Recipes from the guide.
1. The Pioneer Woman Kale Citrus Salad Recipe
2. The Pioneer Woman Spicy Mac and Cheese Recipe
5. The Pioneer Woman Chocolate Pie Recipe
Latest posts by Caryn Bailey
(see all)