A favorite among preschoolers like my son, Max and Ruby celebrates sibling relationships. Based on the books created by children's author/illustrator Rosemary Wells, each episode showcases different stories about Max and his big sister Ruby, who just happen to be bunnies.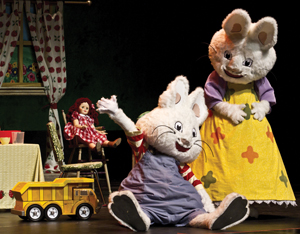 This Fall, the sibling duo are going on a nationwide tour with a stop in Long Beach at the Terrace Theater (Long Beach Performing Arts Center). The 70-minute live theatrical production features exquisite costuming, rich, colorful sets, and original songs by Juno Award winning songwriter, Norman Foote.
Max and Ruby are planning a surprise party for someone special…but it's a mystery! As is the case with any party, there are many things that have to be done before the grand event. And as is characteristic of the sibling duo, neither want quite the same thing so their plans collide with hilarious results.
Max & Ruby: Bunny Party will perform on November 20th at 1pm and tickets are currently on sale. You can visit the website for a complete list of nationwide tour dates.
Terrace Theater – Long Beach Convention Center and Entertainment
300 E Ocean BL, Long Beach, CA 90802
Sun, Nov 20, 2011 01:00 PM
Tickets: $20-$65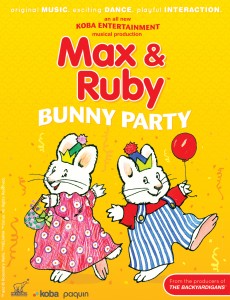 No compensation was received for this post. Media tickets provided.