{Sponsored}
One of my father's favorite down-time activities was watching the latest football game on a Sunday afternoon. Sometimes, we'd have friends over to share in the fervor, but more often we'd spend this time together as a family. If an important game was playing, I can assure you that dinner was light and consisted of appetizers and finger foods…anything that could be prepared quickly and without too much effort.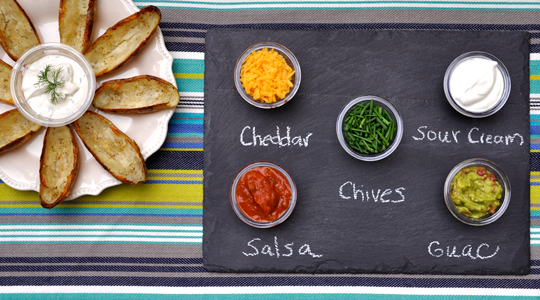 I personally love the idea of a Baked Potato Bar, where everyone has their choice of toppings and fillings. Since Potato Skins are a popular game-time treat, I decided to put together a Game Time Potato Skin Bar complete with every type of filling and dip that I love. Despite this recipe's ease, it is time-consuming. I recommend preparing any sauces and dips in advance so that they are ready to serve on the big game day.
For this Potato Skin Bar, I included sharp cheddar cheese, sour cream, chives, salsa and guacamole, but there really is no limit as to what you envision putting in your Potato Skin. Have each of the toppings and fillings in ramekins and labeled for guests to easily top their potato skin with their favorites.

Potato Skins
Ingredients
6

Russet Potatoes

Olive oil

Salt and Pepper
Instructions
Preheat oven to 400 °F

Scrub potatoes until clean

Dry

Rub potatoes with olive oil

Place on a baking sheet and bake at 400 °F for 50-60 minutes, or until potatoes are soft

Cool

Slice potatoes lengthwise

Carefully scoop out filling, leaving a layer of potato inside the skin

Drizzle inside and outside of potato skin with olive oil

Season with salt and pepper

Bake potato skins upside-down for approximately 5 minutes or until brown

Using tongs, flip potato skins right-side up for another 3-5 minutes or until brown

Cool before serving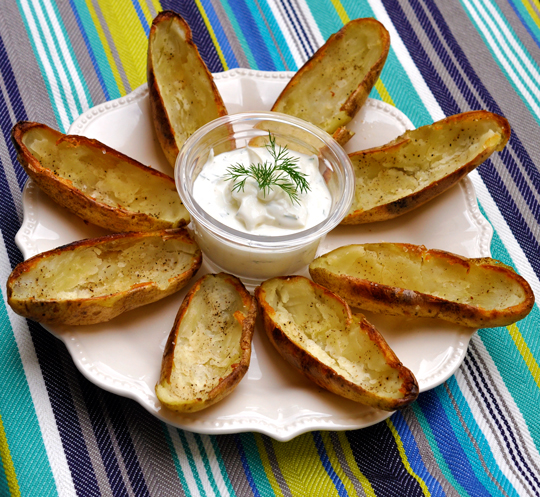 As easy as potato skins are, I definitely find them to be tricky to get right. Here are some tips to ensure your potato skins remain intact: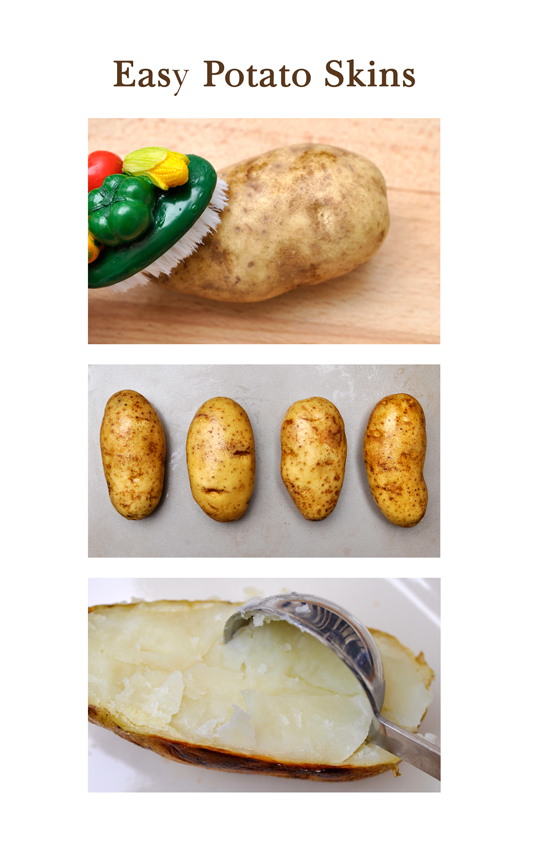 1. Don't prick your potatoes with a fork before baking. This will weaken the skin and make it more difficult to scoop out the inside of the potato.
2. Ensure your potatoes are thoroughly baked. If it becomes too difficult to scoop out the inside of the potato, they require additional time.
3. Support both sides of the potato and gently scoop out the inside of the potato with a small spoon.
4. Be sure to leave a layer of potato inside of the skin which will help provide support during baking. It also ensures you can load that potato skin to the max with your favorite toppings and fillings.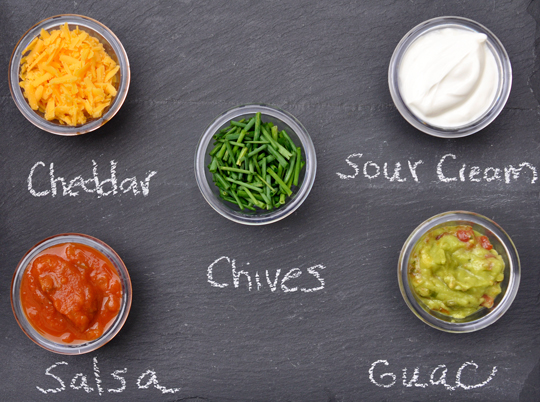 In addition to the fillings mentioned above, I also created a Green Goddess Sauce to use as a dip if you prefer to eat your potato skins without filling them. Here is my healthier twist on a recipe I created for my salmon burgers a few years ago.
Green Goddess Sauce
1/4 cup cream cheese
1/4 cup greek yogurt
1/2 tablespoon lemon juice
1 tablespoon chopped dill
1/2 teaspoon ground mustard
1/2 teaspoon powdered garlic
salt and pepper to taste
Combine all ingredients in a bowl until smooth.
Refrigerate for 30 minutes to allow flavors to meld.
Once your potato skins have been baked and cooled, simply display your favorite toppings and fillings on a serving plate and label them (I like to use chalk!).

What is your favorite Game Time recipe? If you share a photo on Twitter or Instagram using the hashtag #WalmartMVPContest, you'll be entered to win a trip to LA where you'll have an opportunity to have a pre-Superbowl party and create content with YouTube stars at the YouTube Studios. For more information or the rules on entering this contest, visit Walmart.com.
And for additional Game Time recipes, visit Walmart's dedicated recipe section.

Latest posts by Caryn Bailey
(see all)