I don't know if anyone is as paranoid as I am, but I worry just a tiny bit about my husband losing things.  Before you think I'm completely neurotic, I have good reason to worry.  You see, my husband has in fact lost things…important things.  I love my husband and this post is in no way meant to criticize him.  We all have our weaknesses…I can't cook and my husband tends to "misplace" things.  So I thought that one of the things he could benefit from was a money clip.  Now…you're probably wondering…what in the world is a money clip?  Basically, it's an alternative to carrying a wallet and used to store money and credit cards compactly.  You're now probably wondering why use a money clip if these items can be stored in a wallet?  Well, my husband likes to place credit cards and money in his pocket (despite the fact that he has a wallet).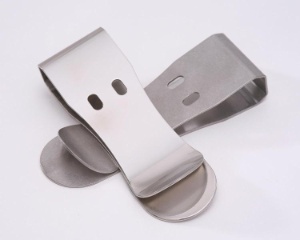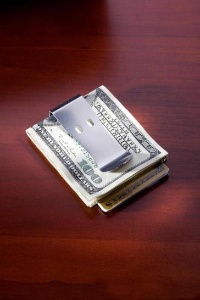 So, I decided that it might be a good idea for my husband to have a money clip.  Profuse thanks to Bill at Duckbill Design, who was gracious enough to send my husband a personalized one to review.  Both hubby and I have never had any experiences with money clips, but apparently they're not alike in quality.  Here is a little more information about why the Duckbill Money Clip actually works (kind of important, right?):
Nothing works like the patented Duck Bill Money Clip. With its revolutionary Quad Bend Bite, the Duck Bill Money Clip is engineered in the U.S.A. to keep your cash, plastic and "stuff" securely gathered. Simply, we think it's the best designed, best functioning, most durable money clip out there.  Your Duck Bill Money Clip arrives in an embossed, steel, collectible box, nested in protective EVA foam.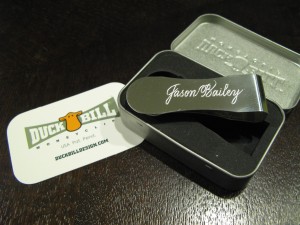 The first thing we noticed about the money clip is that it's durable and made from quality metal.  I like the slim, lightweight design and it's sleek, shiny look.  The actual clip is very strong (meaning, I can't imagine money or credit cards "escaping" from it).  And despite the fact that it looks rather small, it can hold 60 folded bills or any combination of cash and plastic.  I'm laughing because my husband doesn't carry that much cash or credit around.
The company does a really nice job of engraving the money clip (which I highly recommend, particularly if it's a gift).  It's available in a matte or polished finish and retails for $36 (without engravement) or $46 (engraved with up to 24 characters).  It also comes packaged in an embossed steel gift box (which means I don't have to wrap it!).