In the midst of this busy holiday season, I'm purposefully thinking about ways we can slow down and spend time together as a family.  My kids have grown to love our family movie nights because they know we'll have popcorn, vegan pizza, and other treats we don't typically consume.
As a young girl, I was a total gamer, so I'm not surprised that both of my children have shown interest in video games.  A few weeks back, we had a play date with some friends and my son came home with a new wish for his Christmas list: Skylanders Giants!  I would have to be living under a rock to have never heard of the popular gaming phenomenon, but I really wasn't sure what it was all about and whether or not it was appropriate for my son.
Walmart recently launched Gamer Network HQ, a fantastic new resource for families looking for advice on all-things video games. The Walmart Gamer Network is a group of professional gamers who provide product information, online reviews, and in-store education.  Their new Twitter channel (@GamerNetworkHQ) is dedicated to moms and offers video game education and tools for finding family-friendly games. The channel is managed by real gamers which means at any given time, I could go on and tweet with an expert.

Since I had very little knowledge of this particular game, I thought I'd head over to my local Walmart to speak with our local gaming expert from The Gamer Network. Interestingly enough, he is available a few weekends a month to offer tips and education at our local Walmart.  Plus, some weekends he offers giveaways!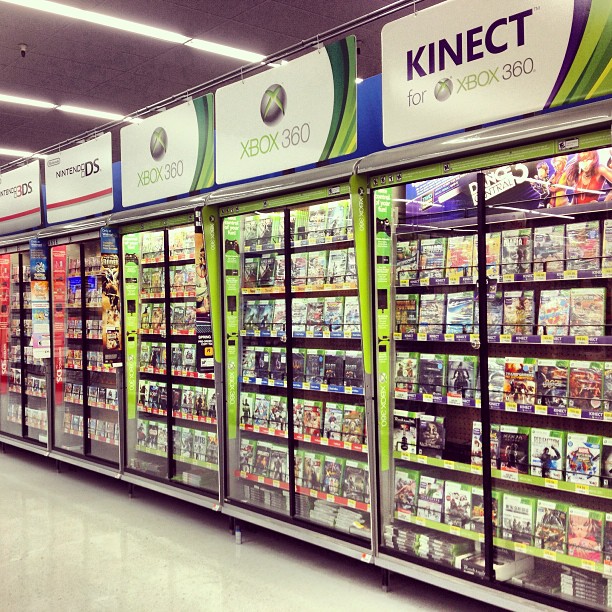 Our particular store has a TON of games…this is just one aisle!

Once I actually found the Skylanders Giants section, I was a bit lost as to where to begin. Fortunately, the expert in our store helped me settle on the Skylanders Giants Starter Pack for our Xbox 360. I wanted to purchase a few more character figures to go along with the game, but our store had a very limited selection and the expert advised that I wait until more stock had arrived.

One of the things I learned during my chat with the gaming expert is that this is a sequel to a previous Skylanders game titled Spyro's Adventure. I wondered if my son would actually be able to play this without any real experience or knowledge of the first game. The expert reassured me that the game provided enough detail, instruction, and back story and it wasn't necessary that he have experience with the first game.

The game itself is unique and unlike anything I've seen to date. It does build upon the original and uses toy figures with "brains" that come to life in the game.  If your family is new to the world of Skylanders, I recommend getting a starter pack because it includes the game, the portal and 3 toy figures.  As I mentioned above, this is our first experience with Skylanders, but from what I've learned, Giants introduces new characters that are twice the size of the originals both in physical (the toys) and virtual (in the video game) form.  The game offers new challenges, a new story-based adventure, and advanced integration through the video consoles (i.e. Xbox 360, Nintendo Wii, etc.), handheld gaming systems, mobile and online gaming solutions. In other words, however you enjoy gaming, you'll likely be able to play Skylanders Giants!
Because we don't own the first game (or the figures), I wasn't overly concerned about compatibility. One thing the gaming expert did mention was that if families own Skylanders Spyro's Adventure, the characters are compatible with Skylanders Giants.
There isn't anything more frustrating for families than the introduction of a sequel where nothing is compatible.
Since this is a game that my daughter is definitely too young to play, we also picked up Kinect Sesame Street TV, which brings children into the world of Sesame Street. Through Kinect's innovative technology, children like my daughter can interact with Elmo, Cookie Monster, Big Bird and the rest of the Sesame Street gang by using full-body gestures to play and learn inside their world. Gone are the days of passive video gaming.  This game is fun, engaging, and educational, and both of my children have been enjoying it!
If you're thinking about giving the gift of video games this holiday season, check out the Gamer Network and Walmart's expansive selection of titles for the entire family.
I participate in the Walmart Moms Program and am compensated for my time and honest opinions.