This giveaway is now closed.  Thanks for stopping by.  The winners are Pamela, joanmurraycefalu, and Sonya.  Congrats!
will be very honest in admitting that my husband and I are foodies (not in the snobby sense of the word).  We just like to eat really good food.  The dictionary defines a foodie as "someone who has an ardent or refined interest in food."  I like that definition.  Going out to eat is a treat for us these days.  What used to be the "norm," is now only a rarity.  It's really difficult to bring a 2 year old to fondue restaurant with a four-course meal, a Spanish tapas restaurant, a Teppanyaki restaurant, or a Japanese restaurant for Shabu Shabu (yes, these are the types of meals my husband and I like to eat when we go out).  We're in that stage of our lives where the words "family friendly" precede gourmet.

I've eaten at Souplantation numerous times.  We used to go there every Sunday after church.  The food is fresh and the prices are reasonable.  And it's loud, so you can bring children inside and fit right in.  I've only eaten at Souplantation for lunch, so I can't attest to their meal offerings at other times.  But for lunch, it's good. And today, that is where all three of us ate (courtesy of the company).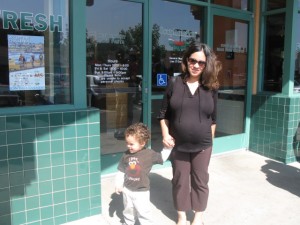 It's interesting for me to visit a restaurant from the reviewer point of view.  I noticed things I hadn't noticed before.  Like the fact that my 2 year old (and yours!) eats for free and gets his own little tray.  And how the person behind the salad counter kept re-arranging and "tidying up" the salad bar.  And how the hot food section really had hot food (covered by cloth napkins for freshness and warmth).  And how they no longer serve pizza (really?) or offer the create-your-own pastas (again, really?).  And how the waiter kept taking our dirty plates away (he was very attentive).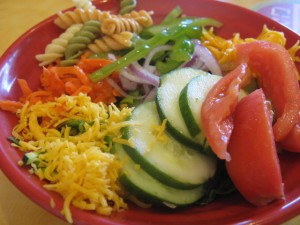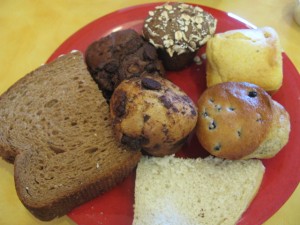 The best bread selection ever!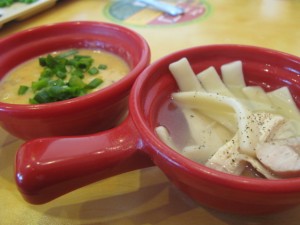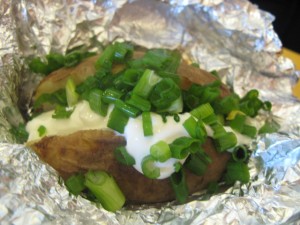 I'm a meat and potatoes kind of girl!
The salad bar makes up a large portion of the food they offer.  It was fresh and offered a diverse array of veggies, toppings, dressings, etc. They also offer tossed and prepared salads.  I can't remember how many soups were offered (at least 8 or 9)  but I liked the fact that the restaurant offers low-fat, vegetarian and vegan options.  Other hot entrees include baked potatoes and prepared hot pastas (vegetarian and meat-based varieties).  I wish the restaurant offered a little more in terms of hot foods and protein (I remember freshly-prepared hot pastas and pizzas at one time).  Their bread and muffin options are so delicious (I had their chocolate brownie muffin for dessert).  Desserts consist mainly of fruit, gelatin, ice cream, and mousse (and to be honest, none of that was super appealing to me, except for the fruit).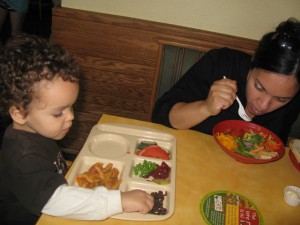 Soooo hungry!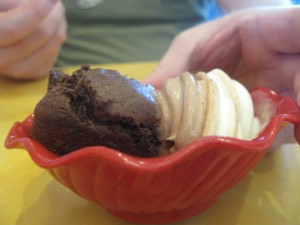 Mmmmm…dessert!
Overall, I think that Souplantation is a great restaurant for lunch.  They also offer breakfast (which I did not know until just recently) and items include scrambled eggs, waffles, biscuits & gravy, oatmeal, potatoes o'brien, freshly baked cinnamon chip biscuits, muffins, make-your-own breakfast burritos and more. Breakfast is my FAVORITE meal of the day and I would definitely check Souplantation's breakfast menu out in the future.  And, on October 18th, the restaurant chain is celebrating National Pajama Month with their Pajama-Rama event.  Children can head to the restaurant in their pjs for free breakfast from 9 am to noon with the purchase of an adult meal.
Souplantation is part of Garden Fresh Restaurants (and also goes by the name of Sweet Tomatoes in some states) and offers 112 locations in 15 states.  The restaurant offers all-you-can-eat dining at a fixed price.  The menu changes daily and the food is made from scratch (daily).
On October 1, Souplantation and Sweet Tomatoes restaurants announced the crEATe Recipe Contest and throughout the month, guests can submit their recipes for combinations made entirely from their menu items through their website, Facebook page or via email.  Ten finalists will be chosen in November and all guests will be invited to vote for their favorite in December.  The winning recipe and chef will be announced in January and will win a year's worth of free passes and the opportunity to be featured in an upcoming ad.
Rules:  The contest is open to restaurant guests in Arizona, California, Florida, Georgia, Illinois, Kansas, Missouri, Nevada, Oregon, New Mexico, North Carolina, Texas, Utah, and Washington.  Guests must submit their recipe and a photo of themselves alongside the completed dish by October 31, 2009.  The recipe must contain at least 2 to 5 Souplantation or Sweet Tomatoes menu items only and will be judged based on menu and visual appeal, ingredient list, and creativity.  Recipes and photos can be submitted online, on their Facebook page, or by email.
You can also follow the company on Twitter!
Win It! Three of you will win a pair (that's 2) dining passes.  Simply leave me a comment with a menu item you like or want to try from the site (be specific, not just salad or soup but what kind of salad or soup).  Comments will close on October 25, 2009 at 10 PM PST.  One comment per person, please (unless you do the extra credit). US residents only. Duplicates and comments not including the above information will be disqualified. Comments are moderated. If you don't see your comment in a reasonable amount of time, send me an email. Bloggers and non-bloggers may enter. If you don't want to leave your email address, please be sure to check back for my announcement on the winner. Please note that winners must respond within 48 hours of being announced/contacted or another winner will be drawn.
Want an extra entry? Do any or all of the following and receive an extra entry for each one.
Be sure to leave me a separate comment for each additional entry.
Follow me on Twitter AND tweet about the contest.
Subscribe to my feed via email or reader.
Blog about this giveaway. It doesn't have to be a separate post. Just include a blurb about it when you blog about other giveaways.
Click on one of the very cute buttons below and digg, stumble, fav, etc. Just let me know what you did in the comments!
Disclosure:  Yes, we ate for free (except for the drinks we purchased).  And yes, I'd pay to eat there again. : )
Profuse thanks to the Famly Review Network for this review opportunity!

Latest posts by Caryn Bailey
(see all)