This giveaway is now closed. Congrats to evirt!
This post has been updated with answers to the questions I posed and a giveaway.
I have to admit that I'm not particularly looking forward to packing my son's lunches when he goes to preschool.  It's hard enough to think of things to feed him here at home (with his food allergies).  But that is the very reason I will have to pack his lunch.  When my son was in preschool last year, lunch was provided.  However, I had little control over what he was eating.  When we learned of my son's allergies, I realized how important it is for me to pack his lunch.
The typical lunch includes a sandwich, drink, piece of fruit, and maybe a snack.  But from my own experience, sandwiches get boring and both children and adults tire from them.  As an adult, I can easily bring food that can be reheated in a microwave at work.  But for children, that is not an option.  They can either bring a cold lunch with them or eat what is served at school.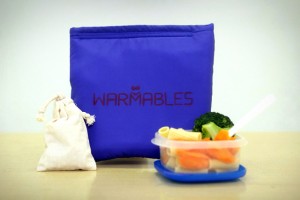 I was recently introduced to a product called Warmables. This eco-friendly lunch system is designed to keep food warm for 4-6 hours.  The system includes a plastic (BPA-free) food container, a cherry pit bag (to keep food warm), and a Warmables Pouch.  You simply heat up your child's food in the morning (in the plastic container), heat the cherry pit bag that comes with the system (which is what helps keep the food warm), and seal both inside the Warmables Pouch. You must then place the pouch into an insulated lunchbox (not metal or plastic).
I like the idea of the system, but I think you need to practice with it a few times to get it right.  For example, you'll want to make sure the food is heated thoroughly, something that isn't always the case when you microwave food.  I tend to microwave food for a certain amount of time, stir it, then heat it again so it's hot all the way through.  When you heat the cherry pit bag, I recommend heating it in intervals (shaking the bag in between heating cycles) so you don't burn the pieces.  It took about a minute for them to be hot enough in our microwave, but the directions say it can take anywhere from 45-90 seconds.  Once the food and the cherry pit bag are heated, I recommend putting everything in the Warmables Pouch immediately (and then into the lunchbox) to get the best results.  The company also suggests that the moister the food, the longer it will stay warm.   As an FYI, I like the reusable, eco-friendly neoprene insulated lunch bags from BUILT NY.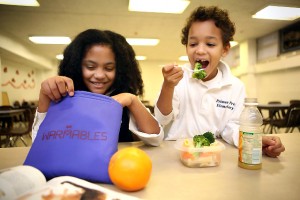 As a mom, I think this is a great product to have on hand to give your children warm food for lunch.  I do have some questions and concerns about the system (which I am addressing to the company). I will be sure to update this post when I hear back. The first concern I have is that it's a bit bulky.  A traditional lunch box is not going to fit everything.  My next concern is where to put other foods that are not warm.  If you were to put a cold food next to this, the heat would be canceled out.  Lastly, I wonder about whether there is a potential for bacteria to grow, given that the food is out for so long (4-6 hours).
The company was kind of enough to answer the questions I posed above.  Here is their response:
Bulkiness of product:  We suggest a lunch box with top or side compartments for drinks, piece of fruit or other snacks.  Warmables definitely requires re-thinking how to pack lunch, but is well worth it. After using it a few times you won't even think about it anymore.
Bacteria: If the food is heated well, the container creates a vacuum, almost like making jam. It slows bacteria growth down tremendously. Think about putting stew in a thermos or eating at a hot buffet….the only thing we do not recommend is re-heating that same food if a child did not finish the portion.
Ice Packs and Cold Food:  You cannot use an ice pack next to the hot cherry pit bag. It will cancel out the heat.
Warmables are made in the USA and are eco-friendly and reusable.  The system retails for $27.95 and is available for purchase on the site.  The site also offers a system for the office which retails for $37.95.
READERS DISCOUNT FOR WARMABLES LUNCH SYSTEMS (save $ 7.95 each)
How to get Warmables for the office for $ 30.00 plus shipping and the kiddie version for $ 20.00 plus shipping:
Sign up for our weekly newsletter along with 2 more friends.
Send us an e-mail with your three names and e-mail addresses. (Make sure to confirm your subscription after signing up, link will be sent to you)
Write "MY WARMABLES DEAL" in the subject line.
Place your order for any number of either Warmables lunch systems.
Include your shipping address.
You will receive a safe, easy to pay PayPal invoice. (No Pay Pal account needed)
Once you are paid up we will promptly send you your very affordable and super cool Warmables set(s) via USPS Priority mail.
The company guarantees their product with a money-back guarantee.
Win It: One of you will win a Warmables For Kids.  Simply leave me a comment (after visiting their site) with something you liked or learned (not mentioned above). Comments will close on January 28, 2010 at 10 PM PST.  One comment per person, please (unless you do the extra credit). US residents only. Duplicates and comments not including the above information will be disqualified. Comments are moderated. If you don't see your comment in a reasonable amount of time, send me an email. Bloggers and non-bloggers may enter. If you don't want to leave your email address, please be sure to check back for my announcement on the winner. Please note that winners must respond within 48 hours of being announced/contacted or another winner will be drawn.
Want an extra entry? Do any or all of the following and receive an extra entry for each one.
Be sure to leave me a separate comment for each additional entry.
Follow me on Twitter AND tweet about the contest.
Subscribe to my feed via email or reader.
Blog about this giveaway. It doesn't have to be a separate post. Just include a blurb about it when you blog about other giveaways.
Click on one of the very cute buttons below and digg, stumble, fav, etc. Just let me know what you did in the comments!
I did not receive compensation for this post.  I did receive a product, courtesy of the company, in order to faciliate my review.