{Sponsored}
Confession: As much as I love to cook, the lazy, hazy, heat-stricken days of Summer have me looking for other ways to prepare meals without turning on my oven. This is the time of year where I grill salmon on a cedar plank and peaches for a cobbler and we dine al fresco. I also find myself in the midst of barbecues and picnics now that the rigidity of school and sports has loosened.
Getting people together is something I really enjoy, but I can get intimidated by the planning and prepping that goes hand-in-hand with sipping iced tea on my porch with friends. The reality is that you can pick up a few staple tablescape items and mix and match them for all of your summer get-togethers.
From the moment Walmart introduced The Pioneer Woman's country-chic kitchen and dining collections, I've been picking up items here and there for entertaining. The beauty of these pieces is that they mix and match so perfectly that you can create an endless number of tablescapes.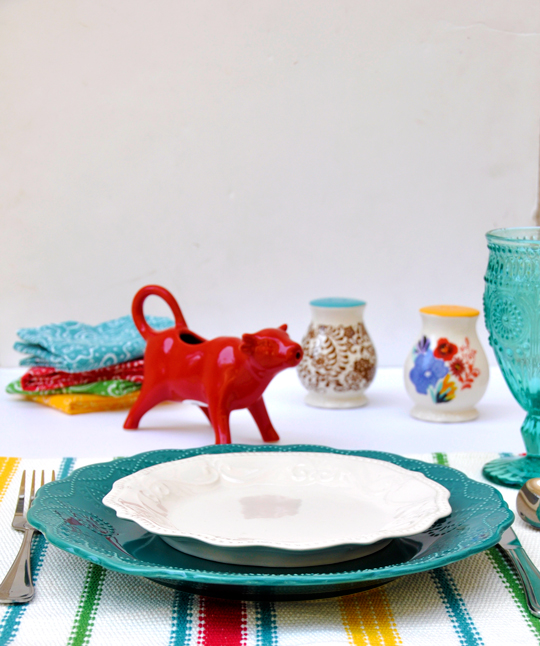 For this DIY Summer Tablescape, I picked up a Teal Dinner Plate, a Linen Salad Plate, a Teal Goblet, a Teal Sundae Cup, a Vintage Stripe Placemat and Table Runner, a set of 4 Bandana Napkins, a Red Cow Creamer and a Flea Market Salt and Pepper Shaker Set.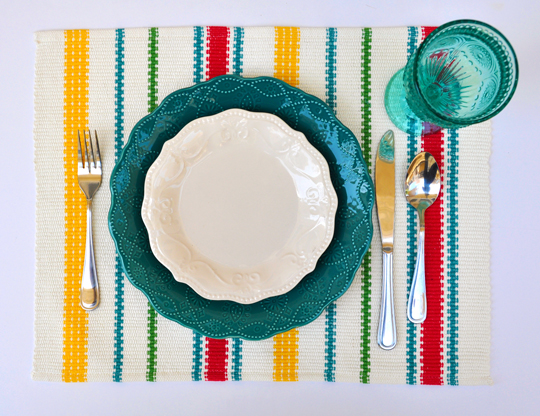 To put your Summer Tablescape together, begin by placing a dinner plate and a salad plate on top of each placemat. According to Emily Post, you should arrange your setting in this order from left to right: Fork, Plate(s), Knife, and Spoon. Set the goblet diagonally and to the right of your plate and your napkin on the left. Alternatively, you can stagger/stack your napkin set which adds the the overall summer rustic look to this tablescape.
Next, place your table runner in the center of your table. I personally prefer a table runner because they are easier to clean and the overall look of the tablescape is simple and elegant. Arrange the sundae cups (ideal for a summer fruit salad), creamer and salt/pepper shaker set across the table runner.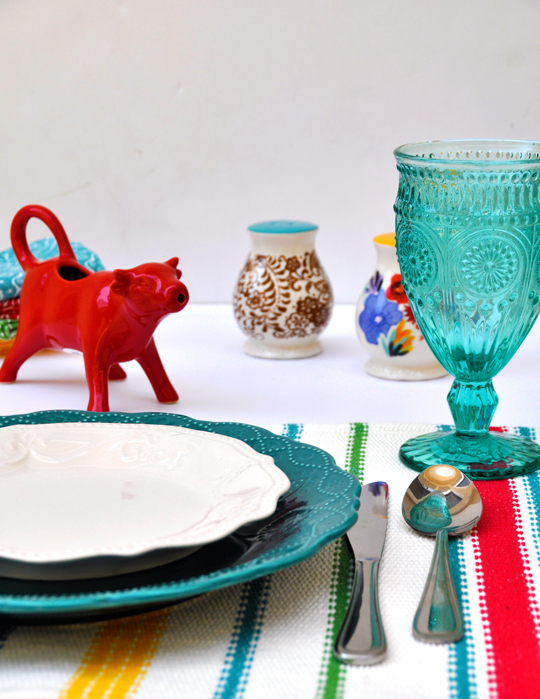 Each table setting, which includes a dinner plate, a salad plate, a goblet, a sundae cup and a napkin will cost you just under $20 which is a great deal, considering the quality and exquisiteness of this set. One tip I always like to suggest is to look inside your kitchen cabinet to see which items you can incorporate into your summer tablescape. The Pioneer Woman's chic, rustic style is incredibly versatile and goes well with other types of dinnerware and linens.
Shop the entire Pioneer Woman collection on Walmart.com.

Latest posts by Caryn Bailey
(see all)