This giveaway is now closed. Thanks for stopping by.  The winners are Mildred, Shel, Jen, Laura B, and Amber G.  Congrats!
This past week was a whirlwind!  Along with the multiple media events we had the honor of attending, I had an opportunity to speak with two celebrities and a famous pediatrician (more on that to come this week!).  I have to admit two things:  1.  I was completely starstruck 2.  I was nervous each and every time.
I feel like I've grown up with Drew Barrymore (we're right around the same age).  I remember watching her for the first time as a child in E.T. Her latest accomplishment is her directorial debut in Whip It (oh..did I mention she also acts in the movie?).  I've watched it twice. It's that good!  Here is a brief summary:
When a rebellious teenager gets tired of following in her family's footsteps and ditches the beauty pageant circuit, she finds her own 'tribe' and comes full circle to uncover an unshakable bond with her mother.  The coming-of-age comedy stars Ellen Page, Drew Barrymore, Juliette Lewis, Jimmy Fallon, Daniel Stern and Marcia Gay Harden.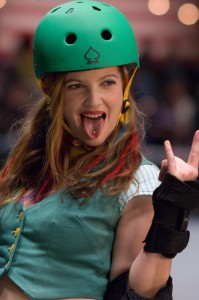 But here at Rockin' Mama, a review will simply not suffice!  So, without further ado, I bring you the fabulously talented and beautiful Drew Barrymore as she graciously talks to me about her latest venture.
1.  I know you've been acting since you were a child.  What inspired you to direct?
I've wanted to direct since I was a child.  I love film.  I love that form of communication.  I waited until now because I wanted to be prepared to be a director and everything that entailed.
2.  I know you mentioned wanting to wait until you were ready.  Why did you choose this movie for your directorial debut?
I really responded to the mother daughter aspect of the story.  I found the relationship fascinating.  I related to a lot of  story and felt like I could make this film very personal.  It's how I lived a lot of my life.  Things the characters wrestled with are things I wrestled with. For me, I tried to find a cohesive way to put all of these components together to tell the story….you have good days and bad days…some days you rock out with your friends…cry over a relationship…you learn something…you need to apologize for something.  You have to believe in yourself and find a place where you can express yourself…a place where that is empowering and not frowned upon. All of those things are things I have related to.
3.  I can definitely see those aspects weaved into the movie now that I've watched it.  You also have an acting role in the film.  How did you balance playing the role of Smashley Simpson while directing the movie?
It was challenging because [directing this film] was a 20 hour a day, seven day a week job for 2-3 years.  But I wanted to do it because of the camaraderie and friendship that develops out of training [for roller derby] and all the funny adventures together.  Everybody is in it together and I just think it's a more energizing working environment.  I threw myself in there with everyone.
4.  I had read that you did your own stunts.  Can you tell me more about that?
Having done the Charlie's Angels movies, doing my own stunts in the film was important to me.  It was predominantly us.  Audiences are very smart and keen and when they see the real person doing it,  you're able to fall into [the movie] a lot easier.  I felt like there was a lot of authenticity.    I wanted to show off this thing I had learned to do.
5.  Is this just the beginning of your move into directing and will we see you continue to act?
I think so. I hope so. That's the goal.
6.  Did you model your style of directing after anyone?
I wouldn't say one person specifically.  I love, as an actor, when directors say to me try this or do that or surprise me.  It makes me feel good about my own natural instincts.  I just feel that is a good way to elaborate on a performance that feels really good.  That makes you feel great about what you do.
7.  What was your favorite part of making this film?
I loved seeing that at the end of the day it was going to be my heart out there and my sense of humor and values.  I was lucky enough to work with these talented people along the way to do it.
Thank you Ms. Barrymore, for the time you spent with me.  [Goodbyes]
It's such a rare opportunity to sit down, one-on-one with such a talent as Ms. Barrymore.  I was honored that she took a bit of time out of her busy schedule to talk about her role in making this phenomenal film.  I hope you enjoyed hearing just a bit about her and her passion for this movie.  Whip It is available on DVD and Blu-Ray now.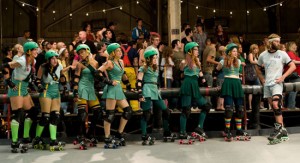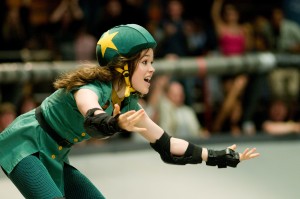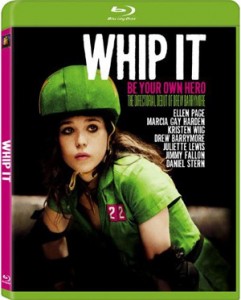 Win It! I have FIVE copies of Whip It to give away!  Simply leave me a topic-related comment about Drew Barrymore or her movie.  It could even be a question.  As long as your comment is on topic, you're entered to win!  Comments will close on February 22, 2010 at 11:59 PM PST.  One comment per person, please (unless you do the extra credit). US residents only. Duplicates and comments not including the above information will be disqualified. Comments are moderated. If you don't see your comment in a reasonable amount of time, send me an email. Bloggers and non-bloggers may enter. If you don't want to leave your email address, please be sure to check back for my announcement on the winner. Please note that winners must respond within 48 hours of being announced/contacted or another winner will be drawn.
Want an extra entry? Do any or all of the following and receive an extra entry for each one.
Be sure to leave me a separate comment for each additional entry.
Follow me on Twitter AND tweet about the contest.
Subscribe to my feed via email or reader.
Blog about this giveaway. It doesn't have to be a separate post. Just include a blurb about it when you blog about other giveaways.
Click on one of the very cute buttons below and digg, stumble, fav, etc. Just let me know what you did in the comments!
My friend Kim is giving away 3 copies!  Double your chances of winning by visiting her site!
I did not receive compensation for this post.  I received the DVD and had the honor of interviewing Ms. Barrymore.
Latest posts by Caryn Bailey
(see all)