This giveaway is now closed.  Thanks for stopping by.  The winners are Judy B, Colleen, Peggy G, Jill W, Carol, Dawn, Samantha P, Valerie M, Christine, DebiJot.  Congrats!
How many moms out there struggle to get fruit and veggies into their child?  I know I do!  My son already has his food preferences and he's definitely one picky toddler.  Over the past 6 months, I've started introducing a regular snack time as a way to get him from breakfast to lunch and lunch to dinner.  It's also a wonderful opportunity to get fruits and veggies in (sneaky mama!).  A child's eating habits are shaped early on.  Serving healthy, nutritious snacks is important for optimal growth and development.  Think about the settings where your child is going to be served a snack…school…church…camp.  Hopefully, your child is being served whole grains, fruits, and veggies rather than processed snacks with artificial flavors and colors.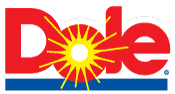 Dole recently introduced their new Fruit Bows in Sugar Free Gel. Here is a little more information from the site:
There's a feeling you get from the light, refreshing taste of real fruit in gel. Especially when it has up to 30% fewer calories and 27% less sugar than our regular DOLE Fruit Bowls in Gel.  It's a satisfying, lower-sugar snack that fits your life. Because DOLE Fruit Bowls let you take the delicious taste of real fruit wherever you go.
I was chosen to participate in a special sampling program where I received 120 Dole Fruit Bowls to give to my family, friends, neighbors, and church group.  I gave half to my son's church nursery group and half to the kids in our neighborhood.  I also kept one of each flavor (Mixed Fruit in Cherry Gel and Pineapple in Strawberry Gel) for my son.  Because I'm allergic to pineapples, I was not able to try either variety but my husband and my son did and thought they tasted good for being sugar-free.  My son liked the "gel" the best and at the end started trying to pick out the fruit (cheeky boy!).

The overall response from the community and our church group was positive, with most preferring the Pineapple in Strawberry Gel over the Mixed Fruit in Cherry Gel.  It was really neat to be able to give back to the community and encourage them to eat healthy snacks.  My hope is that parents and caregivers will have walked away with the knowledge that healthy snacks are not difficult to find and kids will in fact eat them.
Each fruit bowl contains 70 calories, no fat, and 5 grams of sugar.  They come in a pack of four and retail for $3.29.
Win It! Ten of you will each win coupons good for FIVE Dole Fruit Bowls In Sugar Free Gel four packs!  Just leave me a comment with a healthy snack your kids enjoy.  Comments will close on May 31, 2009 at 10 PM PST. One comment per person, please (unless you do the extra credit). US residents only. Duplicates and comments not including the above information will be disqualified. Comments are moderated. If you don't see your comment in a reasonable amount of time, send me an email. Bloggers and non-bloggers may enter. If you don't want to leave your email address, please be sure to check back for my announcement on the winner. Please note that winners must respond within 48 hours of being announced/contacted or another winner will be drawn.
Want an extra entry? Do any or all of the following and receive an extra entry for each one.
Be sure to leave me a separate comment for each additional entry.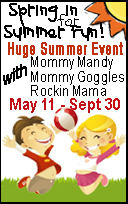 Add the "Spring In For Summer Fun" banner to your sidebar and leave me a comment (be sure to visit the main party post for more details on extra entries)
Follow me on Twitter AND tweet about the contest.
Subscribe to my feed via email or reader.
Blog about this giveaway. It doesn't have to be a separate post. Just include a blurb about it when you blog about other giveaways.
Place my button on your site. If you have difficulty, please let me know.
Click on one of the very cute buttons below and digg, stumble, fav, etc. Just let me know what you did in the comments!
Latest posts by Caryn Bailey
(see all)