{Sponsored}
'Tis the season for holiday shopping, cookie exchanges, and the infamous ugly sweater. We have Bill Cosby, Chevy Chase, and great aunts once removed to thank for the popularity of the ugly sweater. Traditionally, these sweaters were found deep in the throws of your local thrift store. Now even Mickey Mouse and Darth Vader are jumping on board with their versions. And a quick survey of the latest styles had me lamenting the fact that I don't own one because, they really aren't all that ugly.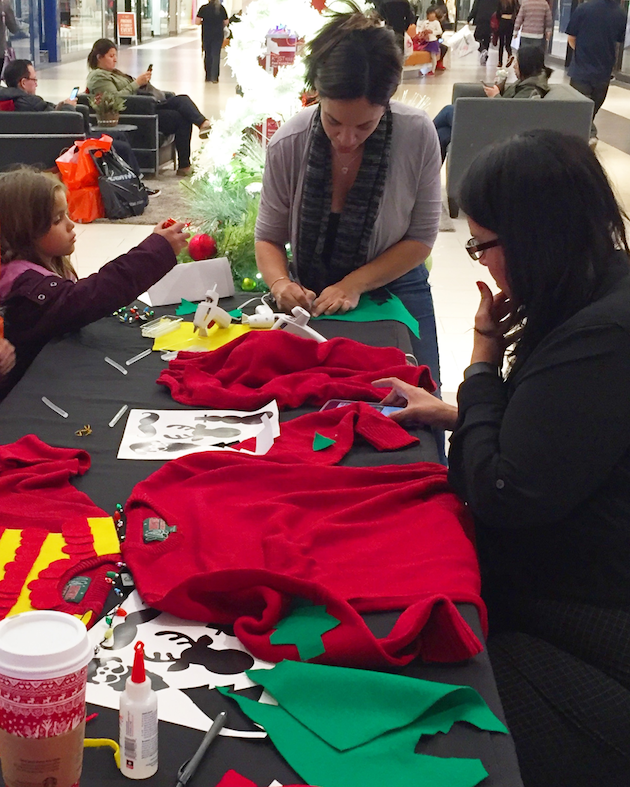 But I digressed. If you really want an authentic ugly sweater, perhaps you should DIY! You can find DIY Ugly Sweater Kits at your local craft store.  Be sure to pick up the most hideous sweater you can find and accent it with pom-poms, felt appliques, and a string of Christmas lights. The more red and green the better!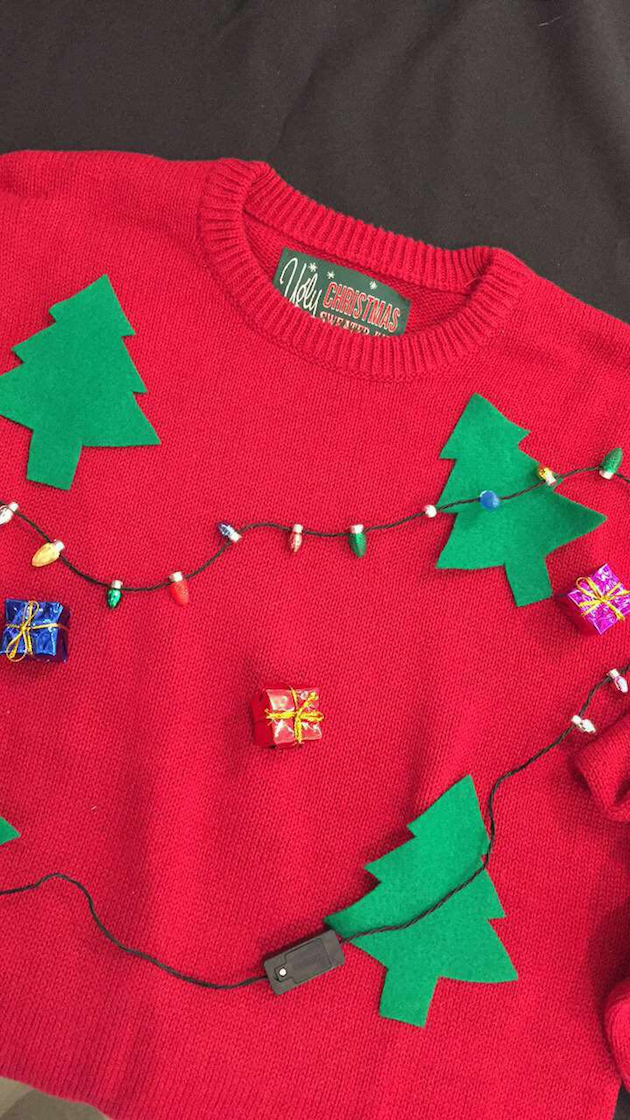 Make Your Own Ugly Sweater
Here is what you need for your DIY Ugly Sweater:
Ugly Sweater
Scissors
Felt
Pom-Poms
Christmas lights
Christmas-themed templates (i.e. trees, snowmen)
Hot glue
Fabric glue
Bells
Mini ornaments
Instructions:
Design your ugly sweater. You could draw a quick mock-up on a piece of paper
Cut out trees, snowmen, etc. using a template. This worked best by first drawing the template onto the felt/fabric
Use fabric glue to attach all items made from felt, fabric, etc.
Use hot glue to attach anything plastic or metal including bells, ornaments, lights, etc.
Allow sweater to dry. Be sure to check that the glue has not adhered to the back side of the sweater
Earlier this week it was game on as my DIY skills were put to the test in the Ultimate Ugly Sweater Contest at Ontario Mills . A red sweater was my canvas, and with a little help from my friends (aka two mini-me's), we cut and hot-glued our way to Ugly Sweater perfection. My mantra was, the uglier the better. Passerbys were in awe of our DIY skills. They cheered and admired our works of art. They asked to join our efforts. It was awesome.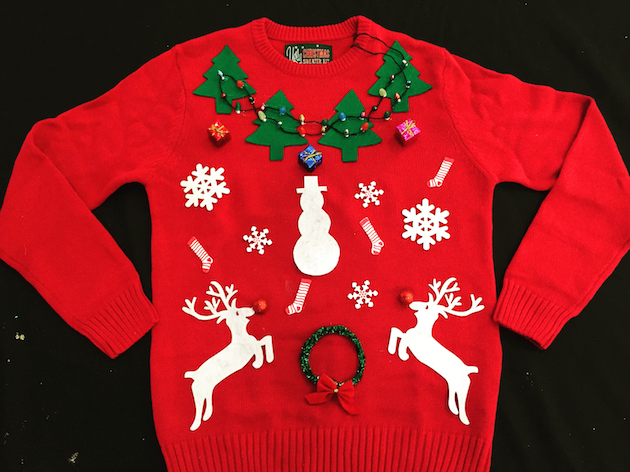 In the end, only one sweater prevailed. Kristi's surprise hidden door won over shoppers and her sweater was crowned the winner. I'm not sure if I should be elated or disappointed that my sweater wasn't the "ugliest." In a surprise twist, Ontario Mills loved our ugly sweaters so much, they'll be on display this season so be sure to check them out.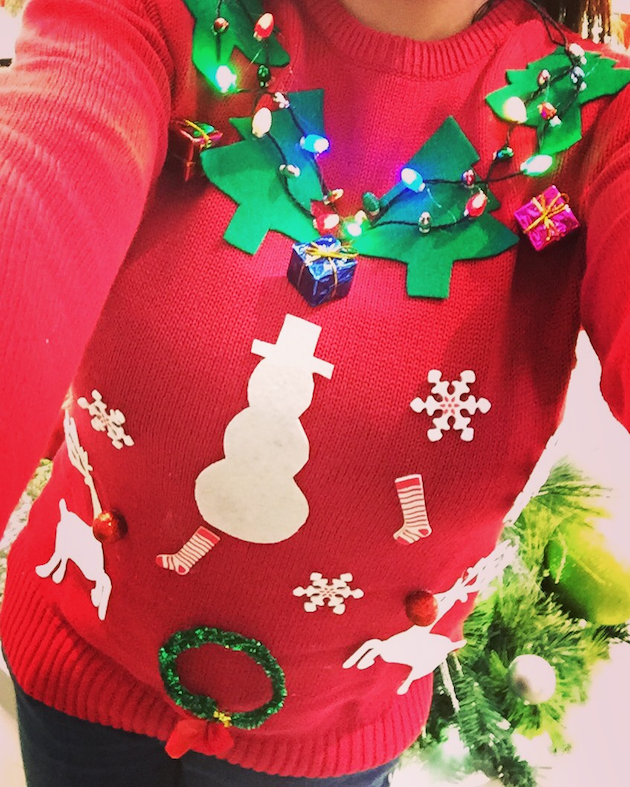 I think we've found a new tradition. Making our own Ugly Sweaters was fun and surprisingly relaxing. It forced us to slow down during the busiest time of the year to create and collaborate and connect. If you find yourself with an invite to an Ugly Sweater Party don't lament. Get your ugly on and have a laugh with a DIY Ugly Sweater!
Thank you to Ontario Mills for hosting the Ugly Sweater Contest. If you've yet to visit the center, you'll love the new additions including Fashion Alley, which features name-brand outlet stores like The North Face, Samonsite, Uniqlo, and UGG Australia. During the holiday season, kids can visit Santa at his brand new location in Fashion Alley. The new set, deemed the World of Wishes, includes Nutcracker figures and festive trees. After your kids have taken a photo with Santa, be sure to pick up The Secret Life of Pets activity sheets and a holiday headband.