A couple of years ago, we purchased some colorful modular furniture cubes from ViaBoxes and used them to store my children's toys.  Over the years, the colors that were once vibrant have dulled.  These boxes, which still have a lot of life in them, are beginning to see the wear of two small children.  Since these boxes are made of wood, I decided to give them a bit of refreshing with Rust-Oleum American Accents Ultra Cover 2X, now available at Walmart.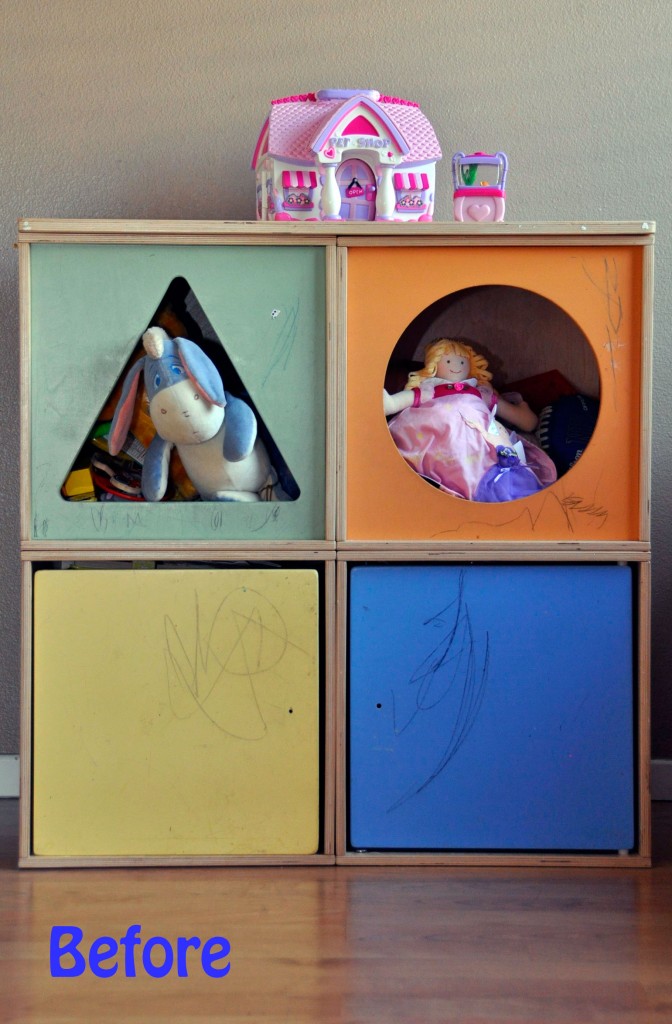 As opposed to conventional paint, which can take time and effort, spray paint is quick and easy.  Because of Rust-Oleum's new Double Cover Technology, these paints can cover twice the square footage of other general purpose spray paints.  Less paint means less money and less time completing projects such as this one.
What surfaces can Rust-Oleum's Spray Paint be used on? 
Wood, wicker, metal, plaster or unglazed ceramic
Now that I've determined that our children's toy box can be spray painted, I headed over to my local Walmart to pick out a few colors.  While I found a decent selection of primary colors, I think I would have liked to see some secondary colors like purple (which my daughter had requested).  For just $15 ($3.77 each), we picked up four cans of spray paint in red, blue, orange, and yellow.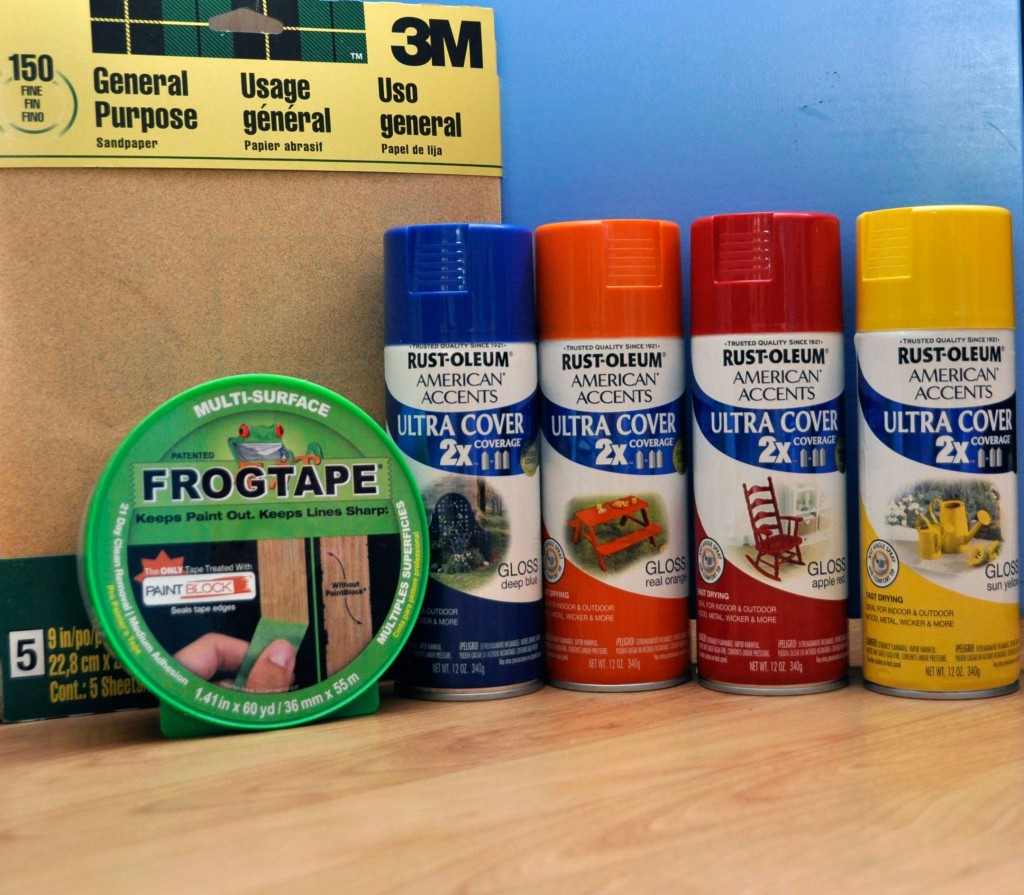 Here is what you'll need for this DIY Rust-Oleum Spray Paint Project:
Rust-Oleum American Accents Ultra Cover 2X in the color (s) of your choice
Sand Paper
Gloves
Plastic Tarp
Optional: Frog Tape
Optional: Rust-Oleum Spray Paint Primer (for unpainted, unfinished surfaces)
Optional: Rust-Oleum Spray Grip (if you are painting large pieces or play to spend a lot of time spray painting, this will help prevent finger fatigue!)
Now that you've gathered your supplies, simply find a place to work that offers sufficient ventilation. We decided to spray paint our project outside on a table we covered with the plastic tarp.
1.  Disassemble the pieces you plan to spray paint
2. Frog tape edges/corners, if necessary
3.  Wipe down surfaces to remove dust and dirt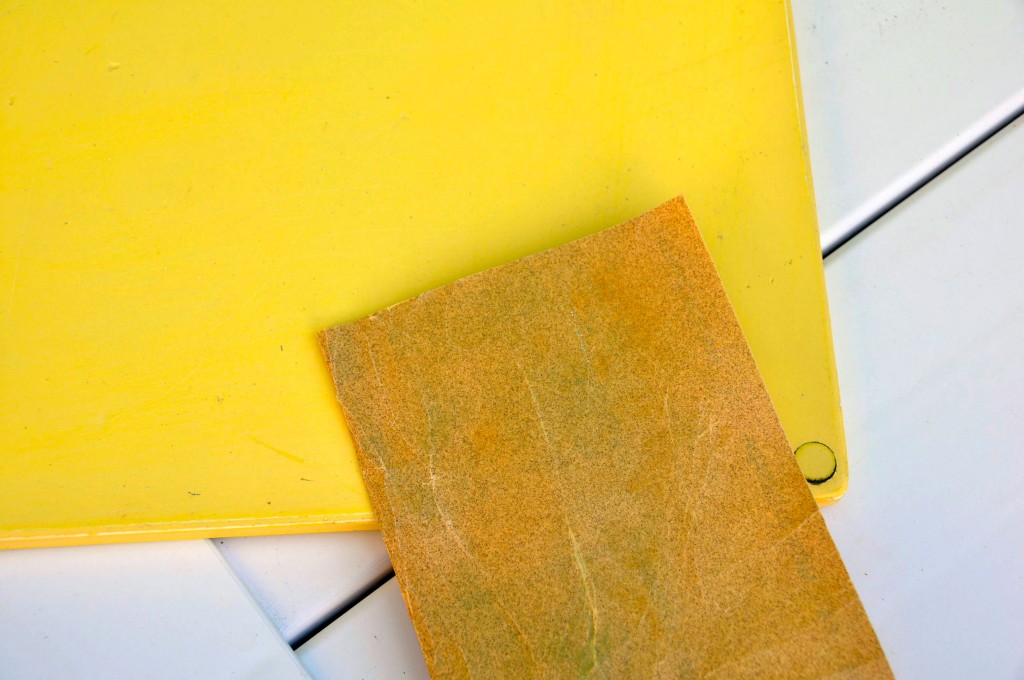 4.  Sand the surfaces and edges and wipe the dust away with a damp cloth
5.  If you are spray painting an unfinished, unpainted surface, spray paint the piece with primer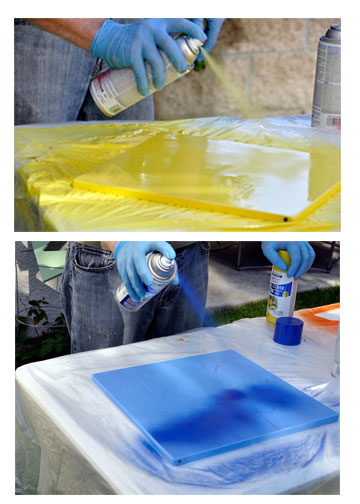 6.  When you are ready to spray paint your piece, shake the can and hold it at least 10 inches away. Remember to spray evenly.
7.  If you plan on applying a second coat, allow the paint to dry at least an hour in between coats.
While the paint will dry enough for handling after an hour, Rust-Oleum recommends waiting 24 hours for the surface to be completely dry.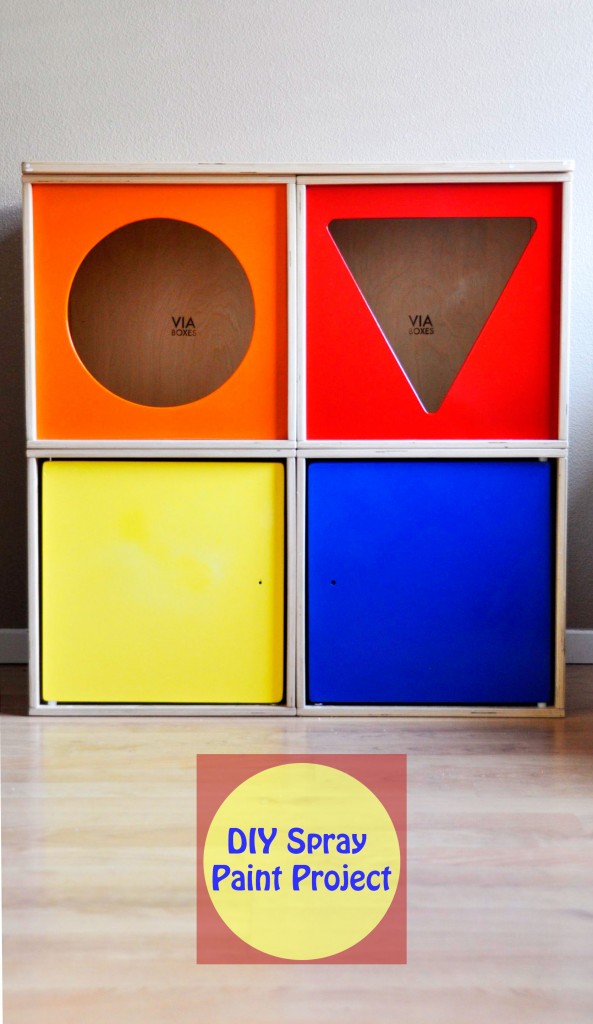 Here is our newly revamped toy box!  It looks brand new and the colors are fresh and vibrant.
As I look around my home, I see furniture pieces that could use a bit of refreshing.  Using Rust-Oleum American Accents Ultra Cover 2X Spray Paint was easier than I expected and the results were definitely worth the small time and effort.

Latest posts by Caryn Bailey
(see all)