{Sponsored}
I sat down on Christmas day after my kids had opened their presents and the cinnamon rolls were in the oven and breathed a sigh of relief. While it is my favorite time of year, there are moments of busyness and stress that can leave one feeling fatigued. Combined with the tendency for people to stay indoors due to the weather and the need to shop, I always find myself getting sick right around this time. Without fail, just a few days after we celebrated, I found myself battling laryngitis…the first illness in our family in months.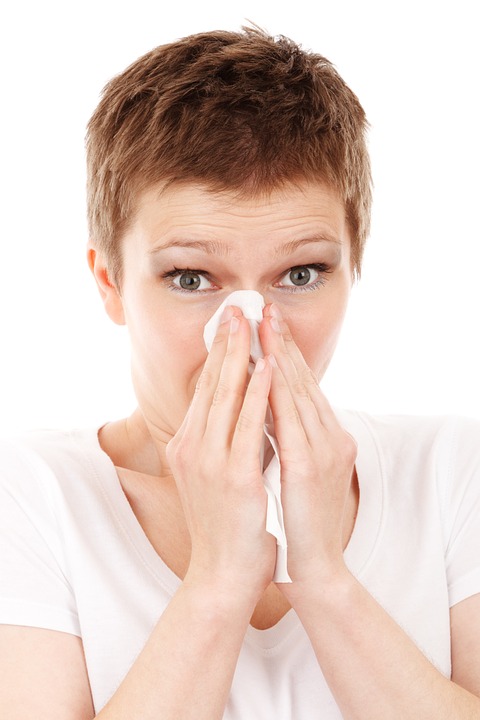 While back-to-school tends to be a common time for the common cold and flu, the CDC states that the season typically peaks between December and February. While there is no cure for the common cold or flu, there are many steps you can take to keep your family healthy. Hand-washing, rest, exercise, a healthy diet, and probiotics are my mainstays for avoiding illness during cold and flu season. I also get a flu shot every year at the beginning of the season, and because of this important practice, I can't remember the last time I was sick with the flu.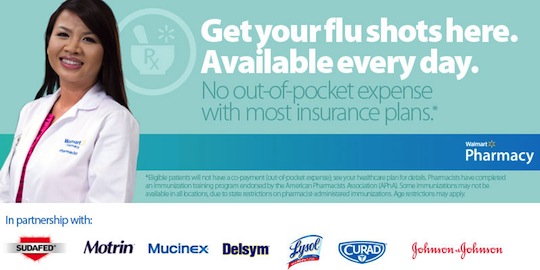 If you've yet to receive a flu shot, you can visit the pharmacy at your local Walmart without an appointment. Most insurance plans don't require any out-of-pocket expenses which means staying healthy has never been easier or more affordable. You can find your nearest Walmart pharmacy by visiting Walmart.com.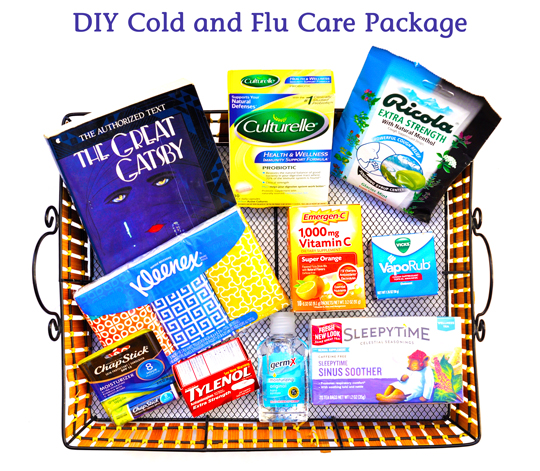 While getting sick at some point throughout the year is almost inevitable, there are several things you can do to hasten and ease recovery time. I like to combine natural remedies with a handful of medications to relieve symptoms. I also like to put together a cold and flu care package so that I don't have to search for items or go to the store when I'm sick. This package can also be tailored for kids.
Herbal Tea: Something warm and soothing is typically my mainstay when I'm sick. If I'm suffering from congestion or a sore throat, I typically don't want to eat much, so sipping Chamomile or Peppermint Tea is idea. Avoid caffeinated teas which are stimulating and have the potential to interfere with the rest your body needs.
Probiotics: While I typically take probiotics as a preventive measure, I've also found them to be useful during illness. These live bacteria can be found naturally in your body and are also available over the counter.
Tissue: Pick up small packages that can be tossed into a purse or handbag and a couple of larger boxes for the home.
Hand Sanitizer: While they say you are likely most contagious before symptoms begin, I still find it crucial to keep hands clean during illness, to avoid passing it along to others. Hand-washing is ideal, but keeping a bottle of hand sanitizer for those moments when you physically can't get up can help prevent the spread of germs.
Lip Balm: Dry, sore, chapped lips are common during the winter, and illness only intensifies the symptoms. You or a loved one will appreciate having a supply of lip balm on-hand during cold and flu season.
Emergen-C: I never feel like eating much when I'm sick, yet the body requires vital nutrients to heal itself. I like to keep a supply of Emergen-C and a few bottles of water on-hand to support my immune system with B vitamins, vitamin C, electrolytes and antixoidants. A pediatric version is also available and can be included in a Kids Cold and Flu Care Package.
Vicks: Because of a minor medical condition, I can't take traditional decongestants. The result is that when I'm sick with a cold or the flu, I can't breathe! I've been using Vicks VapoRub since I was a child, and while its intended use is for cough, I find it to be particularly helpful for sinus congestion and a game-changer when it comes to being able to sleep.
Cough Drops: Coughing can leave one feeling physically exhausted, so having a supply of cough drops during illness is essential. I prefer Ricola's Natural Herb Cough Drops since they're free from artificial flavorings and colorings and suitable for children 6 and older.
Tylenol: With no cure for the common cold or flu, you'll notice that this list consists primarily of natural, supportive remedies as opposed to medications. However, Tylenol is the one medication I like to have available to relieve fever, headaches and sore throats.
Books/Movies: If you are planning to gift this package to a friend or family member, include a favorite movie or book. This will help keep them distracted from their symptoms while still encouraging restful activities that don't require exertion.
Package everything in a basket with a blanket and cozy socks so that it's all in one place. For kids, I recommend including Pedialyte (or another electrolyte replacement fluid), pediatric Tylenol, Probiotics and Cough Drops, Coloring/Activity books, and some healthy snacks.
Walmart is your go-to for cold and flu prevention and management. Visit your local store to get your flu shot or stock up on these cold and flu essentials.