No compensation was received for this post.  Meals, accommodations, and experiences at the Disneyland Resort were provided as part of a FAM trip which helped facilitate the writing of this post.
Our greatest natural resource is the minds of our children – Walt Disney
Can you imagine learning about physics by building a mock roller coaster?  Or understanding what it takes to be a leader by practicing verbal and non-verbal communication skills on Pirates of the Caribbean?  Earlier this week, the Disneyland Resort became the classroom for local Southern California students (and admittedly myself).  Youth Education and Performing Arts were built into the core of the park, beginning with a high school marching band that performed on opening day, and is the premise for the Disney Youth Programs.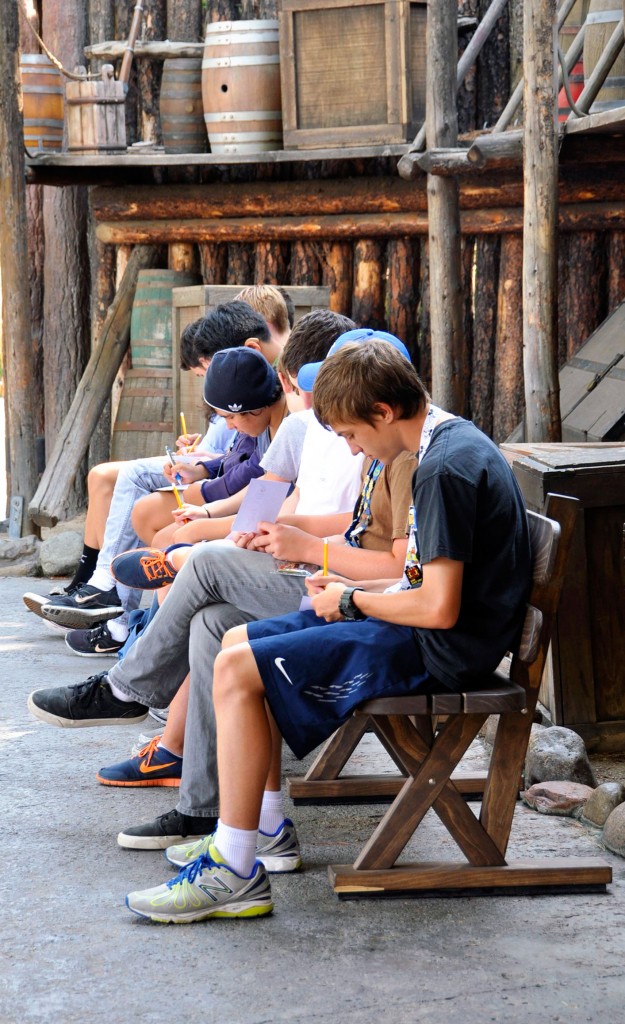 As a young girl, I loved school and constantly challenged myself by taking foreign language and advanced prep courses. But just like any child, there were subjects so difficult, I required additional assistance.  Most of the time, it simply required a different perspective…a new teacher…an alternate method of presenting the information. Disney's Youth Education Series takes learning outside of the classroom into the real world and merges storytelling, dynamic Youth Education Series (YES) leaders, and the backdrop of the parks to inspire creativity and spark real-world connections between the classroom and everyday life.
There are 2 components to Disney's Youth Programs, the Disney Youth Education Series and the Disney Performing Arts Program, which I'll detail in a subsequent post. Comprised of 26 programs, the YES series take place year-round at both the Disneyland Resort in California and Walt Disney World in Florida.  Trained YES facilitators integrate compelling materials and memorable experiences to engage students in unique, hands-on learning experiences that include arts and humanities, leadership and career development, and natural and physical sciences.  What I find to be particularly compelling is the fact that what the students learn during these programs mirrors what they are learning in class.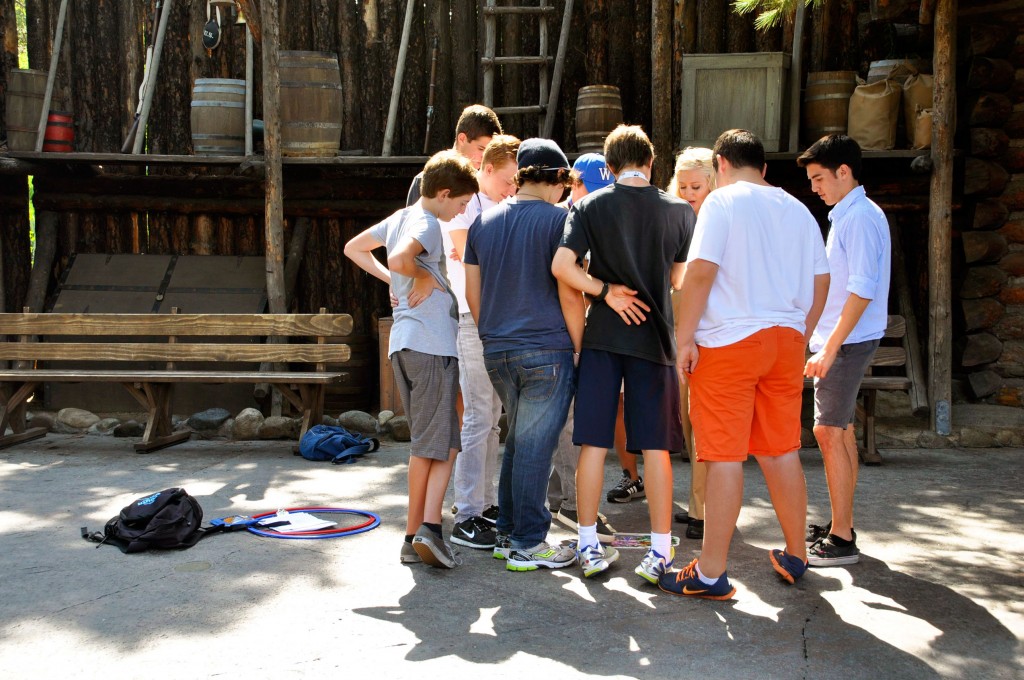 During my time at the resort, I experienced a snapshot of Exploring the Golden State, which immerses children in the history of California.  Inside Disney California Adventure Park, students explore the four regions of California Native Americans, the Gold Rush and California Missions.  This 2 1/2 hour program is designed for students in grades 3-5 and teaches them about prominent events and people that shaped our state including Chuck Yeager, Amelia Earhart, Howard Hughes, John Muir, and Walt Disney.  Part of the program includes watching a video narrated by Whoopi Goldberg which takes students through California's history.  While the video is historically accurate and highly informative, it is also engaging and inspirational.  As I was watching the video, I immediately recognized concepts of geography, culture, economics, and politics being integrated into this program. Students also share their "California dreams" which is an important way to develop social and emotional skills.  A ride on Soarin' Over California solidifies what students have learned during this program. I'm all about riding attractions in the name of education!
The most inspirational part of our day was spent shadowing high school students from LA's Windward School as they experienced Disney's Approach to Leadership and Teamwork.  I absolutely love learning about Walt Disney and his life and only recently came to understand his commitment to education, which is fundamental to the company as a whole.  While the principles of leadership and teamwork can be learned inside of a classroom, I believe that real-world, practical application is essential.  Walt Disney had a clear motivation, a willingness to adapt, no tolerance for low expectations, led by example & cared for others and these precepts are the core of this program.  Through this interactive field study, students explore their personal leadership skills and learn how to apply them in team settings. Diversity, interpersonal communication skills, problem-solving, and cooperation are just some of the topics broached in this program.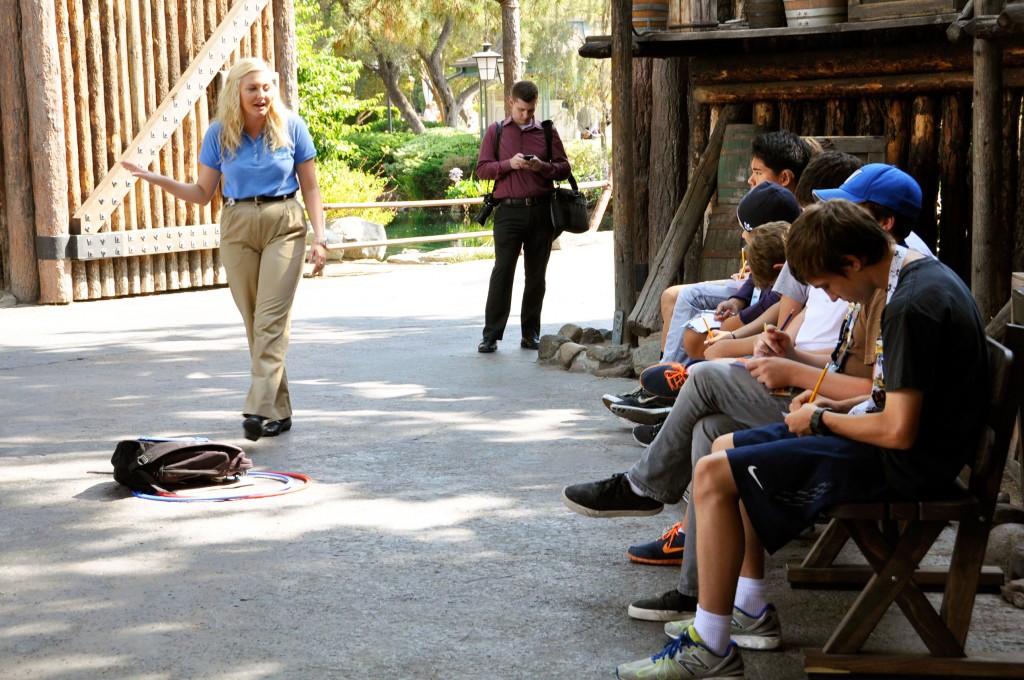 I loved watching this high school group open up to both the YES leader (who was dynamic and inspirational) and their peers.  At one point, we paired up for a Ship Shape Activity while riding Pirates of the Caribbean.  We were given 20 questions to ask our partner and then asked to remember the answers.  Not only was this a great way for each of us to get to know each other, it helped the students practice their communication and listening skills as well as working on short and long-term memory.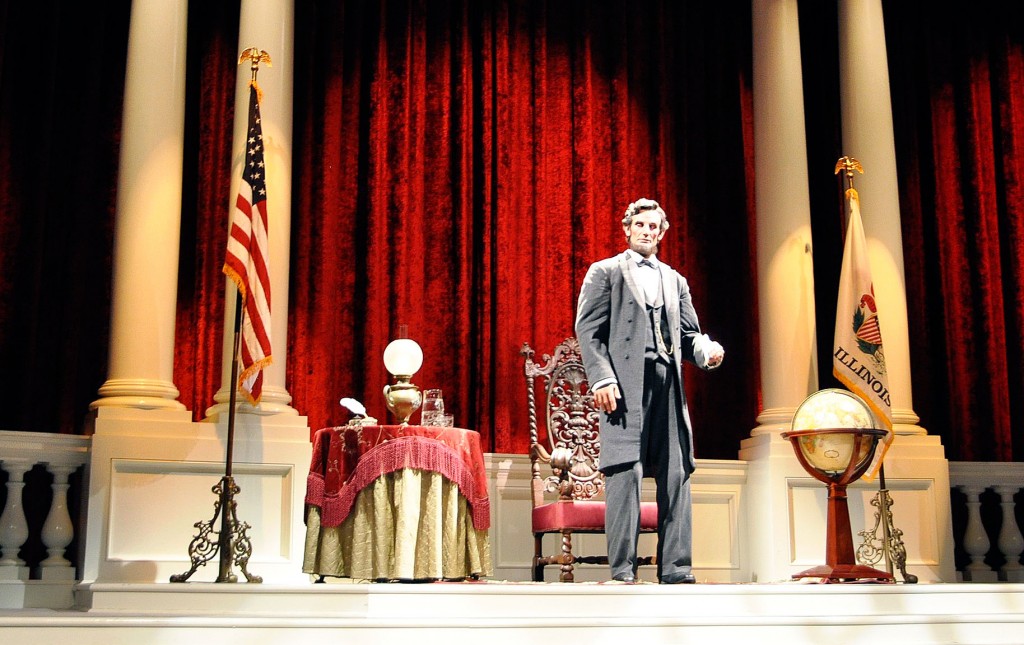 Any visit to the Disneyland Resort is nothing short of magical, exciting, and loads of fun, but on this particular day, I viewed Physics in a whole new way. Our last immersive experience included a snippet of the Energy and Waves Physics Lab.  I have to admit that while I loved my school years, I struggled immensely with Physics…so much so that I had to have a tutor.  I truly believe a program such as this one would have been helpful in having me connect the educational dots. There are 2 programs, designed for students entering grades 3-5 and grades 6-12. Both courses introduce students to light and sound as forms of energy, reinforcing those concepts through attractions throughout the park. Interestingly enough, our experience at Great Moments With Mr. Lincoln was not just a history lesson, but one in sound.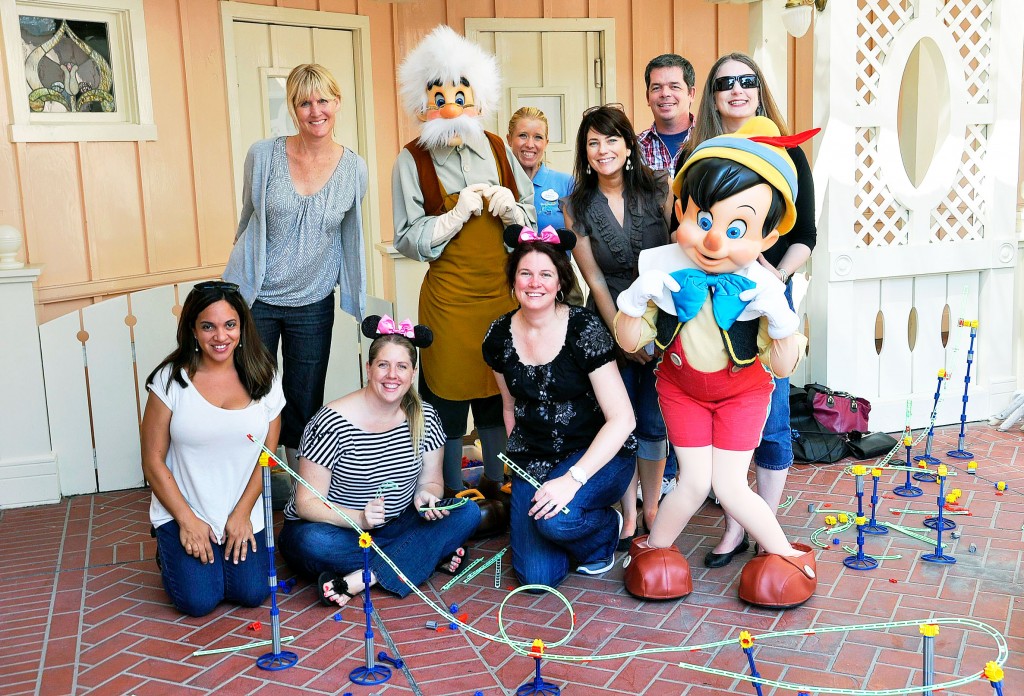 In both programs, students learn about the concept of magnetism and how it relates to rides like California Screamin', which uses electromagnetism to propel the ride forward. Similarly, Goofy's Sky School teaches students about horizontal acceleration, consistent with curriculum that details the properties of kinetic motion and potential energy. For many students, I imagine riding Tower of Terror and then having that light bulb moment about how it relates to the properties of gravity and inertia is an educational experience unmatched in any classroom.  We concluded this part of our day by building mock roller coasters, again reinforcing the concepts of Physics.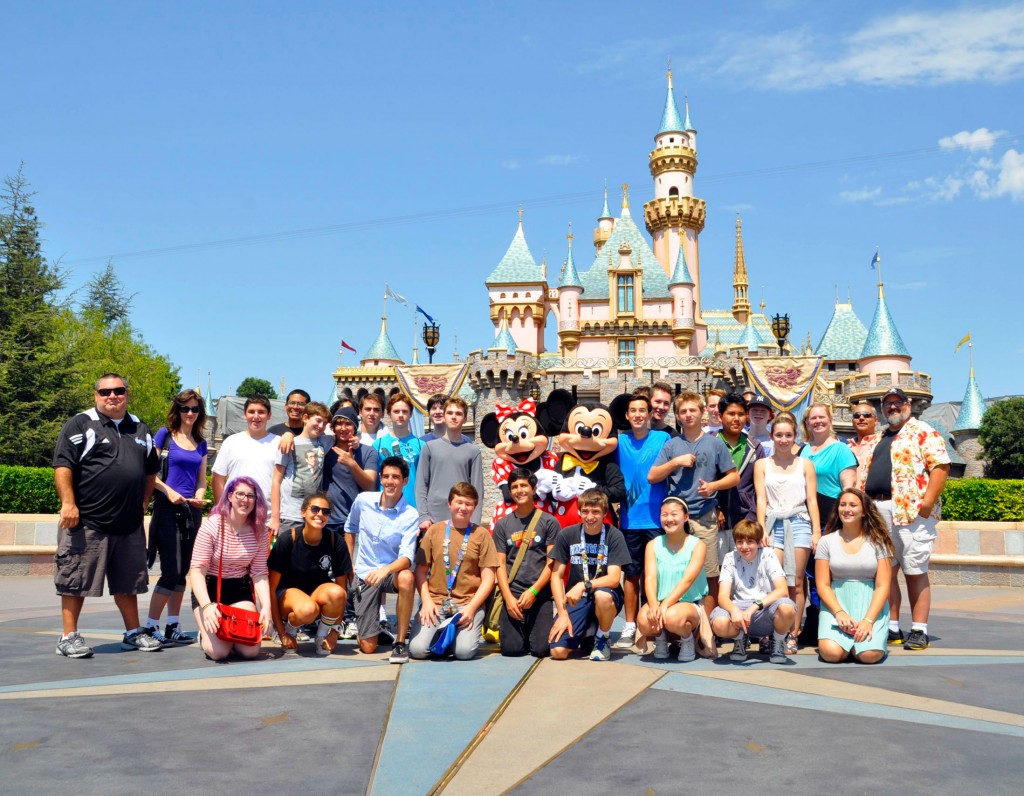 I've visited the Disneyland Resort countless times and have never stopped to inquire about the school groups I've seen around the park.  While these education programs have been around since 1979, I think they are one of Disney hidden gems.  I would have absolutely loved to take a field study course at the resort as a student. What a unique perspective on each of the parks!
Each of the programs are accredited by the Northwest Accreditation Commission and you can visit the website to find out exactly which national standards each program meets. Teachers can use these programs at the beginning of the year, to introduce concepts that will be discussed, or at the end of the year to reinforce what students have learned.
The Disney Youth Education Series is offered seven days a week with select dates available for individual enrollment.  While schools are likely the most common groups to take part in these programs, any group (Boy/Girl Scouts, Church Youth Groups, etc.) can enroll.  You simply need at least 10 students to enroll as a group and the YES ticket includes the specified program and park admission.
Two new series were recently introduced at Walt Disney World including Kingdom Keepers Quest, for students entering grades 5-9 and a College Edition of the Youth Education Series. Kingdom Keepers is a book series written by Ridley Pearson and follows the adventures of five teens who have been chosen to act as models for holographic guides at Walt Disney World.  A technical glitch transports these teens to the parks in their holographic forms where they must fight to prevent their destruction. The themed educational program incorporates problem solving, visualization, observation, creativity, math skills, language arts, and critical thinking as students solve puzzles throughout the Magic Kingdom. The College Edition includes two programs (Disney Leadership Strategies and Techniques of Teamwork through Improvisation) help college students gain vital skills to become leaders and succeed personally and professionally.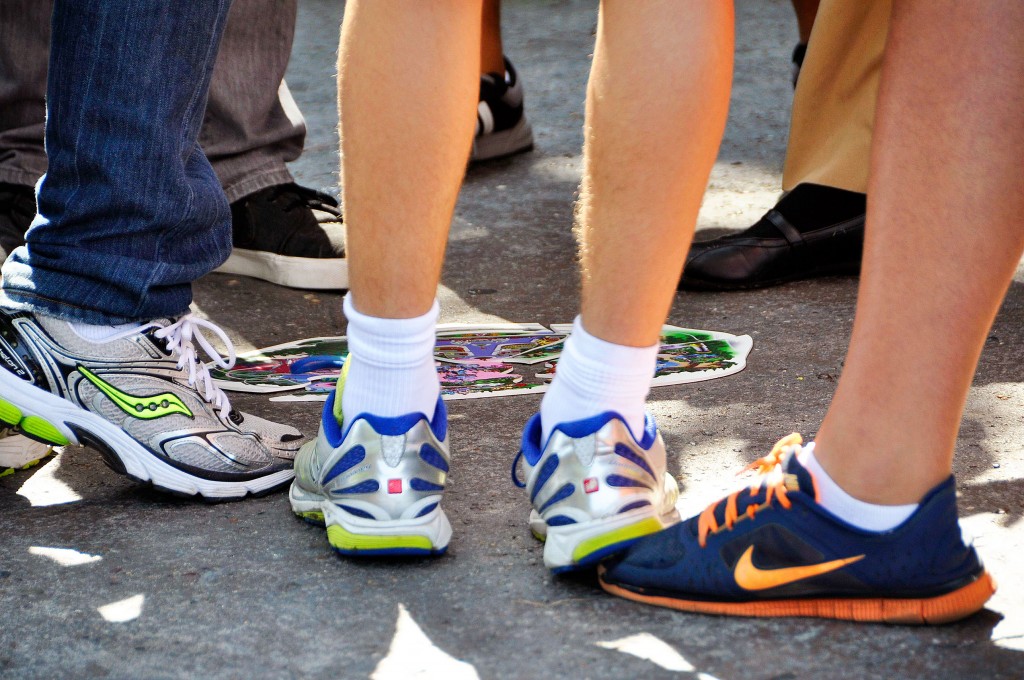 For more information about the Disney Youth Education Series offered at the Disneyland Resort and Walt Disney World, visit DisneyYouth.com.  Even if your school or group is not local, these programs are feasible and affordable, since the parks offer discounted admission in conjunction with the program.  If your group is traveling to one of these resorts, you might consider booking accommodations and travel through GetAwayToday.com.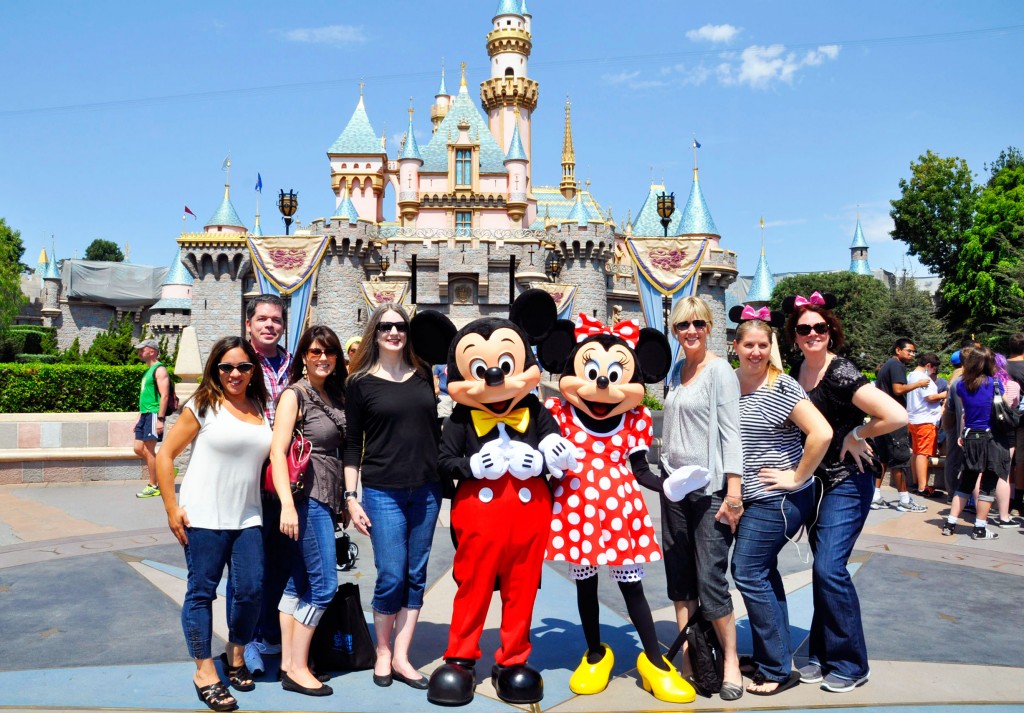 Images: Rockin' Mama unless otherwise noted.