{Sponsored}
"Infinite possibilities. Endless fun."
I received my first video gaming system when I was just seven years old…the infamous Nintendo Entertainment System. Despite the stereotype that favors boys, I played whenever my parents allowed it. I still have that system, and sometimes I'll revisit the Super Marios Bros. trilogy I mastered more than a decade ago. When I look at the 8-bit graphics, I'm absolutely amazed at the advances in technology that enable experiences such as controller-less gaming and 3D graphics.
Most of my children's gaming occurs on mobile devices because those games don't require the hand-eye coordination necessary to master video games played on systems like the Xbox 360. The games we do purchase tend to be ones targeted towards younger children, and very often engage our children in the worlds and stories of characters they are already familiar with.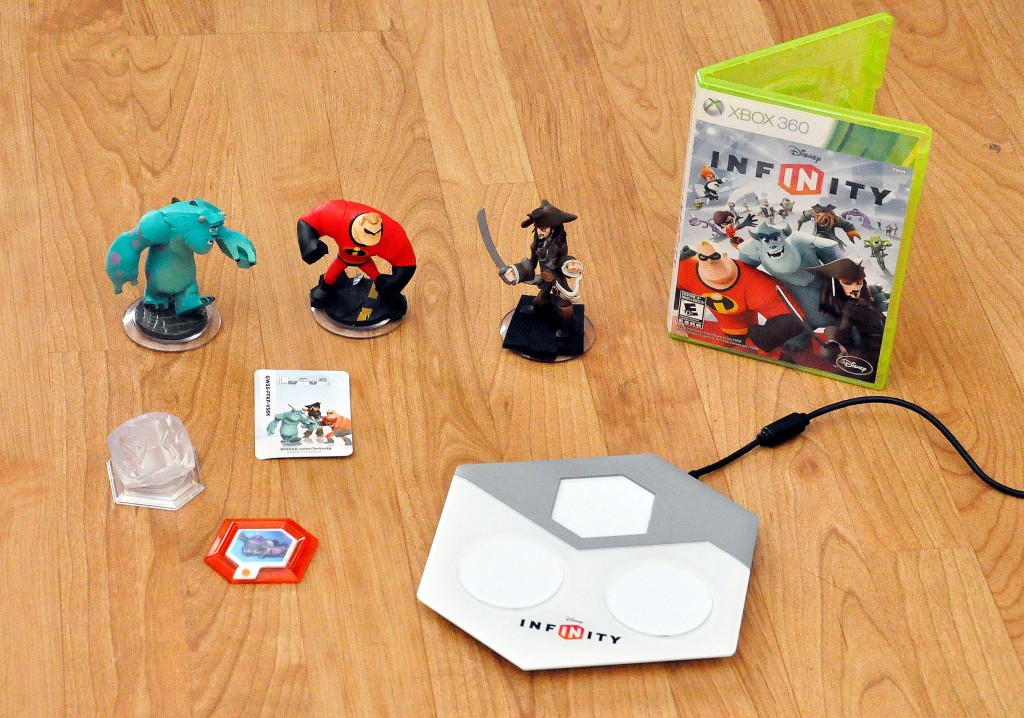 For months now, my son has been asking me every day when Disney Infinity would be released. I got an early sneak peek at the beginning of the year and even brought home one of the first collectible interactive figures (Mike Wazowski) during my visit to Pixar Animation Studios. You can imagine my son's excitement over what seemed to him to be a Disney version of Skylanders. But apart from the small semblances, mainly the use of a base to bring character figures to life in the game, each is unique with different modes of play and target audiences.
What is Disney Infinity and how does it differ from other video games?
I think the title is probably the best descriptor of this game. If you can imagine it, it (likely) can be done. This video game uses collectible figurines from beloved Disney and Pixar stories to interact and go on adventures within the game.  There are two modes of play (Play Set and Toy Box) and to get started, you'll need (at the very least) the Infinity Base, the interactive figures, and the video game itself. Where "infinity" is truly realized is in the Toy Box mode, where players can create their own worlds, stories, and adventures.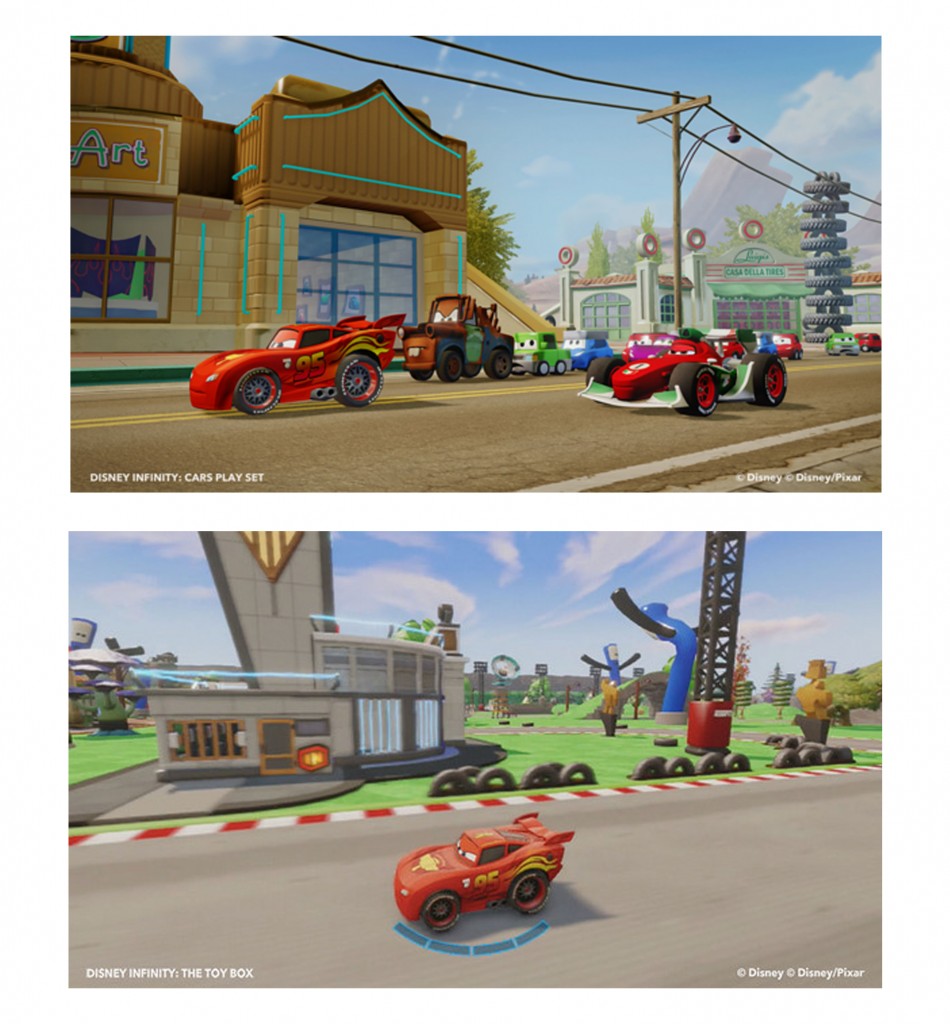 What is the difference between the Play Set and Toy Box Modes?
Not having played Disney Infinity much during previous press events, I found there was a bit of a learning curve involved to truly grasp the concepts of this game. Fortunately, there is a detailed, guided intro when the game is first launched on your console.
[nggallery id=14]
Play Set (aka story) mode closely resembles traditional video game experiences as far is play is concerned, and is relatively straightforward. Disney Infinity launched with the characters and worlds of Monsters University, The Incredibles, Pirates of the Caribbean, Cars, and The Lone Ranger.  At present, there are 17 interactive character figures, but each can only be used in their respective worlds.  Disney Infinity supports cooperative play, but you'll need, for example, Mike and Sulley (or Randall) to play in Monsters University in this mode.  Since we have figurines from 3 of the worlds, we were able to begin tackling the challenges such as scaring students at Monsters University, swashbuckling pirates on deck as Captain Jack Sparrow, and saving the townspeople in Metroville (The Incredibles).  While this type of play is more structured, there are a wealth of challenges to keep you occupied.  We have played in all 3 of these worlds and haven't begun to scratch the surface of all there is to discover.  For example, I just learned was that some of the challenges in each play set are specific to the figure (an incentive, I'm certain, to collect them all). We will definitely be encountering these "aha" moments for some time, making this a game with longevity.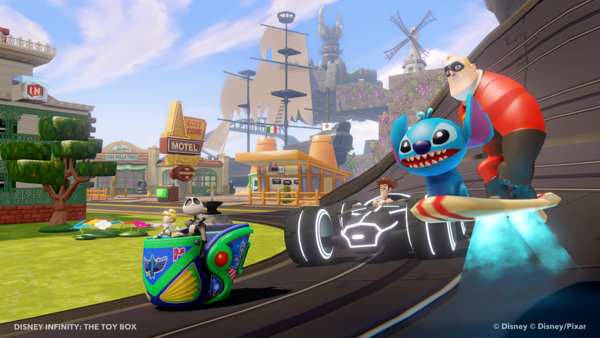 Toy Box mode allows adults and children to dream up their own worlds, stories, and adventures and this is the space where characters from different stories can live and play together.  I find it very intriguing that my son prefers this mode of play.  He has always enjoyed more imaginative, unstructured play (i.e. LEGOS) so it makes sense that he would be drawn to a space where he can truly express his creativity without limits.  The Toy Box contains 1,200 toys that can be unlocked by completing various challenges in the play sets, leveling up your characters, or earning spins (although this only allows randomly selected items to be unlocked).  Combine these characters, environments, vehicles, gadgets, weapons, costumes and more to create your own worlds and games.  Gone are the days of children mindlessly engaging in passive video game play.  The Toy Box mode is going to stretch your imagination and has the potential to teach children about cause and effect.  Suddenly, I don't feel guilty about allowing my children some screen time.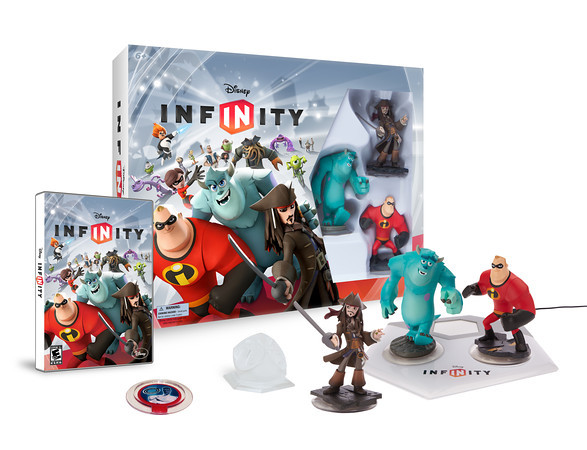 What do I need to get started playing?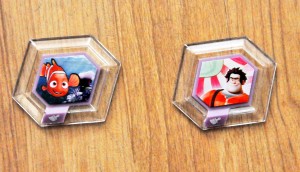 At the very least, you'll need The Starter Pack ($74.95 at Walmart) which includes the video game, the Infinity Base, 3 collectible figurines (Sulley, Captain Jack Sparrow, and Mr. Incredible), 3 Infinity Play Sets (Monsters University, Pirates of the Caribbean and The Incredibles), and an Infinity Power Disc.  Additional play sets, figurines, and power discs can be purchased to unlock new gaming experiences.  At present, players can purchase 17 interactive character figures (some are sold in packs of 2 or 3), 5 play sets (including Cars and The Lone Ranger), and 20 power discs (which can be placed on the Infinity Base to add new terrains, vehicles, weapons or abilities).  Disney Interactive has already announced the future release of a Toy Story play set and character figurines from Toy Story, The Nightmare Before Christmas, Wreck-It Ralph, Phineas and Ferb, Tangled, Frozen, and Fantasia.  The price doesn't initially appear to be that steep, but families should anticipate that this isn't going to be a one-time investment as new play sets and characters are released. There are also accessories that can be purchased including cases to hold the figures, discs, etc.  Additionally, I really wish that the Power Discs were not sold in blind packs.  I can already envision us on a mad trading mission to find them all!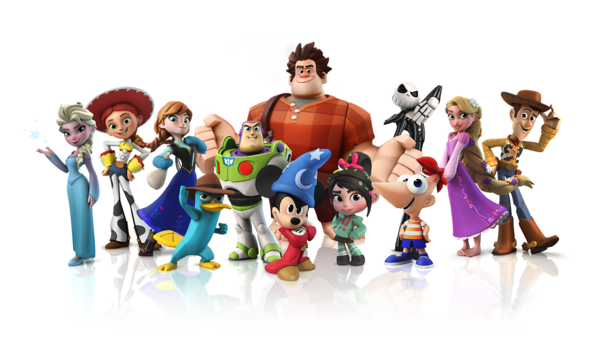 Overall, we are loving our play experiences with Disney Infinity.  Playing in the worlds feels authentic to the respective films as far as the visuals and the storylines are concerned.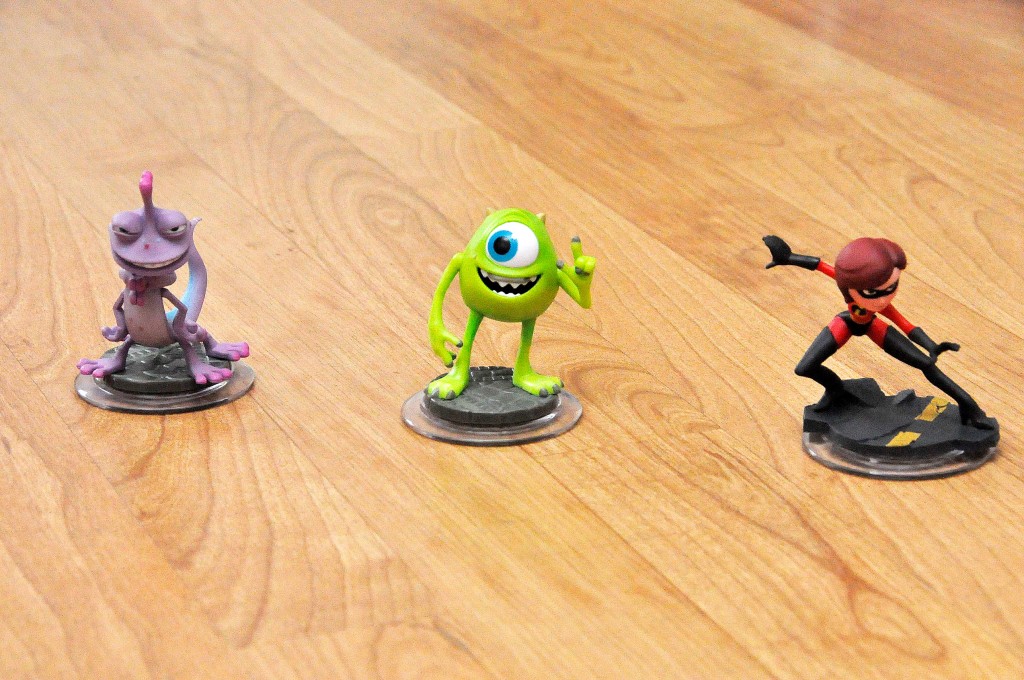 The characters, for the most part, are durable (we had an issue with Violet's head coming off but our local Walmart exchanged her without a problem) and items that are detailed enough to be collectibles.  While definitely an investment, I can see us playing Disney Infinity for years to come as the developers continue to add more play sets, characters, and capabilities.  This isn't a game we'll be completing and then putting up on our shelves, much like the games I played as a child.  And even if we were to complete all of the challenges, the Toy Box Mode alone would entertain us endless amounts of time.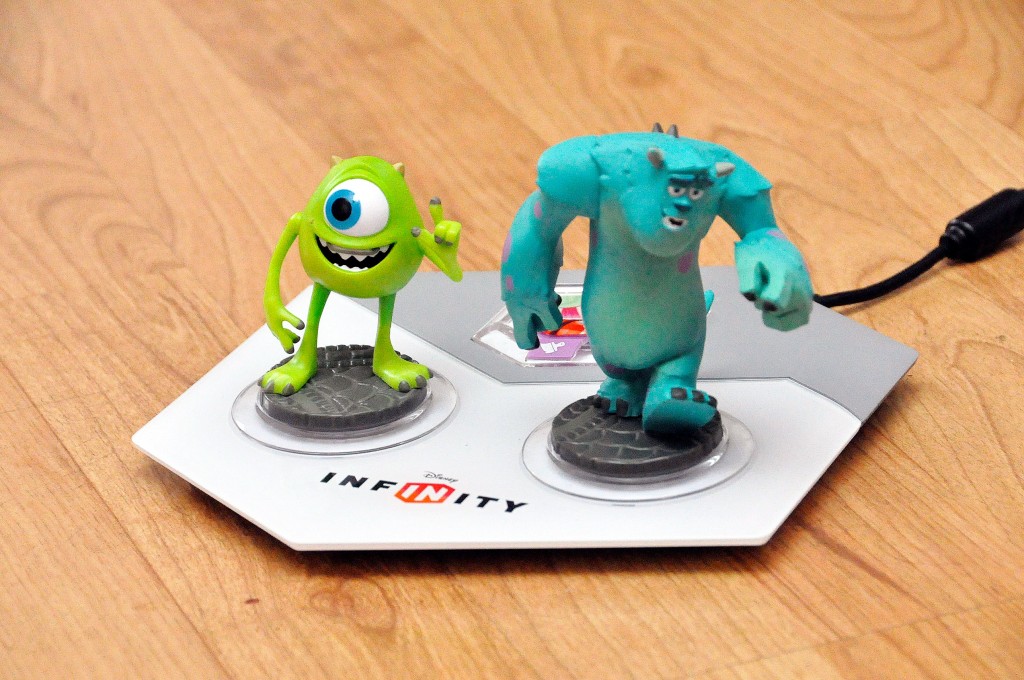 Disney Infinity is now available on all platforms including Nintendo Wii, Nintendo Wii-U, Nintendo 3DS, Xbox 360, and Playstation 3.  In a subsequent post, I'll share our experience with the mobile version and the soon-to-be-released PC version, debuting this Fall.

Latest posts by Caryn Bailey
(see all)