Thanks for stopping by, this giveaway is now closed. Congrats to Karen, Jennifer, Nadia, Joseph and Sondra!
My husband drinks a. lot. of. Coca Cola.  As in, he alone could probably keep the company in business. Last week, I had an opportunity to test out their brand new, upscale, aluminum bottles at a swanky rooftop lounge in Los Angeles (if it were daytime, I would have had gorgeous views of the ocean). You won't find these bottles just anywhere.  They are strategically placed in upscale hotels and restaurants in cities like New York, Los Angeles, Atlanta, Philadelphia, Las Vegas, and San Francisco.  Notable Los Angeles placement includes the SLS Hotel, SBE Group, and The London West Hollywood.  I personally like the fact that they're unbreakable and contain 8.5 ounces of product (as opposed to 12).  Because they're aluminum, they stay cold longer.  And unlike aluminum cans, they're resealable (but I doubt you won't finish one!).  The bottle has a certain retro look and feel and it reminds me of those old Coca Cola bottles from back in the day.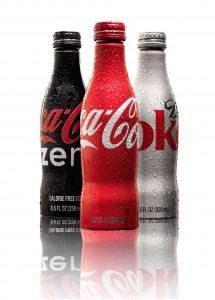 A few of us had an opportunity to speak with the vice president and region manager for the company.  It was neat to be able to give him our feedback directly.  I told him that I could see these bottles at Disneyland…maybe in one of their hotels.  They're definitely not appropriate for all places and situations, particularly because they cost $3.00 a bottle.  But I definitely see them sold in places where the young and hip congregate.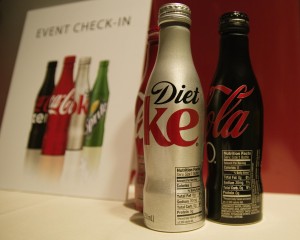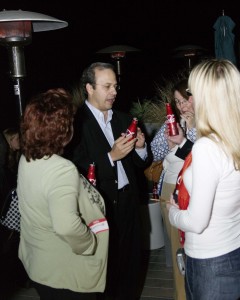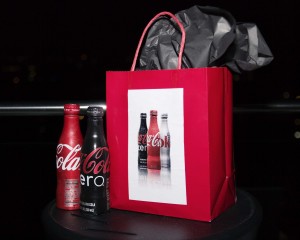 I'm certain you've heard of people using a can of Coca Cola in a cake recipe.  But have you ever heard of a Coca Cola Meat Balls Recipe?  Well, that was one of the h'orderves served at the event.  And I have the recipe just for you!
10# ground beef
1 diced onion
3 cloves garlic minced
3 12oz cans Coca Cola
¼ c dry oregano
1 bu. Basil chopped
1 tsp. chili flakes
1 tsp. chopped thyme
1 cup of panko bread crumbs
2 eggs
S/p tt
Mixed all ingredients together. Shape into 2" balls and bake at 400 for 15 minutes and serve with your favorite dipping sauce.

Win It! FIVE of you will win "dressed up" versions of Coca Cola, Diet Coca Cola, and Coca Cola Zero.  Simply leave me a comment with your favorite Coca Cola product!  Comments will close on December 10, 2009 at 10 PM PST. One comment per person, please (unless you do the extra credit). US residents only. Duplicates and comments not including the above information will be disqualified. Comments are moderated. If you don't see your comment in a reasonable amount of time, send me an email. Bloggers and non-bloggers may enter. If you don't want to leave your email address, please be sure to check back for my announcement on the winner. Please note that winners must respond within 48 hours of being announced/contacted or another winner will be drawn.
Want an extra entry? Do any or all of the following and receive an extra entry for each one.
Be sure to leave me a separate comment for each additional entry.
Follow me on Twitter AND tweet about the contest.
Subscribe to my feed via email or reader.
Blog about this giveaway. It doesn't have to be a separate post. Just include a blurb about it when you blog about other giveaways.
Click on one of the very cute buttons below and digg, stumble, fav, etc. Just let me know what you did in the comments!
Latest posts by Caryn Bailey
(see all)