This post was sponsored by Ling Ling, all opinions expressed in my post are my own.
Chef Katie Chin learned everything about life and cooking from her mother. Her mother's story of seamstress to chef is remarkably inspirational. And as I listened to Chin talk about the late Leeann Chin, the respect and closeness they shared reminded me of my relationship with my own mother. Once again, I found myself in LA this past week with Ling Ling and Chef Katie Chin. On this particular occasion, we were situated at Hipcooks to talk Chinese New Year over Ling Ling Fried Rice and pot stickers.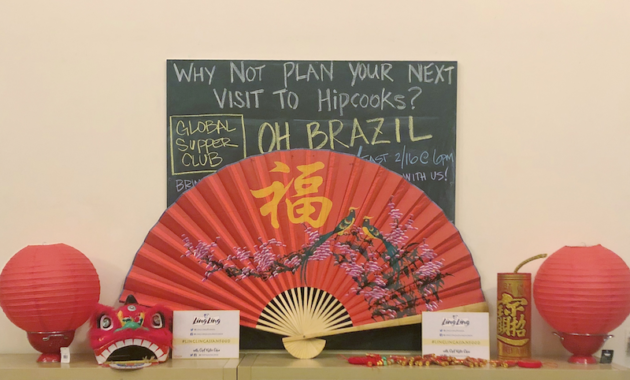 How Leeann Chin Grew a $50 Million Company
In 1956, Leeann Chin immigrated from China and worked as a seamstress making 50 cents per hour. Her love for cooking led to her throwing a party for her sewing clients. In awe of her authentic gourmet Chinese cuisine, her clients compelled her to take classes and begin catering. As she grew in popularity, she began a catering business in the basement of their family home. When a socialite friend arranged for the owner of the Minnesota Twins and Sean Connery to invest in her first restaurant, she became widely successful.  Subsequent restaurants later, Leeann Chin sold her company to General Mills, only to buy it back and grow it into a $50 million company.
Leeann Chin's love for Chinese cuisine included Ling Ling pot stickers which ended up resulting in a collaborative partnership with the brand. Both Chin and her sister flew out to Ling Ling Headquarters to meet with the founders and collaborate on a recipe for pot stickers. They eventually supplied Leeann Chin's restaurant chain.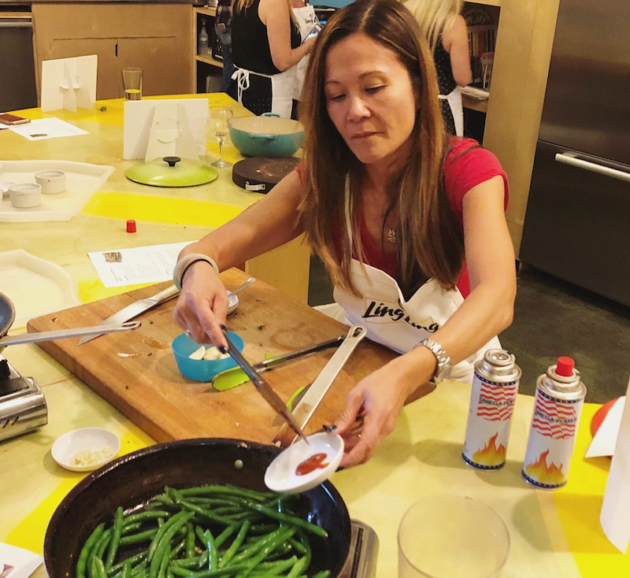 How Katie Chin Re-Learned to Cook and Became a Renowned Chef, Spokesperson, and Cookbook Author
Katie Chin grew up in Minnesota, but her career landed her in LA, where she worked in film and television for 14 years. Her career resulted in a lapse and Chin admits that she forgot how to cook. When she decided to host a small dinner party, her mother's advice was to hop on a plane with frozen lemon chicken and cook the entire meal, without taking credit for any of the work. Chin's mother re-taught her how to cook, and the two ended up co-authoring the cookbook Everyday Chinese Cooking. Chin and her mother also ran a Pan-Asian catering business and appeared on several cooking shows, including the Food Network and PBS. While her mother has since passed away, the lessons Chef Chin learned about food and culture live on through her dishes, which make Asian cuisine attainable.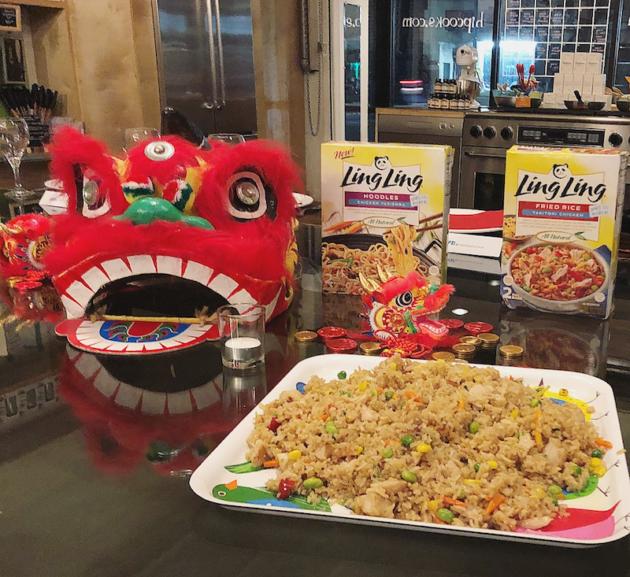 Ling Ling
Ling Ling founder Clarence Mou migrated from Taiwan to San Francisco with a dream and a passion to share their culture through food. Shortly thereafter, the family opened a small Asian restaurant using generational recipes prepared from scratch. Their potstickers became widely popular, propelling the launch of their frozen food line.
Today, Ling Ling continues to use authentic recipes inspired by regions of Asia. Their foods are prepared with pure ingredients including rice, vegetables and Asian seasonings. As a mom, I appreciate the fact that Ling Ling products are free from artificial flavors, colors, and preservatives.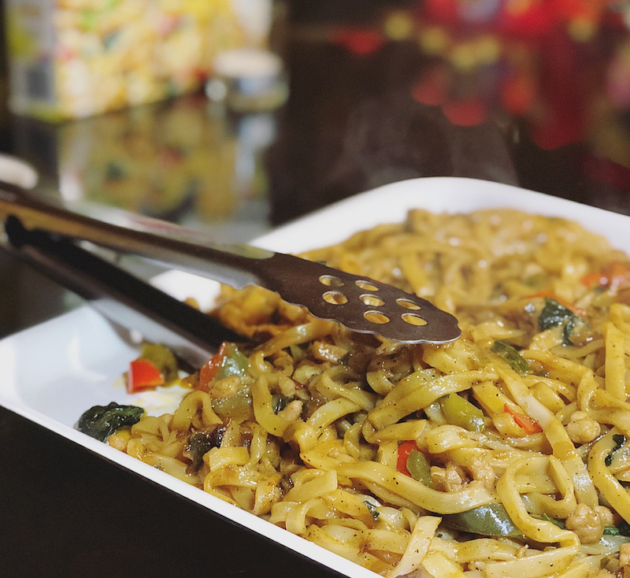 Ling Ling's line of Asian cuisine includes Fried Rice dishes from Japan and China, Authentic Asian noodles, and Potstickers. Their Chinese Style Vegetable and Yakitori Chicken fried rice dishes boast authentic recipes which include vegetables, protein, and authentic seasonings. The Drunken Noodles and Yakisoba Noodles are infused with authentic sauces, proteins and vegetables. And their signature Potstickers are made with either chicken or pork and vegetables and then wrapped in a dumpling wrapper and served with their signature dipping sauce.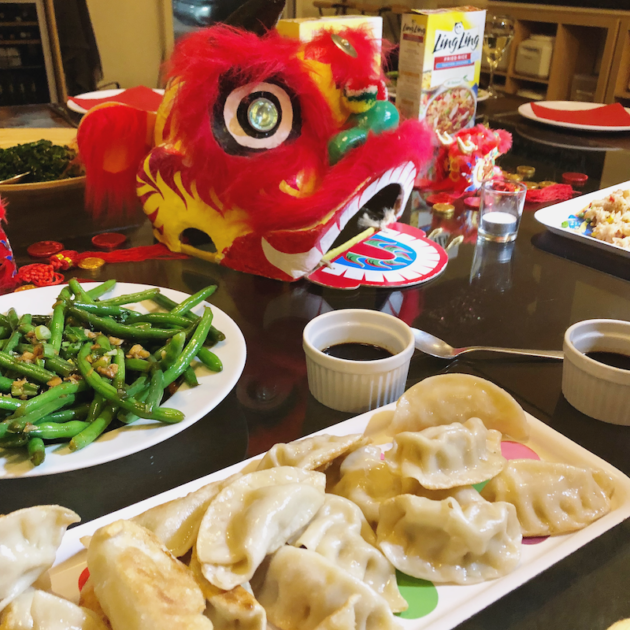 Chinese New Year Recipes
In honor of Chinese New Year, which begins February 16th, 2018, Chef Katie Chin demonstrated two easy vegetarian dishes that pair well with Ling Ling Fried Rice Entrees, Asian Noodles, and Potstickers. Each recipe features blanched vegetables, which are ideal for stir fry dishes because this technique stops the cooking process, thereby allowing the vegetables to retain their vibrant color and texture.  Blanching is actually quite simple and involves boiling the vegetables for one minute, then quickly transferring them to an ice bath for another minute.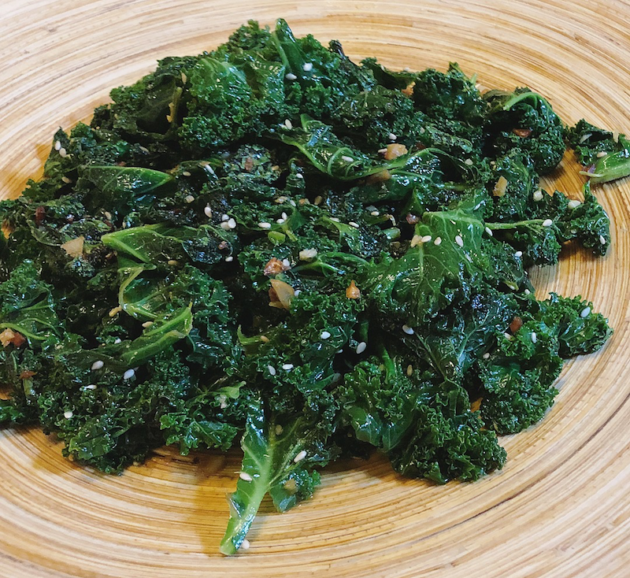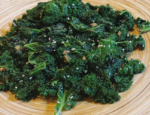 Kale With Ginger
Ingredients
1

large bunch

kale

rinsed with hard stems and center ribs removed and coarsely chopped

1

tbsp

fresh minced ginger

2

tsp

neutral oil

i.e. canola

1

tsp

soy sauce

1

tsp

sesame oil

1/4

cup

water

1

tsp

toasted sesame seeds
Instructions
Blanch kale in boiling water until bright green.

Using a slotted spoon, transfer to an ice bath to cool.


Heat the oil in a wok or skillet over medium-high heat.


Add the garlic and stir-fry until fragrant, about 30 seconds.


Add the kale and stir-fry for a few minutes until wilted but still slightly crunchy.


Add the soy sauce and sesame oil and stir-fry for 30 seconds.


Sprinkle with sesame seeds and serve.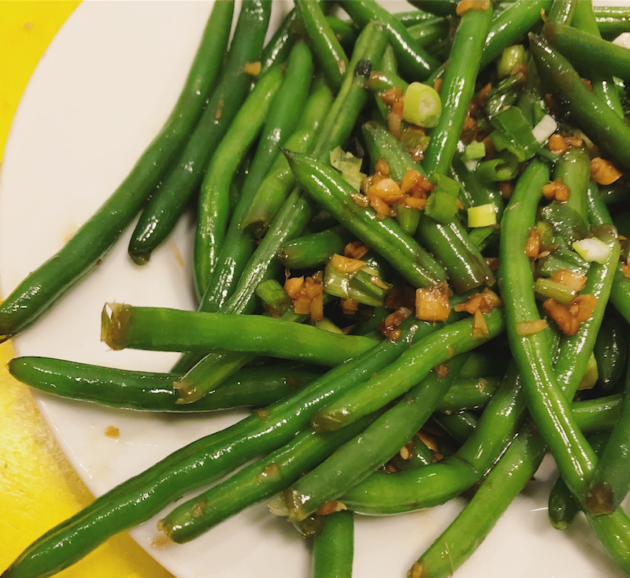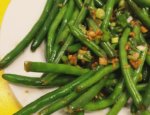 Sweet & Spicy Green Beans
Ingredients
1

pound

green beans

washed and trimmed, cut into 1-inch pieces

1

tbsp

neutral oil

i.e. canola

2

garlic cloves

minced

1

tsp

fresh ginger

minced

1/2

tsp

Srircha sauce

2

tsp

soy sauce

2

tsp

oyster sauce

1

tsp

sugar

1

green onion

green and white parts, finely chopped
Instructions
Blanch the beans in boiling water until tender-crisp (about 3 minutes).

Using a slotted spoon, transfer to an ice bath to cool.


Heat the oil in a wok or skillet over medium-high heat.


Add the garlic and ginger and stir-fry until fragrant, about 30 seconds.


Add the drained green beans, Srircha, soy sauce, oyster sauce and sugar and stir-fry for 1 more minute, then add the green onions and stir-fry for 30 more seconds.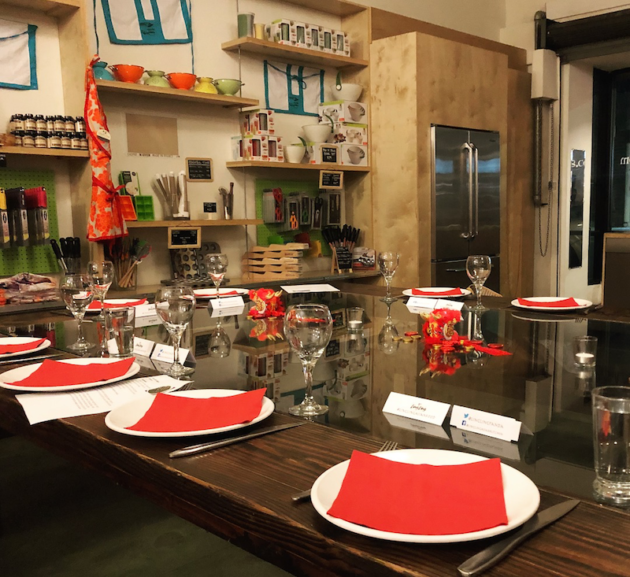 Chinese New Year Traditions
Chef Katie Chin's mother had a sense of humor. During one of their appearances on a cooking show, Chef Chin recalls an episode where she spoke about Chinese New Year traditions. She mentioned that sesame seeds and peanuts symbolize fertility, and her mother responded "Better hurry up." In those few short hours with Chin, I gleaned a sense of their relationship and how Leeann Chin wanted her daughter to be the best chef she could be. Chin's latest cookbook honors her mother's memory.
In honor of Chinese New Year and the year of the Dog, Chef Chin shared some a few Chinese New Year Traditions:
Refrain from using foul language or bad words on NewYear's Day or they will follow you throughout the year
Do not wash your hair because you will wash away your good luck for the year
Greeting friends with oranges or tangerines during the New Year will ensure that your friendships remain intact
Avoid sweeping on New Year's Day as you will sweep all of your good luck out the door
Stepping into new shoes on New Year's morning to start your year off on the right foot (Chef Katie Chin's favorite and a tradition I can totally get behind)
The gifting of of Red Envelopes signifies Joy and Luck. These envelopes are filled with money to start the year with prosperity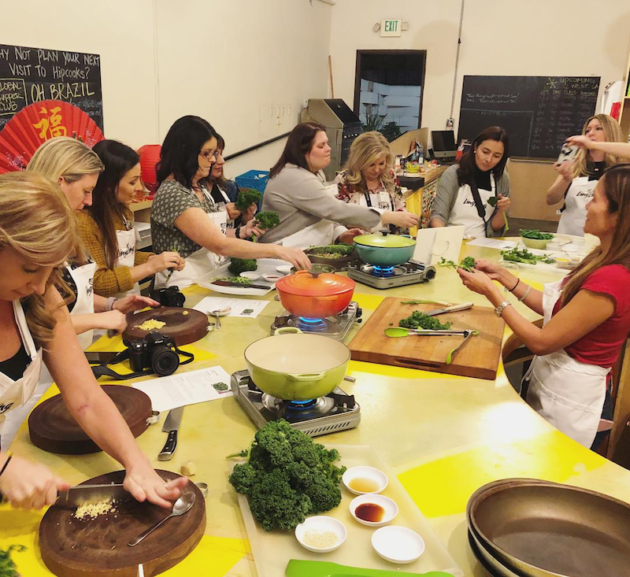 After we prepared Chef Katie Chin's vegetarian side dishes, we sat together and enjoyed a traditional, family-style Asian meal in honor of Chinese New Year. The fried rice dishes paired perfectly with the Asian vegetable side dishes and the entire meal was bold and flavorful. I absolutely loved learning a few new cooking techniques and recipes to add to my repertoire.
For more information about Ling Ling, or to find a store that sells their products, visit Ling-Ling.com.