This giveaway is now closed.  Thanks for stopping by.  The winner is Cynthia C.  Congrats!
As the weather cools down and people head indoors, germs tend to aggregate.  I'm so not looking forward to this cold and flu season.  I'm pregnant and definitely don't need to get sick (and neither does my 2 year old!).  When sickness does come into the house, here are a few staples we have around the house:
1.  Boogie Wipes
2.  Saline Nasal Spray
3.  Humidifier (or Vaporizer)
4.  Liquids (and lots of them)
6.  A reliable thermometer.  A thermometer is a thermometer right?  You can buy the digital ones (for rectal or axillary temperatures), an ear thermometer, or a temporal thermometer (I know I haven't covered all of them).  My problem has never been the device that we use.  It's been the process of obtaining the temperature.  When my son was little, I was worried that an axillary (under the arm) temperature was inaccurate because it always read lower than a rectal.  And trying to take a rectal temperature is just heartbreaking (and a little scary for a new mom).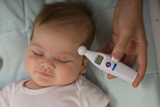 I recently had an opportunity to try out the new TempleTouch Thermometer, thanks to MomSelect.  This is the easiest way I've found to get an accurate temperature.  It literally takes seconds to read (6 to be exact), is easy (and completely painless), and my toddler likes it.  The best part is you don't have to wake your child up to use it.  We received the Mini version and I still find the results to be as accurate as any other thermometer I've used.  The thermometer uses a special technology called R.A.T.E (Rapid, Accurate, Temperature, Establishment) that I don't pretend to fully understand, but you can read all about it on their site.  The thermometer can safely be used on newborns (something I was pleased to find out).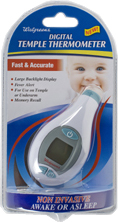 While I don't have the Premium version, there are a few differences including the ability to take a child's temperature under the arm as well as on the temple, a room temperature display, an LCD screen, and an Over Dose Protective timer.  There is also about a $20 price difference between the two, with the mini retailing for under $10.  I like the mini version because I can store one in my son's overnight bag for visits to grandma and grandpa's house.
You can purchase the thermometers at either Walmart (for the Mini) for Walgreens (for the Premium).
Win It! I have one Mini TempleTouch thermometer to give away.  Just leave me a comment with something you learned on the site.  Comments will close on October 18, 2009 at 10 PM PST. One comment per person, please (unless you do the extra credit). US residents only. Duplicates and comments not including the above information will be disqualified. Comments are moderated. If you don't see your comment in a reasonable amount of time, send me an email. Bloggers and non-bloggers may enter. If you don't want to leave your email address, please be sure to check back for my announcement on the winner. Please note that winners must respond within 48 hours of being announced/contacted or another winner will be drawn.
Want an extra entry? Do any or all of the following and receive an extra entry for each one.
Be sure to leave me a separate comment for each additional entry.
Follow me on Twitter AND tweet about the contest.
Subscribe to my feed via email or reader.
Blog about this giveaway. It doesn't have to be a separate post. Just include a blurb about it when you blog about other giveaways.
Click on one of the very cute buttons below and digg, stumble, fav, etc. Just let me know what you did in the comments!
Latest posts by Caryn Bailey
(see all)