{Sponsored}
One of my all-time favorite foods is a grilled cheese sandwich. When I was pregnant with my kids, it was one of the only foods I could tolerate early on in the pregnancies and admittedly, it's my go-to comfort food.  When I don't want to cook, when I've run out of creative meal solutions, when it's cold outside, and all of those times in between, a simple grilled cheese sandwich will suffice.
As a child, my father often grilled up these cheesy delicacies with just a few pieces of bread and cheese. The key to a nice crispy bread, he would say, was to spread a small amount of butter or margarine on the outside of the bread and grill these sandwiches in a frying pan.  He always kept it simple by not adding many ingredients, which was my preference as a child, but as my palate has diversified, I've had the opportunity to taste a number of variations on this classic, my favorite being a gourmet grilled cheese that featured artisan cheddar cheese, fig jam, and apple slices.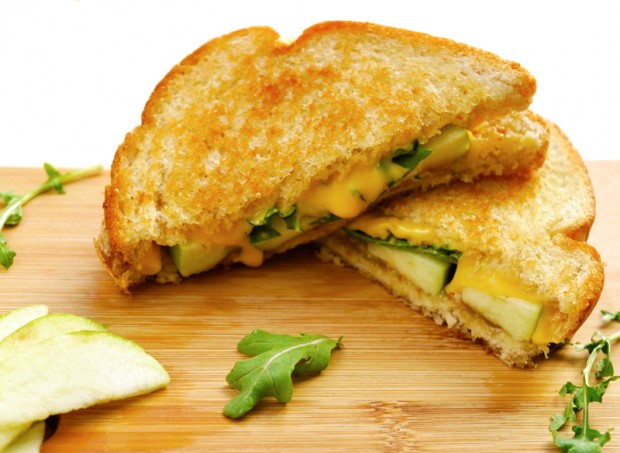 While our family can and does enjoy a grilled cheese sandwich during any time of the year, winter seems to be a very popular time for this simple meal solution. And right now, Kraft Singles, Blue Bonnet, and Wonder Bread have partnered to create Grilled Cheese Solutions, a site featuring Grilled Cheese Ideas and Recipes. If you have a new, original twist on the classic grilled cheese sandwich, I encourage you to #shareyourcheesy on WonderfullyCheesy.com for a chance to win a $100 Walmart Gift Card.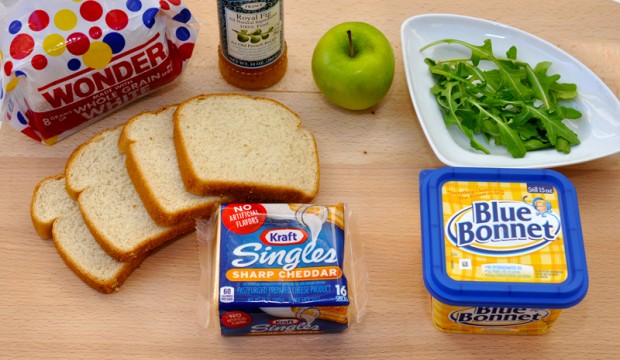 In honor of the new Grilled Cheese Solutions site, I'm sharing a gourmet, grown-up variation on the classic grilled cheese sandwich. Despite it's gourmet appearance, this Cheddar, Apple and Fig Grilled Cheese Sandwich is easy to make and uses just a few simple ingredients.  I picked up Kraft Singles Sharp Cheddar Cheese Slices, Whole Grain White Wonder Bread, Blue Bonnet Original Soft Spread, organic green apples, organic arugula, and St. Dalfour Fig Fruit Spread.

Cheddar, Apple and Fig Grilled Cheese
Ingredients
2

slices

of Whole Grain White Wonder Bread

1-2

Tbs

. Blue Bonnet Original Soft Spread

2

slices

of Kraft Singles Sharp Cheddar Cheese Slices

1-2

Tbs

. Fig Fruit Spread

1

handful of fresh arugula

1/2

green apple

thinly sliced
Instructions
Spread a layer of Blue Bonnet Original Soft Spread on one side of each piece of bread

Grill each slice of bread in a pan over medium heat (spread side down)

Place both slices of cheese on one slice of bread (grilled side down) and broil approximately 3-5 minutes over low heat, or until cheese has melted

Spread a thin layer of fig fruit spread on the other slice of bread (grilled side down)

Layer arugula and apple slices on top of fig fruit spread

Remove bread from broiler oven and place on top of arugula and apple slices

Cut in half and enjoy.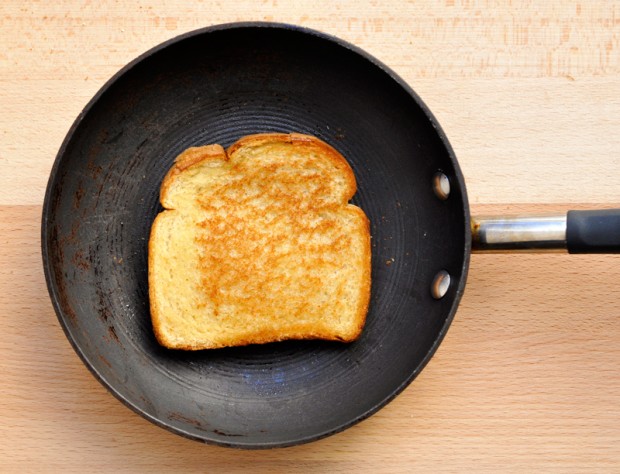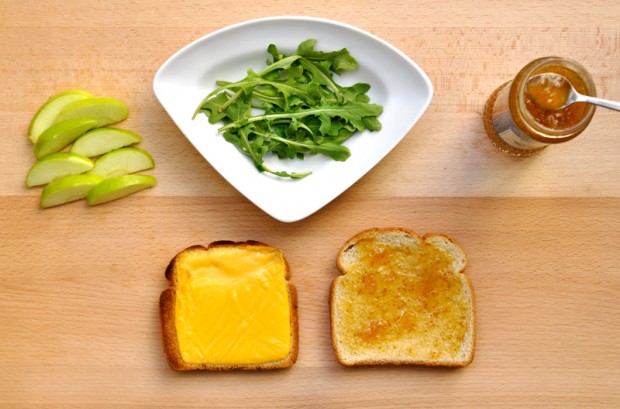 This is my new favorite grilled cheese sandwich, and admittedly, I had two the day I prepped this recipe. The combination of sweet and savory flavors sandwiched between toasted buttery bread was absolutely divine. I like to think the addition of apples and arugula gives this sandwich a bit of a nutritional kick and it makes me feel better about enjoying such an indulgence.  In this recipe, I only butter and grill one side of the bread to cut back on fat and calories, but you can easily grill both sides if you prefer.  Be sure to be generous with your arugula and apples for a hearty sandwich!
Looking for additional inspiration for your Grilled Cheese Solution?  Check out these Grilled Cheese Sandwich Recipes from my fellow Walmart Moms.
Italian Style Grilled Cheese Sandwich
Waffle Iron Grilled Cheese Philly Cheesesteak
Chile Relleno Grilled Cheese Sandwich
Tomato Bacon Grilled Cheese Sandwich
Bacon, Lettuce and Tomato Grilled Cheese Sandwich

Latest posts by Caryn Bailey
(see all)