{Sponsored}
I absolutely love that 4th of July falls on a Friday because that means we have 4 full days to spend together as a family. We don't usually go away for the holiday weekend, and since we just came back from our family vacation in Tucson, we planned to spend a quiet weekend with friends and family.  The BBQ and beach invites have been pouring in, so we'll likely have a dish or two to prepare and share in celebration of our country's Independence. Since I love to bake, I thought I'd whip up a patriotic, red, white, and blue Chantilly Fruit Cake!
Last month when we celebrated my son's birthday, I served our guests a Chantilly Fruit Cake I had picked up from our local market. It was such a hit, I decided that I needed to recreate this moist, fruity delicacy! The hallmark of a Chantilly Cake is the whipped cream frosting, which admittedly was the most difficult part of making this cake.  But if you follow this recipe to a T, you'll easily impress your friends with this beautiful Chantilly Fruit Cake Recipe (adapted from here).

Chantilly Fruit Cake Recipe
Ingredients
2

sticks of butter

softened

1

cup

Organic sugar

8

egg yolks

3/4

cup

milk

1 1/2

teaspoons

vanilla extract

2

cups

+ 2 Tablespoons unbleached flour

2

teaspoons

baking powder

Whipped Cream Frosting

See Recipe Below

Fresh strawberries

blueberries, raspberries, and blackberries

1/2

teaspoon

salt
Instructions
Preheat oven to 350 degrees F

Grease and flour 2 - 8 inch round pans

Sift the flour, baking powder and salt together and set aside

Using a stand mixer, cream butter and sugar until light and fluffy

Beat in the egg yolks one at a time

Stir in the vanilla extract

On low, alternate mixing in flour and milk just until incorporated (do not over-mix)

Pour batter into prepared pans

Bake at 350 degrees F for 25-30 minutes or until a toothpick inserted comes out clean

Cool before removing from cake pan
Whipped Cream Frosting
1 cup of heavy cream
4 ounces of mascarpone cheese, room temperature
4 ounces cream cheese, room temperature
1 cup confectioners' sugar, sifted
1/2 teaspoon almond extract
Directions
Using a stand mixer beat heavy cream and almond extract until stiff peaks form (do not over-mix)
In a separate bowl, whisk together mascarpone, cream cheese and confectioners' sugar until smooth
Fold whipped cream into mixture until completely incorporated and use immediately
To Assemble Cake:
Frost one cake layer
Place sliced strawberries and blueberries on top of cake layer
Place second layer of cake on top of the frosted cake layer
Frost the second layer of cake
Arrange mixed berries on top of cake
May chill cake to set before serving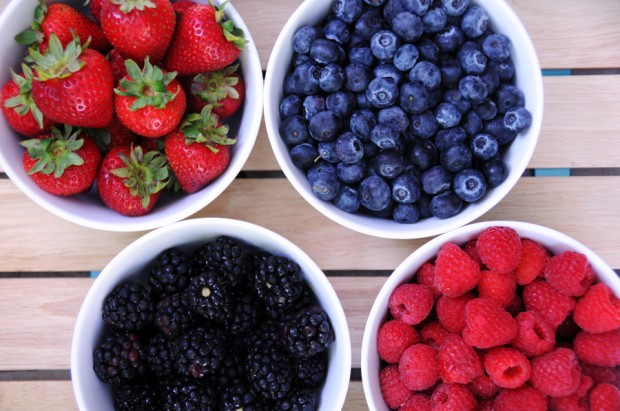 My kids absolutely love all-things berries, which is what compelled me to attempt to recreate this cake. Plus, Walmart currently has all of their favorite berries in season at affordable prices so I stocked up!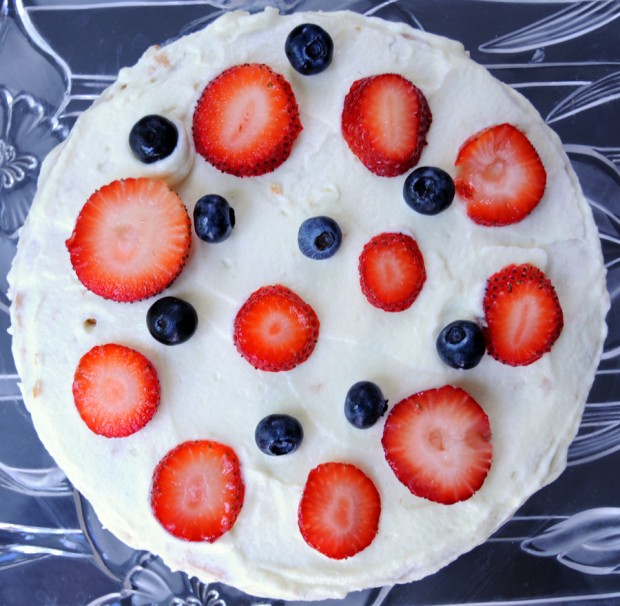 I personally liked the addition of fruit in the middle of the cake as well as more variety on top.  Try experimenting with your favorite fresh berries.
While definitely time-intensive, this cake looks patriotic and beautiful and tastes pretty close to the original.
What are your favorite 4th of July recipes?  Check out a few more recipe and craft ideas from my fellow Walmart Moms: