One of the things I enjoy about watching my children develop is their curiosity and imagination. As a child, I grew up hearing myths and legends like that of Big Foot. Also known as Sasquatch, this hairy ape-like creature dwells in the wilderness and is characterized by the footprints he leaves. Warner Bros. latest film Smallfoot, turns the table on this fable in an animated adventure with a feel-good message.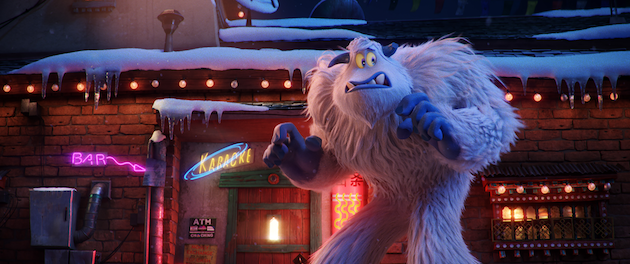 Smallfoot
Based on the book Yeti Tracks by Sergio Pablos, the film follows the story of a group of Yeti who encounter a human, dispelling each of their myths that the other species does not exist. Migo (voiced by Channing Tatum), lives in the Yeti village where tradition is upheld without question.
When Migo accidentally discovers a smallfoot who's plane has crash landed, he eagerly tells the village of his discovery. But his observations are challenged in an environment where truth is relative. Without proof, Migo is forced to lie or be banished and he opts for the latter.
Suitable for families of all ages, Smallfoot features original music and a heartwarming story about traditions, family, integrity, and welcoming those who are different than you are.
Channing Tatum and Common Talk Smallfoot
Both Common and Tatum are no strangers to animation, having each voiced characters in a handful of films and television shows. Because those parts comprise a small part of their overall work, I was intrigued as to how each of them decided to be involved with the project.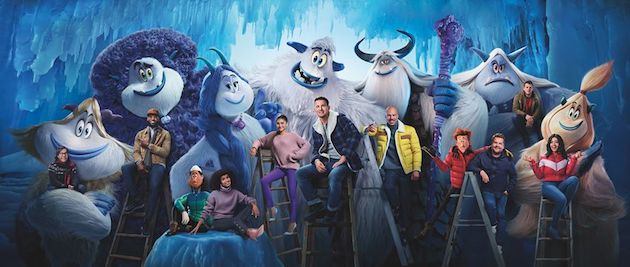 On Joining the Voice Cast
While Tatum never got an actual script, he knew director Karey Kirkpatrick's vision. "I like the heart of it, the soul of the movie, the theme of the movie was right on for me (Tatum)."  While the script and the way you shoot it can improve, "the themes and the heart of the thing and the reason to make it generally don't change (Tatum)."
When reading a script, "you want it to speak to something that makes you feel passionate," remarked Common. Having not received a script, Common recalls sharing Kirkpatrick's vision. And while Smallfoot is admittedly not in line with his usual work he stated that he "wants to dive into different worlds." "I think it's good for me as an actor. I don't want to only do a certain type of film or a certain genre. Common generally liked his character, but never felt like he had to play characters that believe in what he believes in. "In fact, I like to learn by playing characters that don't always think like I think (Common)."
On Voicing Their Characters
In Smallfoot, Tatum voices Migo, the young Yeti who's curiosity, naïveté, and desire to know and tell the truth result in being ostracized from the village.
Migo is "a believer and he's truthful…and that's why he was kind of the perfect person to have to go on this journey. To be tasked with this was a scary thing. He [Migo] thought his world was perfect. And it's easy to know that change needs to happen if things aren't good. But in his mind, things were literally perfect and he didn't want anything to change. When something comes into his world that completely knocks out a pillar of truth in his life, everything is questionable now. I think it takes a really strong person…a brave person to to out past the breakers and see what's out there, and he does that. He respects the Stonekeeper and his father so much because of the way they raised him and what they represent. And that is why it was the hardest thing in the world to go against them (Tatum)."

Why Families Should See Smallfoot
The theme of truthfulness is pervasive throughout the film. "Finding the truth, and speaking that truth, and believing in that truth, and not being afraid to share that truth is, I think, one of the great messages we have in this movie (Common)." The idea that "it's okay to think for yourself and to question things that you're being told" is valid and timely. The only way get to some progress is to challenge those things, because if we keep doing the same things we've been doing over and over, then we'll never get to the place of breaking past this wall (Common)." "Accepting the truth is hard. Change is scary. But if you can anticipate that change is inevitable, it doesn't have to be scary.

Get tickets to see #SMALLFOOT, in theaters September 28.