This giveaway is now closed.  Thanks for stopping by.  The winner is CandG~Jill W.  Congrats!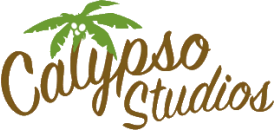 I started thinking about all the changes I've made over the last year or so to help make our home safer and preserve the environment my son is growing up in .  I've eliminated toxic cleaners from our home, started shopping for local, organically grown foods, ditched the water bottle habit, purchased Energy Star appliances for our home, started using a programmable thermostat, eliminated plastics with BPA, and started bringing a reusable bag to the grocery store.  Whenever I engage in discussion with people about "going green," two issues usually arise.  Many people think that purchasing eco-friendly products is more expensive (which at times may be true) and that "going green" means giving up style, fashion, and beauty in exchange for a "crunchy" way of life.
Did you know that plastic bags are very harmful to the earth?  Check out these facts (via
Calypso Studios
):
*    Each year, an estimated 500 billion to 1 trillion plastic bags are consumed worldwide


*    According to the EPA, over 380 billion bags are used in the USA every year, which is more than 1200 per resident and it takes about 12 million barrels of oil to make this many bags.


*    Over 46,000 pieces of plastic are floating in our oceans worldwide


*    Each reusable bag you use has the potential to eliminate an average of 1000 bags over its lifetime.
I recently had an opportunity to review a S.H.O.P (Start Helping Our Planet) tote and a pair of earrings from Calypso Studios.  Once you take a look at their gorgeous array of totes and jewelry, you'll WANT to go green!  Here is a little more information about the company:
Calypso Studios debuted in January 2007 with a line of jewelry and accessories created from the earth's natural elements: clay, shell and glass. The new line was immediately embraced and praised for the unique designs and mediums. The designs are on-trend and span the ages in both technique and the persons choosing these distinctive and exclusive designs.
The S.H.O.P. totes come in sets of three with fun Island colors, prints, and themes, and the set retails for $20.00 The company collaborated with American artists, such as Lori Siebert, Emma Hand,  Robin Roderick, Tina Higgins, and Andrea Tachiera to provide beautiful art on the totes.
Each tote can carry 20 pounds, which was impressive since they're so light!  Americans throw away 100 billion bags every year and they end up in our landfills and oceans.  Some companies (i.e. Whole Foods) have eliminated all plastic bags from their stores and give you a small compensation for bringing in your own reusable bag.  There are tons of reusable bags available, but I've yet to see one as cute and stylish as those offered at Calypso Studios.  They store compactly (2″ x 3″ to be exact) thanks to the carrying case.  The bags are made of polyester but that is the only information I have regarding the materials used in the making of the bags. I'd love to know how they're dyed and whether they're recyclable.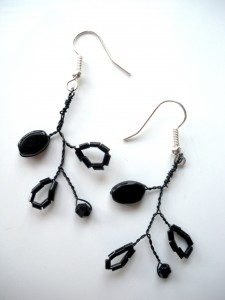 I also received a pair of stunning Black Vineyard Earrings and they retail for $6.00! They are one inch long and consist of glass and iridescent beads suspended on twisted wire. They're very stylish and look to be hand-crafted (but made well).
If you're looking for affordable, fashionable accessories, be sure to check out Calypso Studios. The company donates a percentage of sales towards environmental organizations that help with causes of keeping landfills and waterways free of plastic and paper bags.
*Update* I have been conversing with one of the representatives of the company and she was kind enough to provide more information about the company.  If you remember, one of my questions was whether or not the bags were recyclable and what materials the bags are made of.  Here is what she had to say:
We use a lot of recycled glass & lead free materials.
Our SHOP Totes are polyester.
They (the bags) are recyclable in the sense that you are not using paper and plastic bags.
The bags are not dyed.  Rather, an art plate is used to make the bags.
Overall, I'm content with the response I received from the company.  I know there are many companies who claim to be eco-friendly and I want to ensure that the companies I share with you have evidence to support those claims!
Win It! Calypso Studios has been kind enough to offer one of you a S.H.O.P. tote. Just head on over to the site and take a look around.  Come back here and leave me a comment with your favorite!  Comments will close on May 29, 2009 at 10 PM PST. One comment per person, please (unless you do the extra credit). US residents only. Duplicates and comments not including the above information will be disqualified. Comments are moderated. If you don't see your comment in a reasonable amount of time, send me an email. Bloggers and non-bloggers may enter. If you don't want to leave your email address, please be sure to check back for my announcement on the winner. Please note that winners must respond within 48 hours of being announced/contacted or another winner will be drawn.
Want an extra entry? Do any or all of the following and receive an extra entry for each one.
Be sure to leave me a separate comment for each additional entry.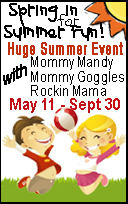 Add the "Spring In For Summer Fun" banner to your sidebar and leave me a comment (be sure to visit the main party post for more details on extra entries)
Follow me on Twitter AND tweet about the contest.
Subscribe to my feed via email or reader.
Blog about this giveaway. It doesn't have to be a separate post. Just include a blurb about it when you blog about other giveaways.
Place my button on your site. If you have difficulty, please let me know.
Click on one of the very cute buttons below and digg, stumble, fav, etc. Just let me know what you did in the comments!
Profuse thanks to Calypso Studios and Mom Fuse for this review opportunity!
Latest posts by Caryn Bailey
(see all)