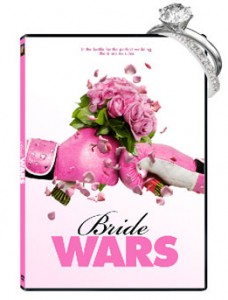 This giveaway is now closed.  Thanks for stopping by.  The winner is Terra Heck.  Congratulations!
I remember the time in my life when I was preparing for my wedding.  It was filled with excitement, anticipation, and a little bit of stress!  I fortunately had one of my best friends as my wedding planner (who planned a gala like no other).  And…I was the only one in my "group" getting married at that time so the focus was on me (I promise I'm not that self-absorbed all of the time). A few months ago I had an opportunity to see BRIDE WARS…in the theater…with my husband!  (I hear the oohs and aahs).  It's all about two best friends (played by Kate Hudson and Anne Hathaway) who are planning their weddings…which just happen to be on the same day!  Now I've heard of sharing clothes, shoes, purses, and even makeup.  But some things are not meant to be shared…like your wedding day!  Here is a little synopsis of this funny, poignant movie about tradition, dreams, priorities, and the importance of friendship:
The bouquets are flying and the laughs keep coming in this outrageous hit comedy!  Best friends Liv (Kate Hudson) and Emma (Anne Hathaway) have always dreamed of the perfect wedding at New York's famed Plaza Hotel.  But when their nuptials are accidently booked for the same date, one of them will just have to switch her plans, right?  As if!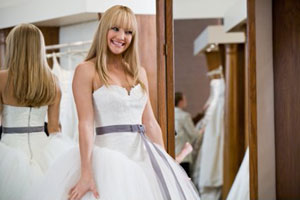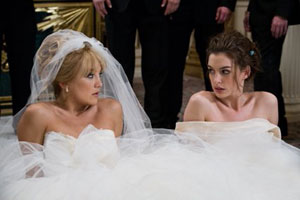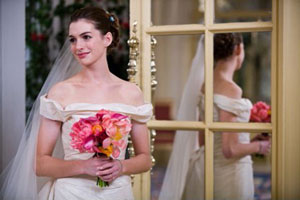 BRIDE WARS is scheduled to be released on DVD and Blu-Ray April 28, 2009.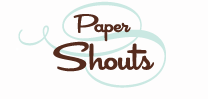 Paper Shouts, (a company I've told you about in previous posts) has teamed up with 20th Century Fox for a fabulous giveaway! Paper Shouts is a chic stationery company with a flair for the unique.  From vintage to modern and everything in between, Paper Shouts offers fabulous invitations and announcements for any occasion.  Here is a little more information about the contest and the company from the site:
Great movies influence great style! And every bride–past, present and future–cares about style. Brides, moms, birthday girls—every women has a style and likes to show off that style in the way they dress, the cars they drive and the stationery they use to share life's big moments with family and friends. Paper Shouts is a family owned business created with the mission of giving people a way to share their family news that is not only easy and cost effective, but with an end result that is as fabulous and personal as the events themselves.
Right now you can save 15% with the code "Rockin"
Win It! One of you will win both a copy of BRIDE WARS on DVD and a $25 gift certificate to Paper Shouts.  This giveaway is also running on multiple blogs, so you'll have more than one opportunity to enter.  Winners will be entered into the Grand Prize drawing on the Paper Shouts website. Prizes include movie memorabilia such as the sunglasses worn in the movie by Kate Hudson and a movie one-sheet signed by Kate Hudson and Anne Hathaway.  The Grand Prize is a great Mexican vacation—6 nights at the CasaMagna Marriott Cancun Resort and airfare for 2 on AirTran airlines.  In order to enter, please do BOTH parts or you'll be disqualified.  Leave a comment about which characters' style you relate most to—Emma's traditional, romantic style or Liv's couture, "only the best" approach.  Also include the Paper Shouts card you like best from the Bridal Shouts section. Comments will close on May 8, 2009 at 10 PM PST.   One comment per person, please (unless you do the extra credit). US residents only. Duplicates and comments not including the above information will be disqualified. Comments are moderated. If you don't see your comment in a reasonable amount of time, send me an email. Bloggers and non-bloggers may enter. If you don't want to leave your email address, please be sure to check back for my announcement on the winner. Please note that winners must respond within 48 hours of being announced/contacted or another winner will be drawn.
Want an extra entry? Do any or all of the following and receive an extra entry for each one.
Be sure to leave me a separate comment for each additional entry.
Follow me on Twitter AND tweet about the contest.
Subscribe to my feed via email or reader.
Blog about this giveaway. It doesn't have to be a separate post. Just include a blurb about it when you blog about other giveaways.
Place my button on your site. If you have difficulty, please let me know.
Click on one of the very cute buttons below and digg, stumble, fav, etc. Just let me know what you did in the comments!