Halloween in Southern California truly marks the end of summer and the countdown to Thanksgiving and Christmas.  As a child, I remember going to our local mall to trick-or-treat because it was safe.  Theme parks, recognizing parent's desire for a fun, safe, memorable way to spend the holiday with their kids, have introduced not-so-spooky Halloween-themed celebrations during the month of October.  LEGOLAND has followed suit with their Brick-or-Treat Party Nights.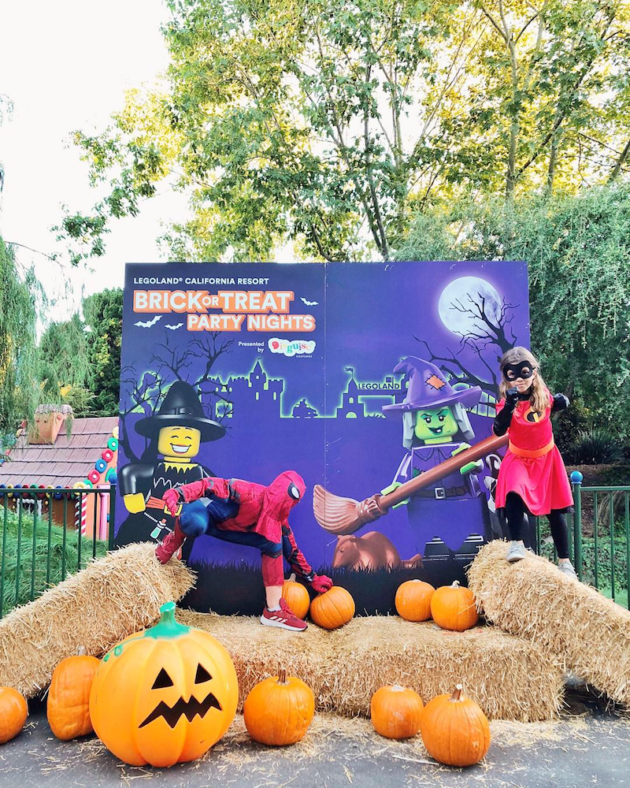 Brick-or-Treat at LEGOLAND California Resort
Last week, we headed over to the theme park inspired by the infamous Danish-made toys. On select Saturdays throughout October, LEGOLAND hosts their Brick-or-Treat Party Nights from 5:00 pm to 9:00 pm. When the park "closes" for the day, Castle Hill, Land of Adventure and Imagination Zone transform into a "not-too-spooky Halloween haven" for the party.  Highlights include costume contests, trick-or-treating at one of 16 treat stations, festive music, crafts, and live entertainment.  In true LEGOLAND style, the park is decked out with Halloween-themed LEGO models.  But my kids' favorite part of the night was trick-or-treating!  The treat stations offer everything from candy and GoGo squeeZ YogurtZ to LEGO® commemorative bricks, a LEGO® Life Magazine, and LEGO® Pop Badges. Tip: Don't forget the bonus trail at Sea Life Aquarium.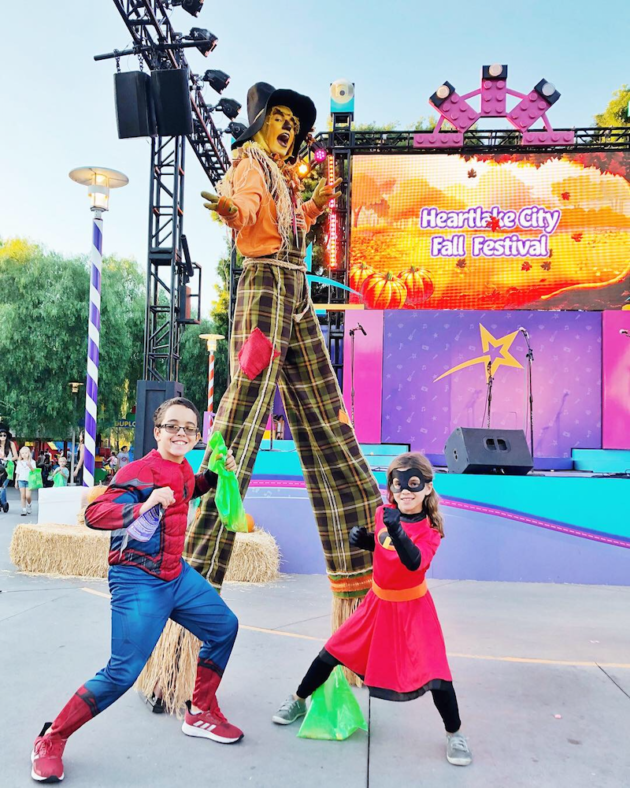 Halloween Activities at LEGOLAND California
Candy Stations: This year, LEGOLAND California features 16 treat stations throughout the park with over 1 million pieces of candy.
Character Meet and Greets: Meet LEGO Mummy, Lord Vampyre, LEGO Friends, and more during Brick or Treat!
Costume Contest: Come dressed in your best for your chance to win a special prize!
Ghost Cruise: Join LEGOLAND's paranormal investigators on a guided tour of the most haunted places in the world.
Family Build: Build a LEGO pumpkin at the Heartlake City Stables.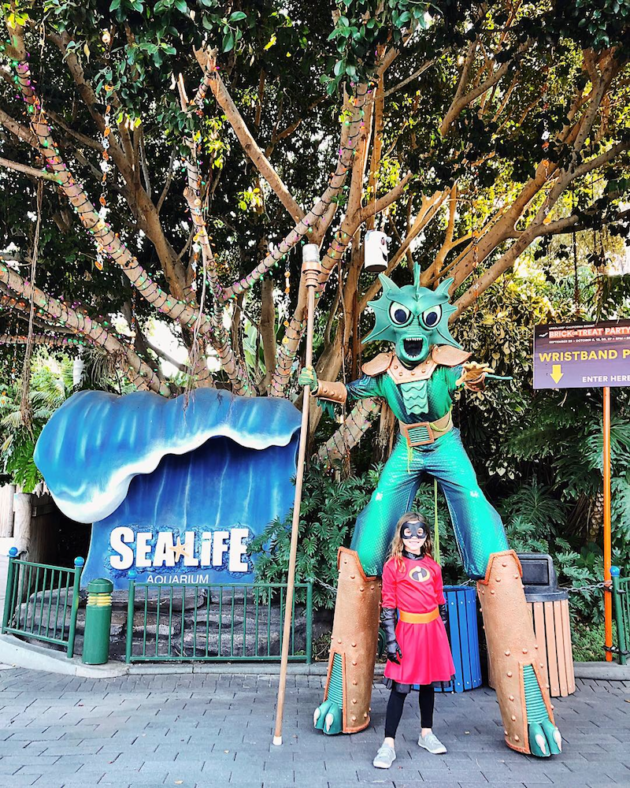 The Witchettes: Five kid witches celebrate the season of Halloween at the Courtyard Theatre.
Mail Order Monsters: The show returns to the Courtyard Theatre where Princess Playwright orders scary monsters from a catalog. The playful Jester Funny Bones casts a spell on those monsters, making them sweet as sugar.
The BOOgrass Band: Enjoy the tunes of bluegrass music at the Heartlake City Fall Festival.
AstroBash: This space-themed dance party returns to the roof of the Model Shop.
Midnight Monster Jam: Boogie down with the monster crew as they pring theiir character concert to life at the Fun Town Stage.
Frankenbrick's Lab: This interactive show invites kids to act as scientists to create their own slime. Kids must use their imagination to help Dr. Frankenbrick bring his LEGO Monster to life.

Halloween at LEGOLAND Hotel and LEGOLAND Castle Hotel
Guests staying at one of LEGOLAND California's hotel will enjoy Halloween activities on Friday and Saturday nights in October. Activities include the following:
The Monster Bash: Guests can enjoy The Monster Bash where the Heroes step inside Mad Marty's Monster Machine and become part monster. The cure?  Dancing! (LEGOLAND Hotel)
Monster Training: Train from the best…the hotel's certified monster trainer. (LEGOLAND Hotel)
Royal Carnival:  Guests can enjoy juggling, acrobatics, games, and more.
Musical Monsters Show and the Trickster Brigade: These monsters are on the prowl and ready to freeze time and play pranks throughout the hotel.
Halloween Night: At both hotels, guests will enjoy exclusive entertainment, candy, a dance party, and a sepcial visit from the Brick-or-Treat characters.

Brick-or-Treat Tickets, Hours and Location
Brick-or-Treat Party Nights is a special, separate-ticket event. Tickets start at $54 when purchased in advance online. Add-ons include a full 2nd day Resort Hopper ticket which includes admission to LEGOLAND California, SEA LIFE Aquarium, and LEGOLAND Water Park.
Brick-or-Treat Party Nights take place October 6, 13, 20, and 27, 2018 from 5 pm to 9 pm. Guests may enter as early as 4 pm. Visit BrickOrTreat.com or call 760.918.5346 for additional information.
LEGOLAND California
One LEGOLAND Drive
Carlsbad, CA
(760) 918-5346