{Sponsored}
I still remember the smell of my dad's rice pilaf on Thanksgiving morning. The dish is unconventional as a Thanksgiving side, but it became such a tradition in our family, our meal wasn't the same without it. My love for cooking stemmed from watching and observing my dad creatively, lovingly prepare dishes for our family, and when I started my own family, I knew that food would be one of the ways I would bring us together. It's the reason why I'm so insistent on making a home-cooked meal during the holidays.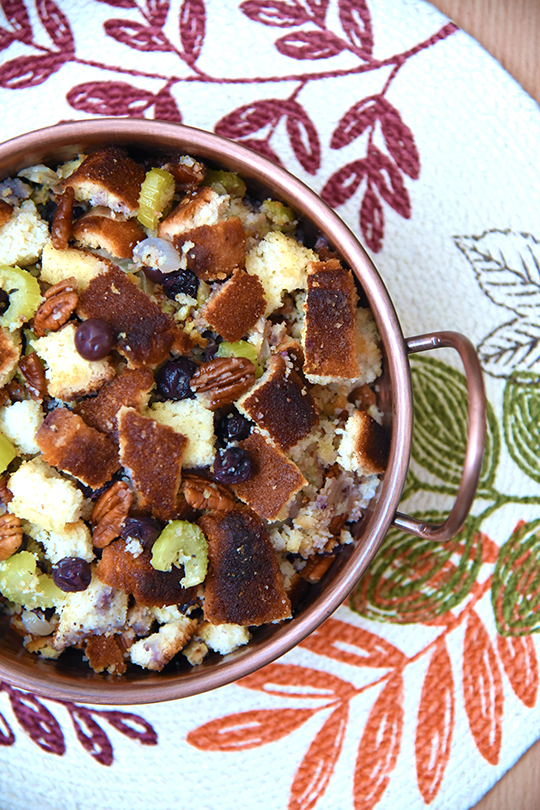 Every year our family's Thanksgiving meal is a fusion of fresh inspired dishes and traditional favorites (including my dad's rice pilaf!). I love experimenting with spices and flavors, and I often do this with dishes like stuffing, which admittedly can be quite boring. This year, I decided to turn one of my favorite dishes, blueberry cornbread, into a cornbread stuffing that is perfect for stuffing a turkey or equally delightful as a stand-alone dish.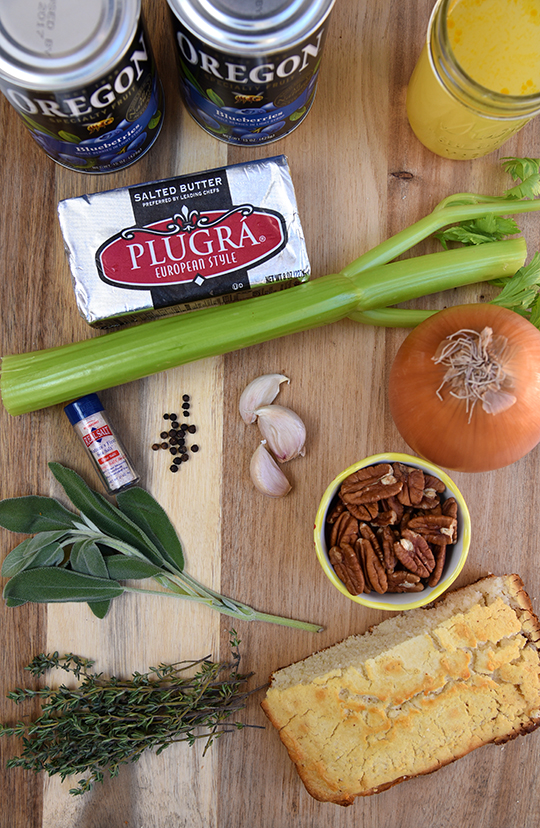 Blueberry Pecan Cornbread Stuffing
I started the cornbread stuffing out with a loaf of savory cornbread and combined it with sautéed onions, garlic and celery, fresh thyme and sage, pecans and Oregon Fruit Products' Blueberries.  We live in Southern California, and technically, the season for blueberries has passed.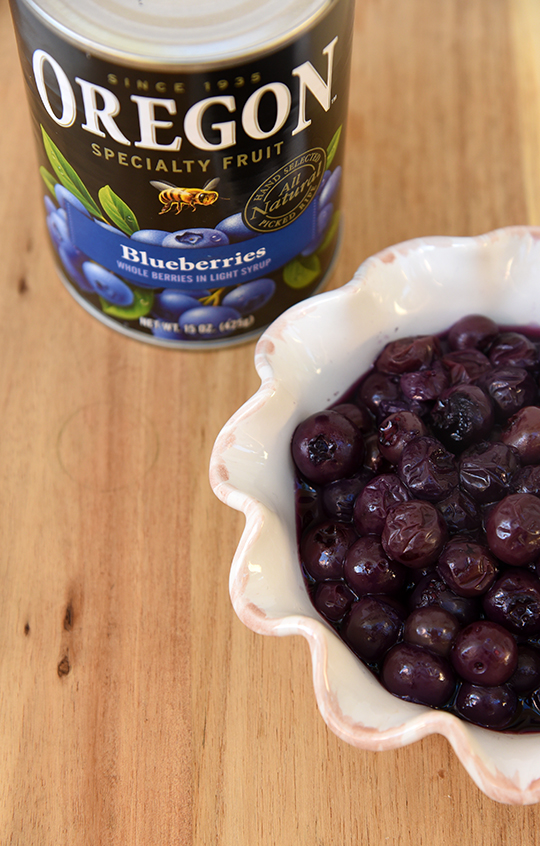 Oregon Fruit Products Cans are a great way to cook with our favorite fruits throughout the year, particularly during the winter when I find myself in the kitchen the most. Oregon Fruit Products picks the fruit you purchase in-stores during the summer to ensure they are at their maximum ripeness, flavor, and consistency. As someone who tries to be environmentally-conscious, I appreciate that Oregon Fruit Products is committed to providing fruit that is free from GMOs and preserves that fruit in cans that are free from BPA. Oregon Fruit Products also packs their fruit in light syrup free from high fructose corn syrup.

Blueberry Pecan Cornbread Stuffing
Ingredients
1

loaf of corn bread

cubed

1/2

large onion

diced

3

stalks of celery

diced

3

cloves

of garlic

minced

2

tsp

fresh thyme

2

T

fresh sage

4

T

butter

salt and pepper to taste

1

cup

pecans

1

can Oregon Fruit Product Blueberries

drained

1 1/4

cup

vegetable stock
Instructions
Preheat oven to 350°F

Prepare baking sheet with nonstick cooking spray

Arrange corn bread cubes on baking sheet

Bake at 350°F for 15 minutes

In a large skillet over medium heat, sauté onions, celery, garlic, thyme, and sage in butter for approximately 6-8 minutes, or until vegetables are soft but not brown

Turn off heat and add toasted corn bread, pecans, and blueberries. Stir gently to combine.

Lower oven temperature to 325°F

Prepare a baking dish with nonstick cooking spray

Place corn bread stuffing in prepared baking dish

Drizzle vegetable stock over stuffing

Cover and bake at 325°F for 20 minutes

Uncover and bake an additional 10 minutes or until the stuffing is browned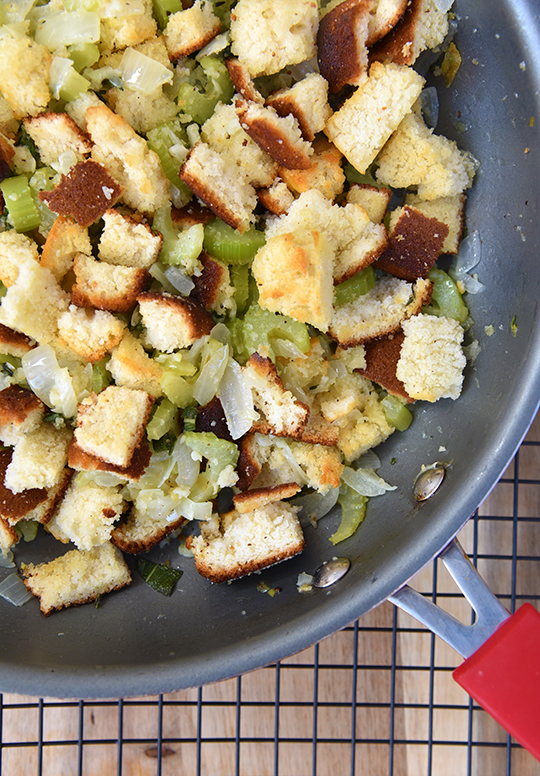 A New Twist on Classic Cornbread Stuffing
This dish is a wonderful fusion of flavors with just a hint of sweetness. You can serve it immediately, or prepare the stuffing ahead of time to be stuffed inside of a turkey. The dish itself is vegetarian, but if you prefer a vegan option, you can simply replace the butter with a vegan alternative. Just be sure the cornbread loaf you decide to use is vegan.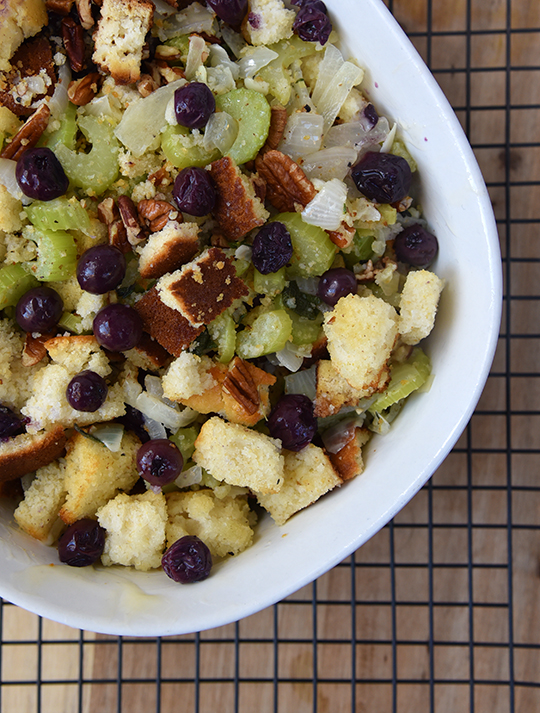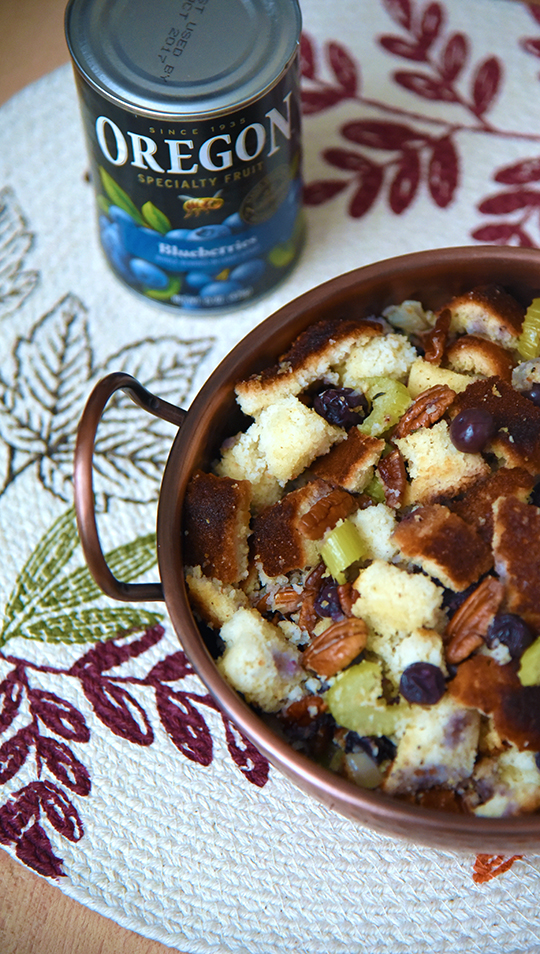 As you prepare this cornbread stuffing, I have a few tips I thought I'd share to make the process seamless.
Allow yourself enough time to make this dish. While easy to prepare, there are several steps, including the preparation of the cornbread. You could easily prepare the cornbread the day before to save time.
Use cornbread that has been prepared at least one day in advance. I used fresh cornbread for this dish which made it slightly difficult to work with because it was so soft and fluffy. Toasting the cornbread helps to ensure the cubes don't fall apart.
Allow the dish to brown on top for a crispy texture.
Wait until the stuffing has cooled before serving.
What is your favorite Thanksgiving dish? I'd love to share holiday recipe ideas below as we prepare to celebrate Thanksgiving and Christmas. You can also find a wealth of ideas on my Foodie Pinterest Board.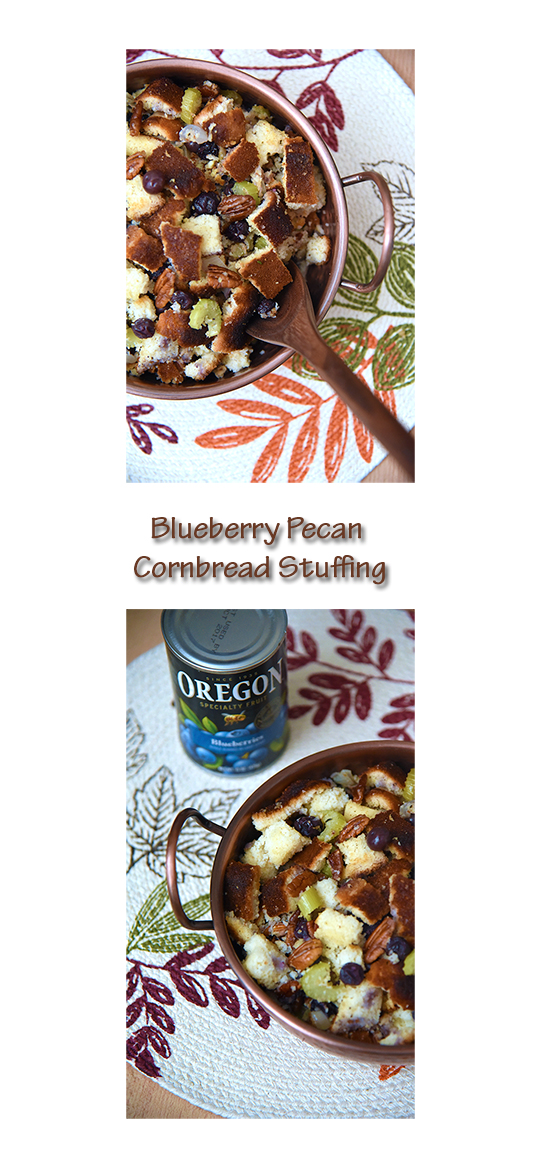 Win It!  One of you will win a ONE year supply of Oregon Fruit Products (one can each month in 2017) and a 13×9 Le Creuset dish!  Remember that you can find Oregon Fruit Products at your local Walmart. Simply complete the Rafflecopter form and leave me a comment with the name of the Oregon Fruit Products you'd like to try! Comments will close on 11/30/16 at 11:59 PM PST.
US Residents only. Duplicates and comments not including the above information will be disqualified. Comments are moderated. If you don't see your comment in a reasonable amount of time, send me an email. Bloggers and non-bloggers may enter. If you don't want to leave your email address, please be sure to check back for my announcement on the winner. Please note that winners must respond within 48 hours of being announced/contacted or another winner will be drawn.