Sushi is one of my favorite go-to meals when I'm running short on time. While the dish itself requires some time to prepare if made from scratch, the varieties are endless, making it a meal that I can eat over and over again without tiring of it.
Sushi
Sushi is prepared with rice, seafood, and vegetables and served with pickled ginger, wasabi, and soy sauce. Traditionally, sushi consisted of raw seafood, but can also be prepared with cooked seafood or completely vegetarian/vegan.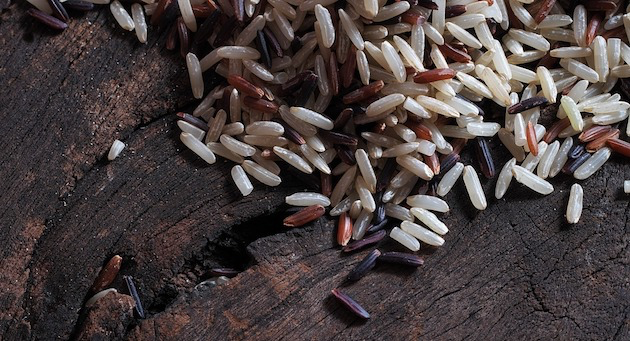 Black Rice Sushi
As a vegetarian, I'm often challenged with getting creative when it comes to meals. Black Rice Sushi is an easy dish that combines the nutritional benefits of black rice with fresh vegetables. Black rice is high in iron, protein, and fiber and contains the highest amount of antioxidants of any rice. Use it in porridge, desserts, traditional Chinese black rice cake, bread, and noodles.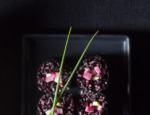 Black Rice Sushi
Ingredients
1

cup

black rice

2

tbsp

rice vinegar

2

tbsp

sugar

1

tsp

salt

6

sheets

nori

1

carrot

cut into thin strips

1

watermelon radish

cut into thin strips
Instructions
In a medium saucepan, bring the rice and 2-1/4 cups water to a boil, then turn down the heat and simmer for 25 to 30 minutes, until all the water is absorbed and the rice is cooked

Meanwhile, whisk together rice vinegar, sugar, salt and 1 tablespoon water until the sugar dissolves. Mix vinegar mixture (called Tezu) into the cooked rice; refrigerate.


In a steamer basket over simmering water, steam the cut up carrot and radish for 1-2 minutes, just long enough for the vegetables soften slightly.


When the rice has cooled, prepare the sushi. Lay a piece of plastic wrap over a bamboo sushi mat with the long side of the mat facing you.


Lay a sheet of nori over the plastic wrap.

Spoon ¼ to ½ cup rice over nori and spread into a thin layer over the nori from left to right, leaving a 2-inch edge on the right side.

Place 1/6th of the carrot and radish pieces 1-1/2 inches from the left, making a line of vegetables 3-4 pieces wide.

Roll from left to right using the bamboo to keep the shape.

Seal the roll by moistening the right edge of nori with fingers dipped in water.

Cut the roll into six pieces. Repeat to make 6 rolls total.

If desired, serve with soy sauce or tamari and pickled ginger.
For additional healthy recipes, visit Delicious Living.