My father was an avid baseball fan, and having grown up in New York, his team was the Yankees. That is until he moved to LA with my mom. His loyalties were forever divided when he experienced his first Los Angeles Dodgers game. My mom, also a New York native, still hails the Dodgers as the best baseball team in the nation. Dodger Stadium is home to team, and dates back to 1962.
Consideration provided by Smart & Final.
What You Didn't Know About the Los Angeles Dodgers
The Los Angeles Dodgers date back to 1883 when the team was first established in Brooklyn, New York (hence one of many reasons why my father always had an affinity for the team). Originally named the Brooklyn Robins, the team changed their name to the Dodgers after the Brooklyn pedestrians who would dodge the streetcars in the city. 1941 began the longstanding rivalry between the Dodgers and the Yankees. It wasn't until 1955 that the Dodgers finally defeated the Yankees, securing their first World Series title. The Dodgers finally left Brooklyn in 1957, securing their final home at Dodger Stadium in 1962.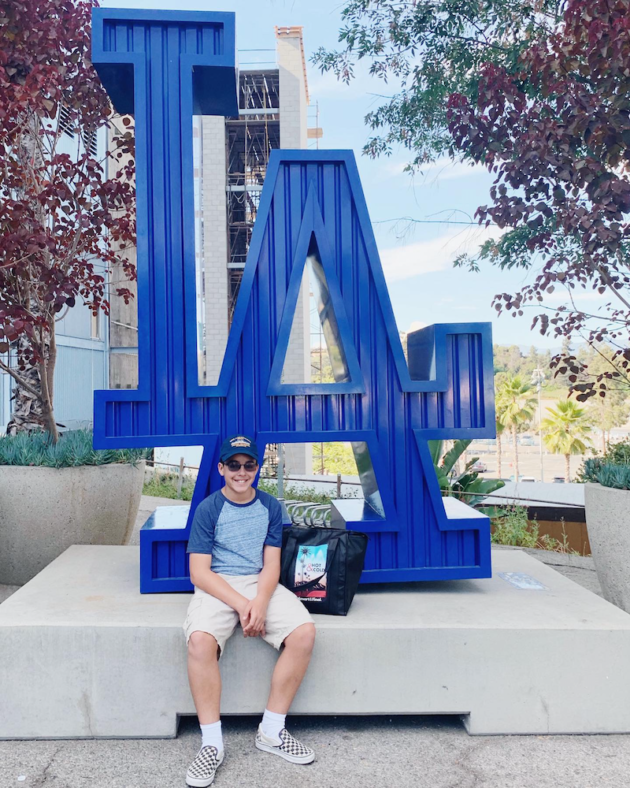 Dodger Stadium – The Facts
Located in the Elysian Park neighborhood of LA, Dodger Stadium is the world's largest baseball stadium and one of the most instagrammed places on earth. Dodger Stadium is the oldest ballpark in Major League Baseball west of the Mississippi River and the third oldest after Fenway Park in Boston and Wrigley Field in Chicago.
For baseball fans, the stadium boasts an impressive history. From a secret Japanese garden to a buried time capsule, there are so many things to love about Dodger Stadium.
You can take a stadium tour: The Dodger Stadium Tour offers fans the opportunity to see the ballpark from a new perspective. The tour lasts 80-90 minutes and includes a trip down to the field, a visit to the Dodger Dugout, an exclusive look at the Lexus Dugout Club (the VIP restaurant and lounge located behind home plate), and more surprises. Adults: $20, Seniors/Children: $15. Tours are held at 10, am 11:30 am, and 1 pm.
There is a hidden Japanese garden: Rumor has it that Japanese sportswriter Sotaro Suzuki payed to have a Japanese garden built behind parking lot 6 complete with a wooden bridge, a rock garden, and a stone lantern. The garden dates back to 1965, but the only remaining trace of the garden are the original stone lanterns.
Look for the buried time capsule: After the Dodgers won the World Series in 1959, the team decided to bury memorability from this historic event. In 1962, the capsule, filled with gear from the World Series was placed inside a time capsule and buried in the wall of the Top Deck. To find it, just look for the penny-crushing souvenir machine.
You can get married on the field: Everything from a proposal to a ceremony can take place at Dodger Stadium. Be prepared to shell out some money for this amazing, once-in-a-lifetime experience.
Disney-inspired: Look at Tomorrowland at Disneyland, and you may see some semblances to Dodger Stadium. Former owner Walter O'Malley was rumored to be good friends with Walt Disney and was so impressed by the futuristic design, he incorporated elements into the design of Dodger Stadium.
Best Tips for Visiting Dodger Stadium
Getting there:
Dodger Stadium is located at 1000 Vin Scully Ave, Los Angeles, CA 90012.
Traffic can be your biggest hurdle so plan accordingly. Leave with more than enough time and pre-purchase your parking in advance (this will save you time!).
If you plan to use public transportation, your most affordable options include Dodger Stadium Express which picks up at Union Station and is free with your ticket, or Metro Bus #2.
You can also walk up Vin Scully Ave if you live within walking distance (it is 1/2 mile uphill) or take Lyft.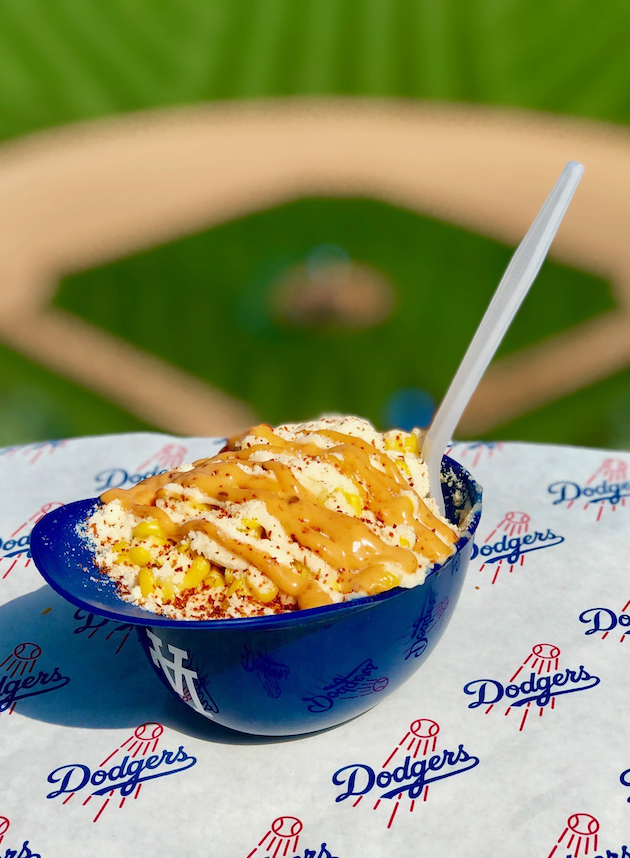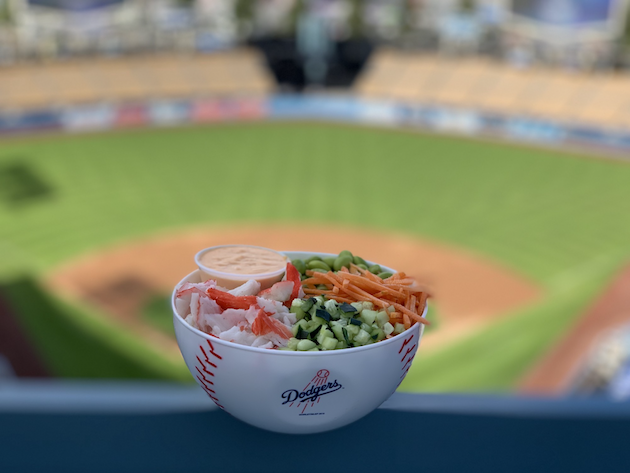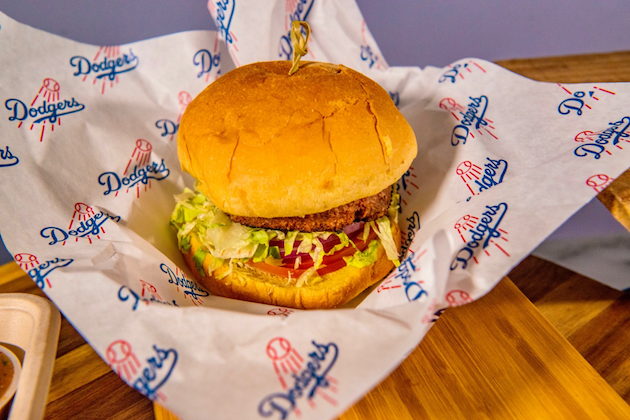 What to Eat:
Dodger Dogs: Get the infamous, classic hot dog at Elysian Park Grill.
Chicken and Waffle Sandwich: Located on the Reserve Level.
Al Pastor Fries: Available at La Taqueria.
Esquite: New this year, Dodger Stadium introduced corn in a baseball cap cup topped with mayo, cheese and spicy aioli. Located at Elysian Park Grill.
California Roll Bowl: This bowl features imitation crab, sriracha aioli, edamame, carrots, and cucumbers served on a bed of sushi rice. Located at Base Bowls.
Beyond Meat Burger: This plant-based grill burger patty is served on a brioche bun topped with herb mayo, lettuce, tomato, onions. Located at Bud & Burgers.

All-You-Can Eat Pavilion Party Pack
The new Pavilion Party Pack includes a game ticket and a set, all-you-can-eat menu for $35. Tickets are located in the Right Field Pavilion and the menu items are available from the time the gates open (1 1/2 hours prior to game time) until 2 hours after the game begins. The menu includes Dodger Dogs, peanuts, popcorn, nachos, water, and Coca-Cola products. Note that price on the day of the game is $40.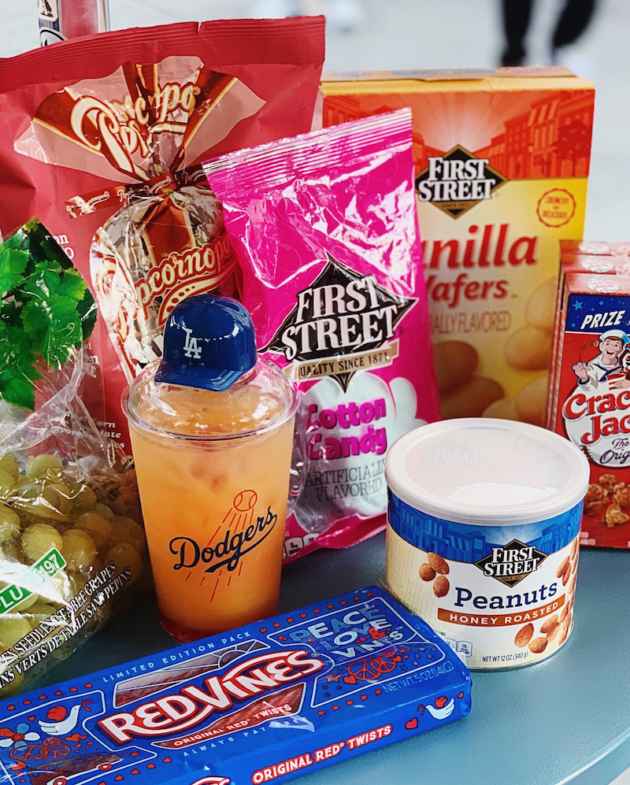 Bring Your Own Food to the Dodgers Game
Did you know? You can bring your own food into all Dodgers games! This is the stadium's best kept secret and one of my favorites. Not only can you save a TON of money, you can bring in all of your favorite baseball items like peanuts, Cracker Jacks, cotton candy, and popcorn.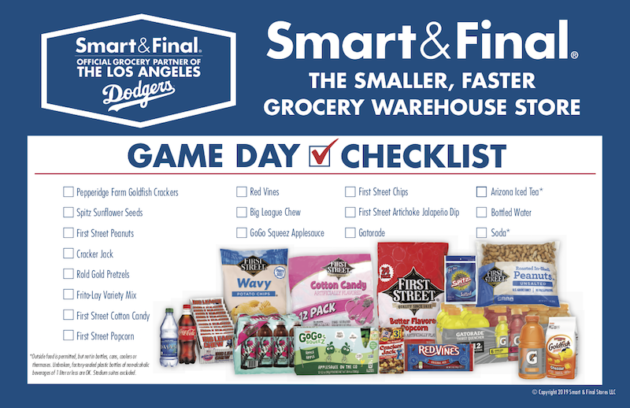 I shopped at Smart & Final using their Game Day Checklist before heading to the Dodgers Game with my son. We are snackers, so I picked up our favorite sweet and salty treats for the game. I suggest bringing all of your items in a reusable cooler bag so that you can bring in items like lunch meat for sandwiches, fruits and veggies, salads, pita and hummus, and more. Be sure to read the official Dodger Stadium policy on bringing food into the stadium.
And visit Smart & Final, the official grocery partner for the Dodgers, for all of your game-day essentials.