This giveaway is now closed. Thanks for stopping by! The winner is Lisa, congrats!
Every time I purchase a product, I read the labels. Whether it's food or shampoo or diapers…I want to know what chemicals my family is being exposed to. I think sometimes I drive my husband a bit crazy. But if I'm going to spend the money on something AND use it either in or on our bodies, I want it to be safe. One of the companies who's products I use and have been very impressed with is Seventh Generation. We use their cleaning products, my son wears their diapers (because everything else gives him a rash), and I use their feminine hygiene products (um, when I'm not pregnant!).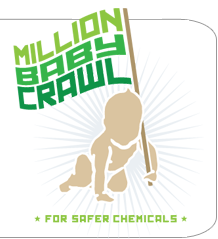 I'm constantly amazed by this company who is now fighting to make our nation's chemical law (which is outdated) stricter so that our children grow up in a safe world. Million Baby Crawl (sponsored by Seventh Generation,in partnership with Safer Chemicals, Healthy Families) is an initiative "to help educate and empower parents to raise their voices for stronger standards on toxic chemicals." The goal of this campaign is to present the Kids Safe Chemical Act to Washington and if passed, would require that chemical manufacturers conduct safety testing before a chemical is used in products.
You might be interested in the following facts:
I've already created my "crawler" on the site. Will you join me?
Win It! One of you will win a Seventh Generation starter kit to help you get rid of the toxic chemicals in your home. Simply leave me a comment with something you learned on Million Baby Crawl. Comments will close on November 4, 2009 at 10 PM PST. One comment per person, please (unless you do the extra credit). US residents only. Duplicates and comments not including the above information will be disqualified. Comments are moderated. If you don't see your comment in a reasonable amount of time, send me an email. Bloggers and non-bloggers may enter. If you don't want to leave your email address, please be sure to check back for my announcement on the winner. Please note that winners must respond within 48 hours of being announced/contacted or another winner will be drawn.Want an extra entry? Do any or all of the following and receive an extra entry for each one.
Be sure to leave me a separate comment for each additional entry.
Follow me on Twitter AND tweet about the contest. Please use the hashtag #mbcrawl
Create a crawler and share with a friend
Subscribe to my feed via email or reader.
Blog about this giveaway. It doesn't have to be a separate post. Just include a blurb about it when you blog about other giveaways.
Click on one of the very cute buttons below and digg, stumble, fav, etc. Just let me know what you did in the comments!