This giveaway is now closed.  Thanks for stopping by.  The winner is Amy Pugmire.  Congratulations!

I want to start by saying that this is the first of five seriously delicious food reviews and giveaways so be sure to scroll down, come back and visit, or subscribe for the latest and greatest!  I have a sweet tooth…and that's putting it mildly.  I love choocolate and cookies and ice cream and cupcakes.  Did I mention how much I like cupcakes?  Today in the mail, I received two of the best cupcakes I've ever tasted from a company called Bangerang Bake Shop.  I want to start by saying that these are not your ordinary cupcakes.  These cupcakes were shipped to my house in a jar.  My first impression was how adorable they were.  I took a quick picture and then decided to cut both of the cupcakes in half and share them with my husband.  Well, of course my son saw what I was doing and had to try one of them.  He kept saying and signing (at the same time, mind you) MORE!  I couldn't blame him because after he practically ate half of the Vanilla Dream Cupcake I was saying in my head….MORE!  I also tried the Captain Carrot Cake Cupcake and I have to say that these are the BEST cupcakes I've ever tried. They're moist and rich and taste like they just came out of the oven rather than from across the country.  I had to exercise great restraint because all I really wanted to do was sneak into the kitchen and eat the other two halves.  Here is a little more information about Bangerang Bake Shop from the site: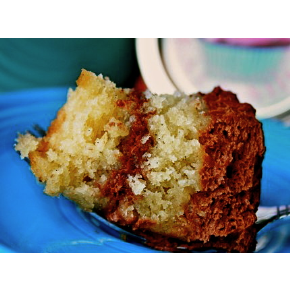 Here at BANGERANG BAKE SHOP I make the most luscious sweet treats with only the best ingredients and all the love I can jam into a cupcake! Other bakeries say they use quality products..but I *tell* you what I put into my super awesome cupcakes! I *only* bake with the finest pure vanilla in the world – Nielsen-Massey Vanillas. I am equally picky when it comes to the chocolate I bake with. Scharffen Berger chocolate is the only chocolate you'll find in my little lovelies. I make my own vanilla sugar with real Madagascar vanilla beans and bake with organic eggs and King Arthur unbleached flour. All my ingredients are of the highest quality.
We just had a baby shower for my best friend and we had cupcakes instead of a cake (apparently that is the "in" thing to do now).  Well, I wish I had known about Bangerang Bake Shop earlier because I would have used them as the dessert and the favor for the guests.  The packaging is adorable and the cupcakes look amazing when you open them up.  I wasn't sure what to expect when a cupcake gets boxed up and flewn across the country but the ones I received were perfect.  I really like how there are several layers of cake and frosting (like a real cake).  Bangerang Bake Shop's cupcakes in a jar were featured on The Today Show and I'm not surprised…they are that good!  They are good for seven days at room temperature, up to ten days in the refrigerator, and up to 10 weeks in the freezer.  Once you're done with the cupcake (and that will be the moment when you receive them), you can recycle your jar on the website and earn credit towards more cupcakes.  Cupcakes beget cupcakes!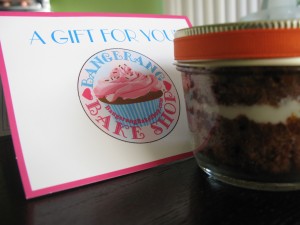 Each cupcake in a jar retails between $5.50 and $ 6.50 and can be ordered directly from the site.  Be sure to check out their "limited time" flavors (they have a cute cupcake available right now for St. Patrick's Day).  You can also enter to win a $50 GC on their blog.  Head on over for more details.
Win It! One of you very lucky readers will win a $25 gift certificate to use for cupcakes at Bangerang Bake Shop.  Head on over to the site and come back here to comment with your favorite flavor (not mentioned in my review).  Comments will close on March 26, 2009 at 10 PM PST.  One comment per person, please. US residents only. Duplicates and comments not including the above information will be disqualified. Comments are moderated. If you don't see your comment in a reasonable amount of time, send me an email. Bloggers and non-bloggers may enter. If you don't want to leave your email address, please be sure to check back for my announcement on the winner. Please note that winners must respond within 48 hours of being announced/contacted or another winner will be drawn.
Want an extra entry? Do any or all of the following and receive an extra entry for each one.
Be sure to leave me a separate comment for each additional entry.
Follow me on Twitter AND tweet about the contest.
Subscribe to my feed via email or reader.
Blog about this giveaway. It doesn't have to be a separate post. Just include a blurb about it when you blog about other giveaways.
Place my button on your site. If you have difficulty, please let me know.
Click on one of the very cute buttons below and digg, stumble, fav, etc. Just let me know what you did in the comments!
Latest posts by Caryn Bailey
(see all)