{Sponsored}
During the school week, breakfast is often a last-minute thought and I'm often scrambling to ensure my kids eat something so their minds and bodies are ready to learn.  We typically don't have time for anything elaborate or time-consuming, so smoothies are a great way to pack in fruits, vegetables, protein, dairy, and even grains in one deliciously drinkable dish.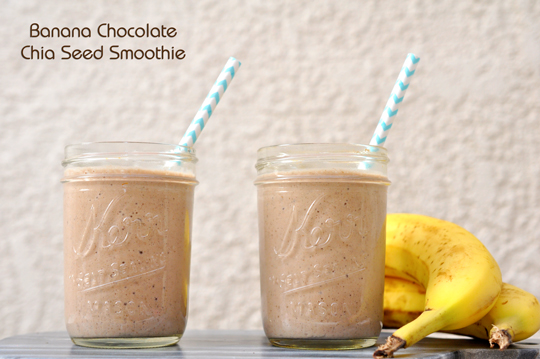 I've always kept our smoothies simple with a variety of frozen fruit and almond milk. But lately I've been trying to get creative with super foods such as cocoa powder, chia seeds, flax seeds, acai, and maca powder. Last week, I shared a delicious 3-ingredient recipe for a Chocolate Coconut Acai Bowl and a Mango Ginger Flax Smoothie.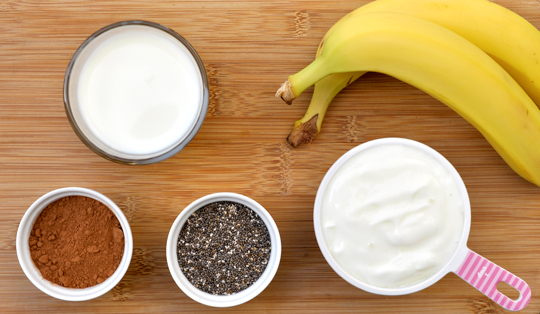 If you're looking for inspiration to add some nutritional "punch" to your smoothies, Walmart.com has an expansive selection of recipes, many of which include the above super foods. Since my kids love bananas and chocolate, I'm sharing their Banana Chocolate Chia Seed Smoothie Recipe. With just 5 ingredients, this recipe is easy to whip up in the morning and will sustain you for several hours.
Banana Chocolate Chia Seed Smoothie
Ingredients
3

cups

frozen banana chunks

from about 3 very ripe bananas

1

cup

vanilla bean Greek yogurt

or any vanilla yogurt

1.5

cups

milk

1

tablespoon

chia seeds

1

tablespoon

cocoa powder
Instructions
Process all ingredients in a blender until smooth

Top with fresh whipped cream and chia seeds, if desired

Serve immediately
The only preparation this recipe requires is freezing your bananas ahead of time. I simply slice them and freeze them in single serving bags so I don't have to worry about measuring when it's time to make the smoothie. If time is a deterrent when it comes to making smoothies, you can create your own smoothie packs. Simply put your favorite fruits and/or vegetables into a plastic bag (make sure to measure out single serving sizes) and freeze until ready to use. Add your favorite juice, milk, or coconut water and blend for a smoothie in less than 5 minutes.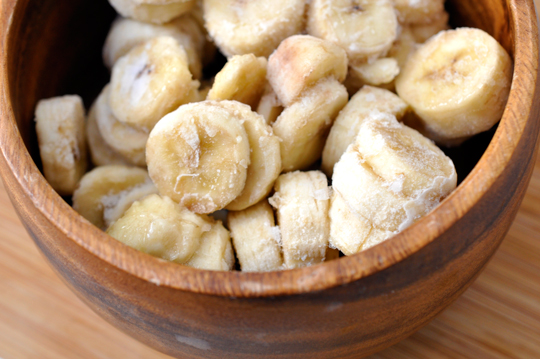 This Banana Chocolate Chia Seed Smoothie is incredibly kid-friendly (bananas + chocolate = bliss!), naturally sweetened with the bananas. The chia seeds add a significant amount of nutrition to the smoothie (Omega-3 Fatty Acids, Antioxidants, Fiber, Protein, Calcium, Manganese, Magnesium and Phosphorus) without altering the flavor. In fact the only thing you'll notice is that your smoothie is creamier, since chia seeds absorb liquid well. Walmart offers a Wild Oats Marketplace variety of Black Chia Seeds for just $4.24 which is a great price considering the 12-ounce bag contains approximately 9 servings.
If you're looking to vary this recipe, I recommend adding a tablespoon or 2 of almond or peanut butter!
Even if time is short during the week, you can still prepare a healthy breakfast smoothie that will hydrate you and sustain you with healthy nutrients until lunch. For additional Smoothie Recipes, visit Walmart.com.