This giveaway is now closed.  Thanks for stopping by.  The winner is Naddez.  Congrats!
Have you noticed that more and more families are spending less and less time together? Between after-school activities, errands, television, video games, and computers, it's no wonder that families aren't spending time together.  Less time together means less overall communication…which is vital for a developing child.
When I was a child, we played games as a family.  I actually still enjoy playing games, although it's rare these days with our busy schedules and a very active toddler!  I remember those times fondly, particularly since I do not have siblings.  Games are wonderful for stimulating conversation and getting the wheels in your mind turning.  Technology, the very thing that is supposed to make our lives easier, can actually complicate our lives, making us busier than we realize.  Sometimes I wonder what my parents and grandparents did without internet and television and video games.  Weren't they bored?  Didn't they feel disconnected?  I imagine that they were creative in what they did with their time.  I imagine they spent time laughing and sharing.  Perhaps they played games.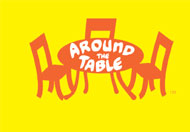 Around the Table Games are "a collection of award winning portable conversation games designed to engage families and friends in fun and enlightening conversations."  These portable question cards can really be played anywhere…at the dinner table, in the car, on vacation, etc.  The goal is simply to connect people through conversation. I had an opportunity to check out Family Talk, Family Talk 2, and Grandparent Talk. My son is too young so my husband and I started asking each other the questions.  You'd be surprised at the things we do and don't know about each other!  Marriage is definitely a lifetime of learning.  I love conversation and spend all day talking to SOMEONE (whether it be in person or online).  My husband is not as talkative, so I liked having these questions to get him to talk more than he normally does.  Some of the questions elicit funny responses…others are more reflective.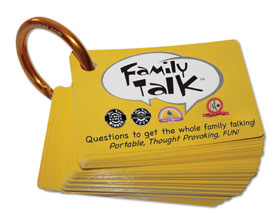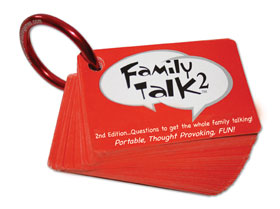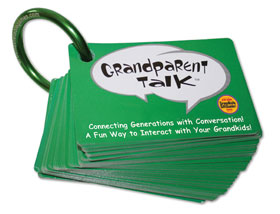 The highlight of these games is that they encourage families to sit down and talk to each other.  As surprising as it may seem, many families don't do this.  I really like the idea of a grandparent's version of the game because very often, children feel there is too much of an age and generation gap to relate.  Questions like, "Where did you hang out as a teenager?," remind children that their grandparents were young once too, experiencing the very same things they're going through at this moment.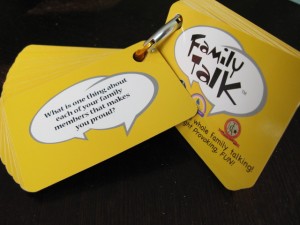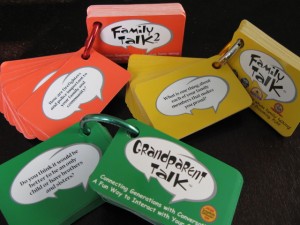 Each game includes 50 or 100 question cards on a carabiner clip to tote anywhere and everywhere!  You can purchase the entire set on the site, with each game retailing for $7.99 to $9.99 (a great price in my opinion).  Be sure to check out the games specific to children including Camp Talk, Buddy Talk, and Teen Talk.
Win It! One of you will win all three of the games I reviewed above (Family Talk, Family Talk 2, and Grandparent Talk).  Simply head on over to the site and take a look around.  Come back here with a question you think sounds interesting!  Comments will close on June 2, 2009 at 10 PM PST. One comment per person, please (unless you do the extra credit). US residents only. Duplicates and comments not including the above information will be disqualified. Comments are moderated. If you don't see your comment in a reasonable amount of time, send me an email. Bloggers and non-bloggers may enter. If you don't want to leave your email address, please be sure to check back for my announcement on the winner. Please note that winners must respond within 48 hours of being announced/contacted or another winner will be drawn.
Want an extra entry? Do any or all of the following and receive an extra entry for each one.
Be sure to leave me a separate comment for each additional entry.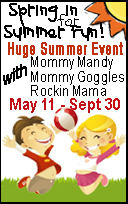 Add the "Spring In For Summer Fun" banner to your sidebar and leave me a comment (be sure to visit the main party post for more details on extra entries)
Follow me on Twitter AND tweet about the contest.  Be sure to use the hashtag #SummerEvent
Enter Tanya and Amanda's giveaways
Subscribe to my feed via email or reader.
Blog about this giveaway. It doesn't have to be a separate post. Just include a blurb about it when you blog about other giveaways.
Place my button on your site. If you have difficulty, please let me know.
Click on one of the very cute buttons below and digg, stumble, fav, etc. Just let me know what you did in the comments!
Latest posts by Caryn Bailey
(see all)