This giveaway is now closed. Thanks for stopping by. The winner is Lauralee H. Congrats!
Do you know how much fiber you need in one day? To be honest, I had to look it up (approximately 25-35 grams per day). And, I'm not entirely certain I am consuming that amount, despite the fact that I have almost completely eliminated white flour from my diet.
In August, I attended a General Mills event which included the biggest taste test I've yet to participate in. I remember sampling a Fiber One Toaster Pastry and thinking to myself, there is no way one pastry could contain 20% of the RDA for fiber. It tasted too good to be true. I have to admit that I haven't had a toaster pastry in any form in a very long time. But these pastries, fiber and all, are really good.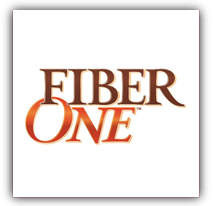 I made the switch from white to whole grain many years ago. And I'm usually pretty good, except when I'm pregnant and craving sourdough bread! Many whole grain products are tasty…and many are as dry as cardboard.This is my first experience with Fiber One but I'm interested in checking out the entire line, particularly since they contain more fiber than most products. Here is a little more information about Fiber One Toaster Pastries from the site:
Fiber One Toaster Pastries come in four great-tasting varieties that the whole family can enjoy, including Blueberry, Brown Sugar Cinnamon, Chocolate Fudge and Strawberry. With 20% of your Daily Value of fiber (5 grams), you can enjoy a great-tasting toaster pastry, while getting more of the fiber you need.
I'm always curious about the whole nutritional package. Each pastry contains 180 calories, 4 grams of fat, and 16 grams of sugar (3 Weight Watchers' Points). They also contain high fructose corn syrup which I was a little disappointed about. Overall, they taste good and offer those of you who are on the run a quick way to get in your fiber! Find them at retailers nationwide in Blueberry, Brown Sugar Cinnamon, Chocolate Fudge, and Strawberry.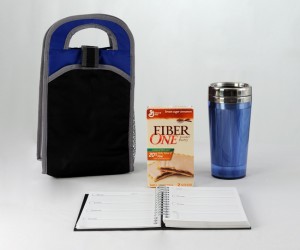 Win It! One of you will win a Morning On the Go prize pack that includes a sample of Fiber One Toaster Pastries, a beverage holder, a lunch bag, and a planner. Simply leave me a comment with the name of your favorite Fiber One product (other than the toaster pastries). Comments will close on October 31, 2009 at 10 PM PST. One comment per person, please (unless you do the extra credit). US residents only. Duplicates and comments not including the above information will be disqualified. Comments are moderated. If you don't see your comment in a reasonable amount of time, send me an email. Bloggers and non-bloggers may enter. If you don't want to leave your email address, please be sure to check back for my announcement on the winner. Please note that winners must respond within 48 hours of being announced/contacted or another winner will be drawn.
Want an extra entry? Do any or all of the following and receive an extra entry for each one.
Be sure to leave me a separate comment for each additional entry.
Follow me on Twitter AND tweet about the contest.
Subscribe to my feed via email or reader.
Blog about this giveaway. It doesn't have to be a separate post. Just include a blurb about it when you blog about other giveaways.
Click on one of the very cute buttons below and digg, stumble, fav, etc. Just let me know what you did in the comments!
Profuse thanks to MyBlogSpark for this review opportunity!