The weather is warm, the kids are anxious to get out of the house, and there are a ton of things to do for Southern California families this Spring!  If you love pets, the OC Fair & Event Center will open its doors to thousands of animals at the 29th annual America's Family Pet Expo.  Whether you want to get a closer look at animals you don't see everyday, such as sea lions and exotic lizards, or have an interest in adopting a new family member (the 4-legged kind) into your home, the expo will have a variety of shows, displays, entertainment, and fun for adults and children.
Watch as the Splash Dogs jump into the pool and The Amazing Dobermans jump, flip, and do tricks.
America's Family Pet Expo
America's Family Pet Expo will offer educational presentations, family fun pet entertainment, animal adoptions, and exhibitors showcasing the latest in pet products. The expo will also showcase pet ownership and care. 
Here are some highlights of this year's Pet Expo:
Sea Lion Splash Show: This brand new mobile aquatic experience combines marine fun and environmental education and will feature rescued sea lions from California and South America. During the show, these sea lions will balance balls, shoot hoops, dance, shake their flippers, and do a handstand.
The Catit Playground: Get up close and personal with cats and kittens to observe how they interact with toys and people. You can also learn about the many breeds of cats and their unique personalities. The cats on-site are also available for adoption.
On-Site Cooking Demonstrations: JustFoodForDogs will featuring cooking demonstrations detailing how to create homemade meals designed to promote optimal health and well-being for dogs.
Repticon: The annual reptile show and sale will feature dozens of varieties of reptiles including lizards, snakes, tarantulas, and more. Families can also touch and hold these reptiles.
Splash Dogs: Watch a variety of breeds dock jump and dock dive during the annual event.
The Great American Petting Zoo: This barrier-free petting zoo features a variety of animals including llamas, Fallow Deer,Bennett Wallabies, African Pygmy Goats, assorted exotic and domestic goats and sheep, Vietnamese Potbellied Pigs, Bantam Chickens, miniature Sicilian Donkeys, miniature Call Ducks, and baby animals. Each animal is hand-raised.
Pet Adoptions: If you are looking to adopt a pet, you can find hundreds of animals at the Pet Expo in search of their permanent home. Visit the Pet Expo information site to learn how to prepare to adopt a pet.
 
America's Family Pet Expo Contests
Families can participate in the Kid's Aquarium Contest to design and create a 10-gallon aquarium. Each aquarium will be displayed throughout the Expo and judged according to age group and category (Natural and Creative).
The Aquascaping Contest inspires families to make a beautiful, natural, underwater environment in a small aquarium.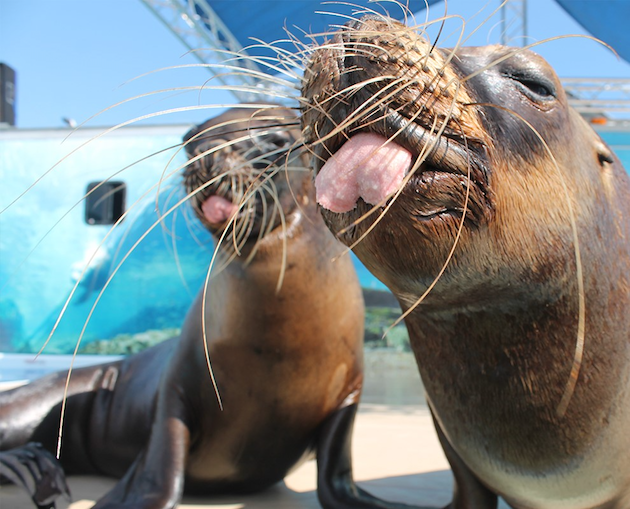 America's Family Pet Expo Tickets and Information
America's Family Pet Expo is located at the OC Fair & Event Center and admission is $15 for adults ($13 for seniors over 60), $10 for children 6-12, and free for children under 5. Parking at the fairgrounds is $8. The expo runs April 27th-29th, 2018.  For more information, visit PetExpoOC.org.
Images: America's Family Pet Expo