I always approach the new week with the best of intentions when it comes to from-scratch meals. But as life would have it, soccer practice runs late or that last minute project requires an unexpected trip to Michael's. Rather than run through a fast-casual restaurant, I have been aspiring to serve my kids healthier, prepped meals made with clean ingredients. Convenient meals like the vegan burritos from Alpha Foods make getting dinner on the table essentially effortless.
[Sponsored]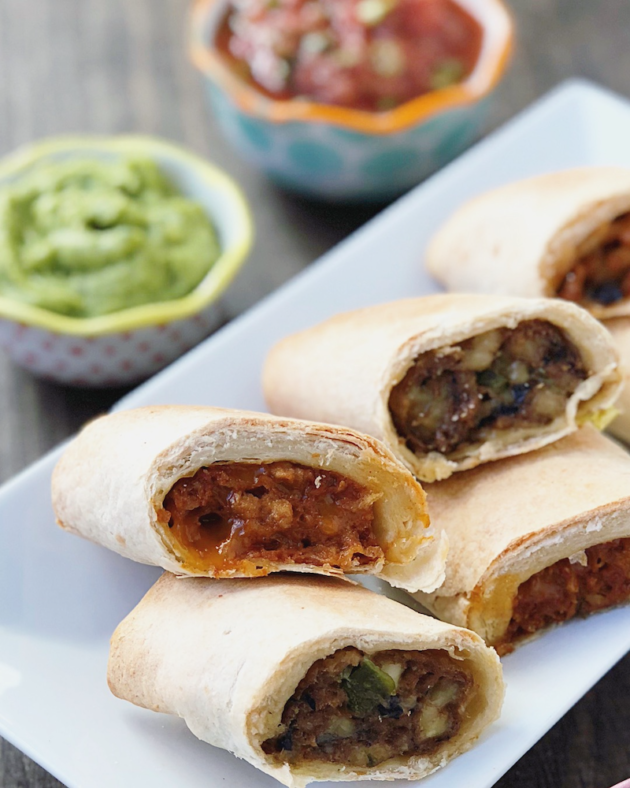 Alpha Foods
I have always been drawn to a plant-based diet, and nearly 7 years ago, I made the decision to follow a pescatarian diet. By default, my kids see and often try the incredible dishes I prepare and while they still eat some meat, they are more open than many kids when it comes to plant-based foods.
Recently, I was introduced to Alpha Foods, a company that makes 100% plant-based meals. As someone who never really ate a lot of meat, I struggled with alternate sources of protein that were palatable and enjoyable. The brand's lineup of prepared meals include Alpha Burgers, Meatless Meatballs, Alpha Dogs, Breakfast Burritos, and All-Day Burritos.
Consuming a plant-based diet is one of the steps I have taken to improve our family's health. Recently, I also committed to eating a completely vegan meal at least once each day. Plant-based diets can contribute to an overall wellness approach while simultaneously improving the welfare of animals and supporting environmental sustainability.

Vegan Burritos
I have been consuming vegan burritos for years, but those burritos have always been simple…rice, beans, and veggies. Alpha Foods took a creative, gourmet spin on the traditional burrito and elevated it by introducing four original, plant-based flavors: Mexicali, Fajita Chick'n, Philly Sandwich, and Pizza. Each burrito is 100% plant based and made from clean ingredients. The burritos are also non-GMO and cholesterol-free. Here is a quick look at the nutritional profile of Alpha Foods' All-Day Burritos:
100% plant-based
Non-GMO
Free from cholesterol, corn syrup, artificial preservatives, hormones, and animal products
High in plant protein (11 grams)
Some varieties also meet the standard for vegan diets
Each burrito is made with plant-based protein, vegetables, and a blend of seasonings, then hand-rolled into a tortilla shell. I served these vegan burritos to my kids for dinner with fresh salsa, guacamole, and brown rice and they loved it. I failed to mention to my kids that these burritos were completely free from meat and neither of them knew the difference. My kids' favorite variety was Pizza (of course!) and I felt like the Fajita Chick'n was comparable to meat-based varieties. While I have not consumed meat in many years, I still remember what it was like to enjoy Chicken Fajitas and Alpha Foods matched the flavors and textures well in this particular variety.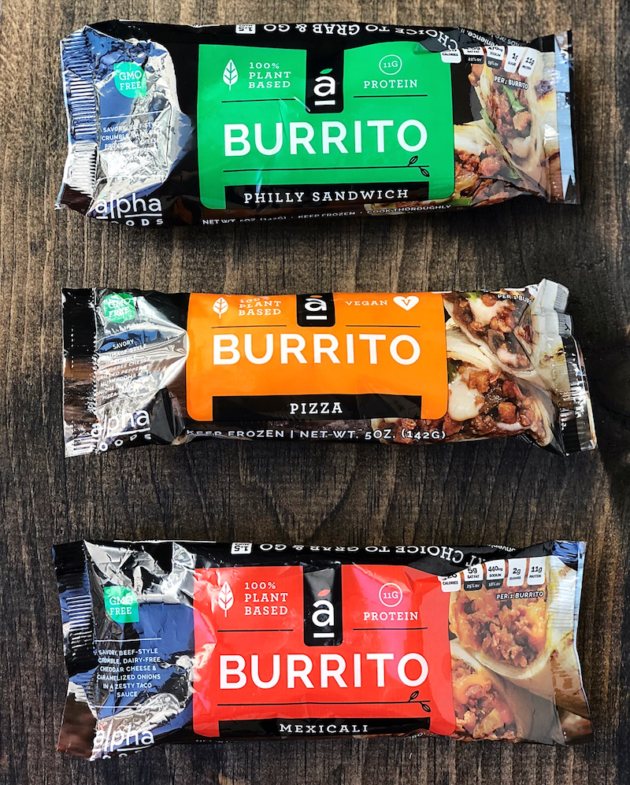 At present, Alpha Vegan Burritos are available at select Walmart, Kroger (Ralphs), and Publix stores across the country. To find a retailer near you, visit AlphaPlantBased.com/Store-Locator.