This giveaway is now closed.  Thanks for stopping by. The winner is Kelly Ann T.  Congrats!
It's been one week since our baby girl was born…one week!  It's so hard to believe that in one week our lives could change so much.  Our baby girl definitely surprised us all, considering two days prior to her arrival, my physician was telling me she was definitely not coming until January (ha!).  I had every intention of featuring THE best mom and baby companies and products throughout December.  But since she's early, I have decided to extend my reviews into January.  The great thing about this is that I'll actually have an opportunity to review each and every product with her (I prefer it this way anyway!).  Once again, I am so grateful to Amanda, Kailani, Shannon, and Tanya for the work they put into my amazing baby shower.
A funny thing happened at the hospital after our baby girl was born.  My husband was to help the nurse give her a bath.  But all the hospital had was Johnson's Baby Shampoo (pretty much what every hospital has).  Now, I am certain both my husband and I were bathed with this for years and years and we managed to come out just fine.  However, I did not want my baby's first bath or her first exposure be to anything but a natural, safe, eco-friendly product.  Since we had not packed our hospital bag, my husband went home to pick up the Baby Body Wash we received from Ecostore USA.
Ecostore is a New Zealand company that specializes in plant-based, non-toxic cleaning, baby, and personal products.  The entire line is free from parabens, glycols, and sodium lauryl sulfate.  Each ingredient is listed right on the product and the company believes in full disclosure.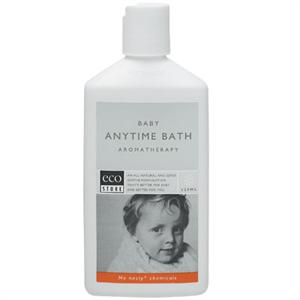 You may have heard that our skin is an organ, capable of absorbing whatever is placed on it.  This is exactly why I'm as cautious about what I put on the outside as I am about what I consume.  Their Baby Body Wash is mild and does not contain any of the above ingredients as well as being free from petrochemicals, sulfates, dyes, and artificial perfumes.  It has a very mild lavender scent which made her smell lovely!  It was also very effective at gently removing all of the "stuff" from childbirth.  Our baby girl didn't react at all (which is a testament to the product since we have a 2 year old who has the most sensitive skin). My only suggestion to the company would be to develop an unscented version of this wash since many parents don't prefer to put scented products on their newborn.  I love the way it smells and would definitely use it on my son and an older baby.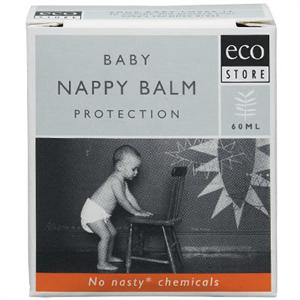 The other product we had an opportunity to review was their Baby Nappy Balm.  My son is notorious for getting diaper rashes.  I can't wait until he's potty trained so that we can avoid the dreaded diaper rash for good.  Right now is definitely not the time for potty training so we're glad that we have a natural alternative that is really effective at curbing diaper rashes.  Apparently it's also good for cradle cap and other skin irritations so I'll have to remember that, especially since my son had cradle cap for over a year that we couldn't get rid of.  The main ingredients are Olive, Coconut and Sesame oils and the combination does a really good job of soothing irritated skin and acting as a barrier to protect against further skin irritation and breakdown.  Whenever we change my son's diaper he asks if we can "put cream on it."
Right now Ecostore USA is having a sale and you can save 40% off all plant and mineral based products through the end of the year (amazing savings!).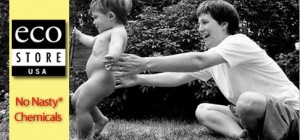 Win It! One of you will win a $25 gift certificate to Ecostore.  Simply visit the site, then come back and leave me a comment with ANOTHER product you'd love to have.  Comments will close on January 10, 2010 at 10 PM PST.  One comment per person, please (unless you do the extra credit). US residents only. Duplicates and comments not including the above information will be disqualified. Comments are moderated. If you don't see your comment in a reasonable amount of time, send me an email. Bloggers and non-bloggers may enter. If you don't want to leave your email address, please be sure to check back for my announcement on the winner. Please note that winners must respond within 48 hours of being announced/contacted or another winner will be drawn.
Want an extra entry? Do any or all of the following and receive an extra entry for each one.
Be sure to leave me a separate comment for each additional entry.
Follow me on Twitter AND tweet about the contest.
Follow Ecostore USA on Twitter
Fan Ecostore USA on Facebook
Subscribe to my feed via email or reader.
Blog about this giveaway. It doesn't have to be a separate post. Just include a blurb about it when you blog about other giveaways.
Click on one of the very cute buttons below and digg, stumble, fav, etc. Just let me know what you did in the comments!
Disclosure: I did not receive compensation for this review. I received a product, courtesy of the company in order to facilitate my review.
Latest posts by Caryn Bailey
(see all)