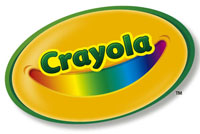 This giveaway is now closed.  Thanks so much for stopping by.  The winner is Sara.  Congratulations and Happy Easter!
My little Picasso has recently discovered the fine art of coloring.  While his canvas has been more tables than paintings, it's an activity that we enjoy doing together.  Whether you have a crawling infant or a hip teen, art is something children of all ages enjoy.  It allows for creative expression, use of imagination, and teaches children to "think outside the box."  With the dawn of spring comes a new line of Crayola products designed to inspire children to "explore, discover, and create everything imaginable."  What's great about these products is that they're all under $25.00.  I will be reviewing products from this new line very soon so be sure to come back to "read all about it."  Here is a little description of each product from the site:
Crayola

Beginnings Baby Slide & See

is a magical way to introduce babies to their first coloring experience. There are six pictures, each representing a different color, and by simply pulling the tab, baby can "color" the black and white images. For children 6 months and up; suggested retail price is $9.99.

·

Crayola

Beginnings TaDoodles Ta-Doodler

is a soft and cuddly bear buddy that becomes a canvas for your child's imagination. It comes with three TaDoodles Crayon Buddies, allowing toddlers to scribble away on the light-up tummy or anywhere else on the washable bear. With one quick swipe of a damp cloth, the scribbles disappear and the "TaDoodling" fun can start again!  Two different musical modes set the tone for different activities — a lively tempo for coloring and creating, and a slower, soothing melody for quiet time. For children 18 months and up; suggested retail price is $29.99.

·

Crayola

Beginnings Tub Time Tracers

bring colorful, creative fun to toddler's bath time. These nontoxic washable crayons wash away from walls when bath time is done. Washable stencils can be used for tracing or play. Tub Crayons and stencils float for even more colorful bath time fun! For children 18 months and up; suggested retail price is $7.99.

·

Color Surge Camp Rock

gives fans of the hit Disney movie a chance to put their favorite stars in a spotlight of brilliant colors with colors like "amped-up apricot" and "high voltage violet" when Color Surge markers meet the super bright paper.  For children 6 and up; suggested retail price is $7.99.

·

Crayola

Sidewalk Crayons

offer kids more than pretty pastels to create outdoor masterpieces. Once reserved for bringing coloring books to life, this new technology offers the richest, brightest, boldest colors for creating extraordinary outdoor artwork. The difference is striking, as the smooth, creamy colors lay down on driveways and sidewalks with unmatched brightness.  For children 4 and up, suggested retail price is $4.99 for a set of 15 colors.

·

Pip-Squeaks Colored pencils

may be smaller than their full-size

Crayola

counterparts, but they pack a big punch of bold color that inspires kids to travel wherever their creativity takes them. Whimsical color names like "blue suede shoes," "goldfish" and "wacky watermelon" give children the opportunity to put their huge imaginations to paper. For children 4 and up; suggested retail price is $4.99 for the 18-ct. Pip-Squeaks Colored Pencils.
·

Pip-Squeaks Glitter Glue

is the perfect compact size for jazzing up art projects with bright, bold shimmering colors. With 16 whimsical shades, there's always a hue that will do.  For children 4 and up; suggested retail price is $4.99 for a set of 16-ct. Pip-Squeaks Glitter Glue.

·

Crayola

Color Switchers

are dual-ended markers that allow kids to magically change the colors of their drawings with a swoosh of the "color switch" tip. Each Color Switcher features a broadline marker on one side and a clear-ink tip marker on the other. The clear ends reveal their true colors when kids color over the marks they've made. Kids can draw a red house with one end of the marker and then switch sides to add yellow windows.  For children 6 and up; suggested retail price is $4.99 for a set of 6 dual-ended Color Switchers markers.

·

Crayola

Window Crayons

are creamy, colorful drawing tools that let kids transform car windows, mirrors and other glass surfaces into instant decorations. Their bright, bold colors lay down smoothly and dry quickly without smudging. And when it's time to redecorate, colors wipe clean with a damp cloth.

Crayola

Window crayons will keep kids' creativity flowing with endless options for coloring and drawing on any glass surface. For children 6 and up; suggested retail price is $5.99.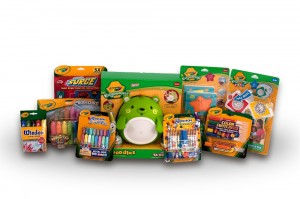 Win It! One of you will win a Crayola prize pack valued at $80.oo which will include products from the new line (listed above).  Simply head on over to the site and take a look around.  Come back here and leave me a comment with your favorite from the site and an indoor activity you like to do with your child.  Comments will close on April 7 at 10 PM PST (this is in time to ship before Easter).  One comment per person, please (unless you do the extra credit). US residents only. Duplicates and comments not including the above information will be disqualified. Comments are moderated. If you don't see your comment in a reasonable amount of time, send me an email. Bloggers and non-bloggers may enter. If you don't want to leave your email address, please be sure to check back for my announcement on the winner. Please note that winners must respond within 48 hours of being announced/contacted or another winner will be drawn.
Want an extra entry? Do any or all of the following and receive an extra entry for each one.
Be sure to leave me a separate comment for each additional entry.
Follow me on Twitter AND tweet about the contest.
Subscribe to my feed via email or reader.
Blog about this giveaway. It doesn't have to be a separate post. Just include a blurb about it when you blog about other giveaways.
Place my button on your site. If you have difficulty, please let me know.
Click on one of the very cute buttons below and digg, stumble, fav, etc. Just let me know what you did in the comments!
Latest posts by Caryn Bailey
(see all)