Almost daily, my son has been sharing his opinions and commentary on the Star Wars: The Force Awakens, in advance of the film's December release. HIis love for Star Wars has steadily grown throughout the years and is evidenced in everything from his lightsabers, play figurines, BB8 plush, and LEGO sets. The Force is strong in our household, and even our screens boast scenes from the highly anticipated film.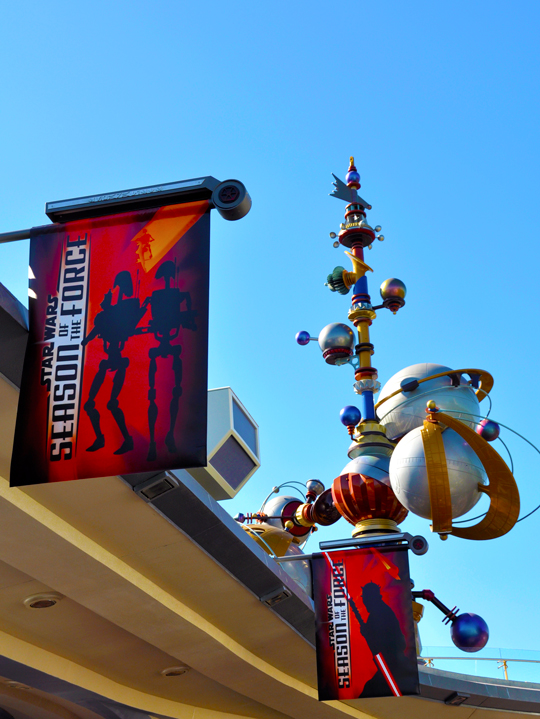 The Disneyland Resort, which has brought our favorite films and characters to life will now immerse guests in all-things Star Wars. Season of the Force, located in Tomorrowland, now offers families a wealth of engaging experiences as they relive their favorite moments from the Star Wars Universe (saga?). The Force is strong at Disneyland, with one-0n-one encounters with your favorite Star Wars characters, large-scale, authentic replicas of props, costumes, ship models, droids, and artwork from the film series, a re-imagined Jedi Training Experience and a brand new Star Wars-inspired menu. With the holidays upon us, you'll want to plan to visit the resort several times this season to experience all of the immersive experiences that will transport you to a galaxy far, far away.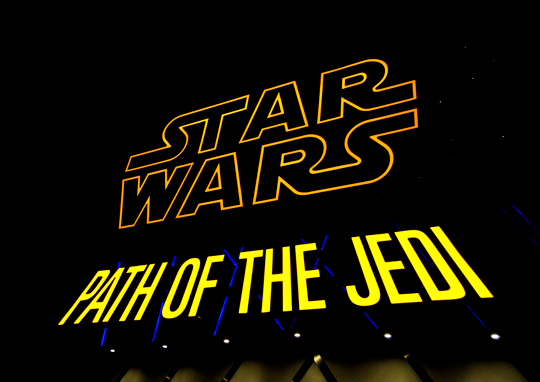 Brush Up On Your Star Wars Knowledge:  It's been ten years since the last Star Wars film was released in theaters, and while we own the films on DVD, I still find myself in need of a brief overview of the stories and characters. If it's been way too long since you've watched the films, or you're unfamiliar with the stories, Star Wars: Path of the Jedi is a fantastic way to catch you up to speed ahead of the release of Star Wars: The Force Awakens. This short film can be viewed at the Tomorrowland Theater and compiles iconic moments from the film series as we follow Luke Skywalker's journey.  In true Disney magic, the film includes some surprises including a sneak peek of the new film.
Train to be a Jedi: Formerly the Jedi Training Academy, this new experience has been re-imagined to include Darth Vader and the Seventh Sister Inquisitor from Star Wars Rebels. Once Jedi Younglings have taken the sacred Jedi Oath, they will learn to use a lightsaber and then duel with villains from the Star Wars universe. Visit the Tomorrowland Terrace Stage for showtimes.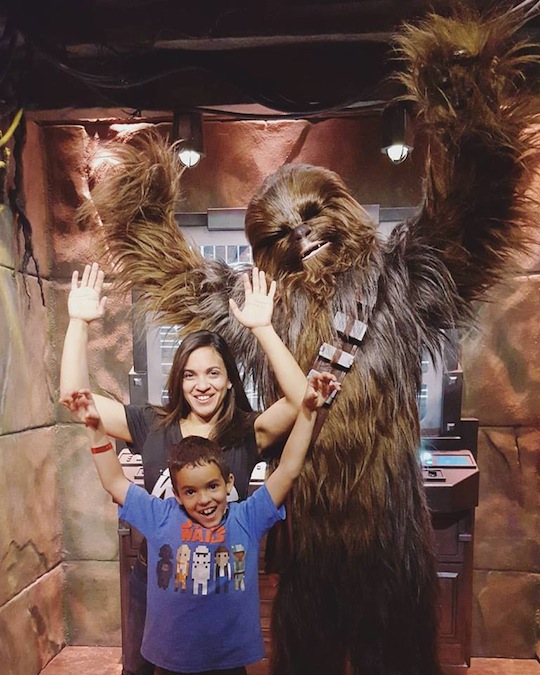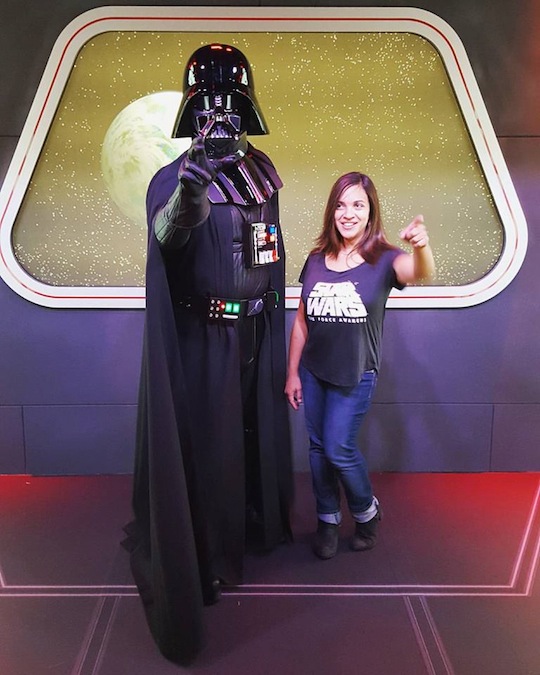 Join the Light or Dark Side of the Force: Outside Launch Bay, you'll find First Order Stormtroopers in search of members of the Resistance. But you'll have to go inside and soon make your choice…will you choose the Dark or the Light side of the Force? Your decision will lead you to the portal doors that open into an immersive 360-degree space inspired by a Star Destroyer or Rebel Base. You'll come face-to-face with the likes of Darth Vader, who will boldly inquire about your allegiance or the friendly, loveable Chewbacca. Don't forget your camera!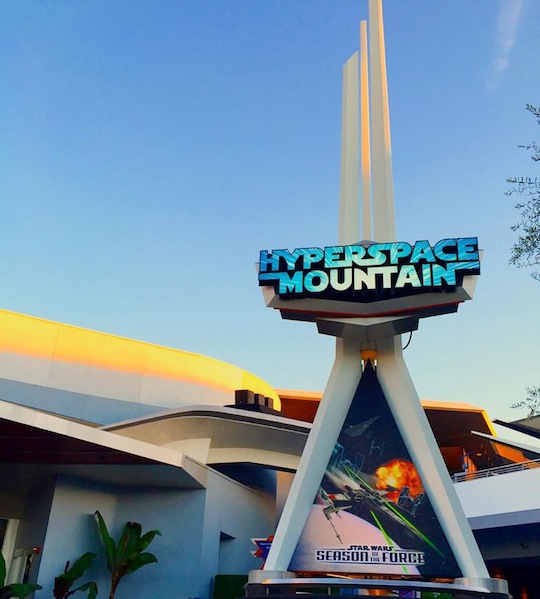 Take "Flight" Into Hyperspace:  One of our favorite rides has been re-imagined, placing you right in the middle of an epic scene right out of the Star Wars universe. Once you're situated in the cockpit of an X-wing fighter, you'll be escorted into hyperspace where you'll be surrounded by a swarm of TIE fighters. You'll have to dodge enemy fire in this exciting new adventure where Space Mountain and Star Wars converge.
Journey to a Galaxy Far, Far Away:  When you board the Starspeeder 1000 and blast off into the Star Wars galaxy, you know that you'll journey to distant worlds and come face-to-face with their inhabitants. Inspired by Star Wars: The Force Awakens, your journey could now take you to a new location from the film, including a brand new character.
Build Your Own Lightsaber: Star Wars fans can now put their creative skills to the test at The Star Trader's Build Your Own Lightsaber station. Single Lightsabers are $21.95, double lightsabers are $24.95. The entire lightsaber, from the emitter to the hilt sleeve can be customized as you prepare for your next epic battle. While perusing The Star Trader, you can also shop for limited edition collectibles, commemorative apparel, toys, artwork and so much more.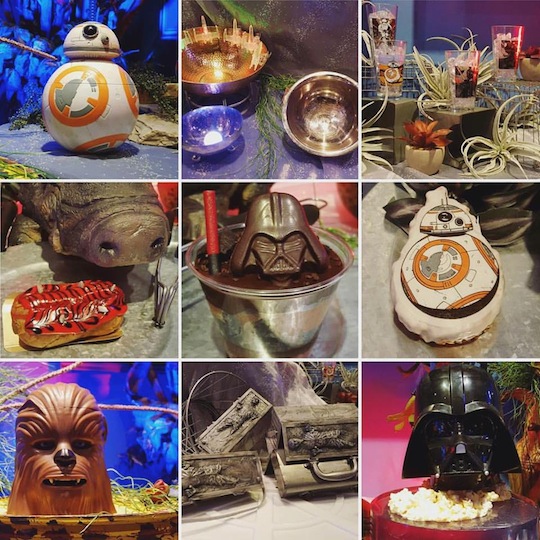 Fuel Up On Galactic Eats and Treats: If you've ever wondered how Darth Vader fuels his dark side, Disneyland has a pretty good idea. Their new dark and light side menu items were inspired by the Star Wars Universe and include Bantha Blue Milk Bread and Darth Tamales for breakfast and First Order Specialty Burgers and Jedi Order Chicken Sandwiches for lunch. In addition to the new themed menu, the resort introduced a host of collectible items including a BB-8 sipper cup and a TIE Fighter popcorn bucket. Don't forget to indulge your light or dark side with The Pastry Menace, featuring spicy milk chocolate or Darth By Chocolate, featuring dark chocolate ganache, red velvet cake and chocolate sponge. Be sure to stop by Redd Rockett's Pizza Port for additional Star Wars-inspired foods including Forest of Endor (Casarecce pasta dish), Dark Side Chicken Curry Specialty Pizza, and The Fields of Naboo (tropical salad).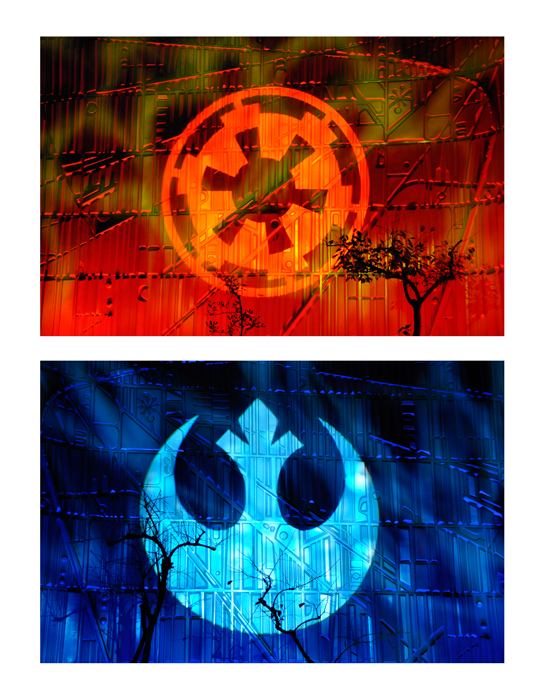 For more information about Star Wars Season of the Force at the Disneyland Resort, visit Disneyland.com.
Latest posts by Caryn Bailey
(see all)