{Sponsored}
There are few places I've called home in my life. And while I initially protested our move to the OC, I honestly don't know that I could ever live anywhere else. Beyond the county's beauty, the seemingly endless array of things to do, and the award-winning schools, Orange County is where my kids have grown up…it is their home. And that is enough to compel me to support the first-ever "i♥oc Giving Day!"
Recently, I told you about the organization behind this important community-wide event. The goal is to raise $2 million for local nonprofit organizations to continue helping Orange County thrive. Celebrating its 25th anniversary, The Orange County Community Foundation has donated more than $257 million to local nonprofit organizations with real, measurable results in our community.  Within this 30-hour period of time from April 21st through April 22nd, the OCCF will seek to raise $2 million for organizations like the Segerstrom Center for the Arts, which seeks to bring the arts (music, dance, theater) to our community while serving as a resource for community education and the YMCA of Orange County (which my kids are a part of), which improves the lives of youth through programs that build healthy bodies, minds, and spirits.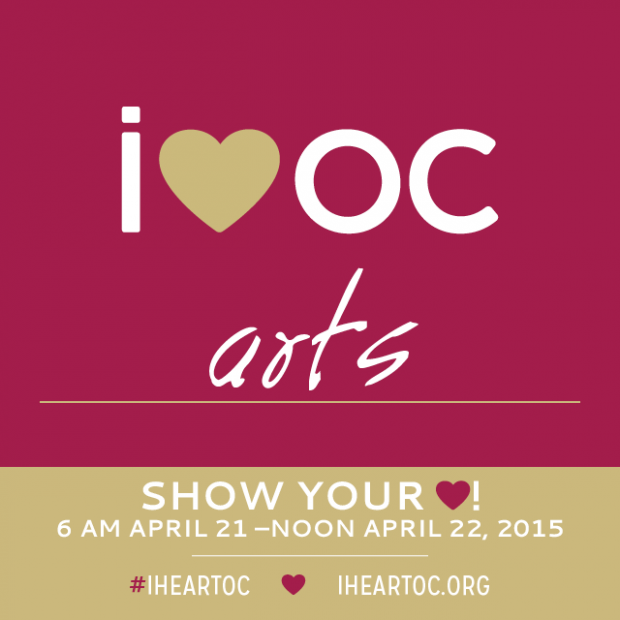 Why You Should Be Involved With i♥oc Giving Day!
1. Support local Orange County nonprofits. (there are 350 of them!)
2. Your donation stays local
3. You decide which cause your gift will benefit
4. You have the opportunity to pool donations with others from Orange County who share your passion for bettering our community
5. Your donation counts!  Even just $25 matters and will go a long way, so give what you can and feel good about the difference you are making!

 How To Get Involved With i♥oc Giving Day:
1. Donate!  The minimum donation is $25. Simply visit iheartoc.org and process your donation via a credit card. All donations are tax-deductible.
2. Spread Awareness! Tell your friends and family and be sure to share you *love* for OC by using the hashtag #iheartoc
This is a 30-hour giving event, so I encourage you to get involved now if you ♥ Orange County and would like to make a difference. For more information,visit iheartoc.org or in real-time on Twitter, Facebook, and Instagram.