From the moment the bright red box with the lively parrot and colorful ring-shaped cereal appeared in our home, my kids were begging me for a bowl…or even just a taste!  Cereal is a staple in our household, but traditionally my kids have only eaten varieties such as Rice Krispies.  I actually grew up eating Froot Loops as a child so I completely understood my children's excitement.
Since we love to craft, I took the challenge Kellogg's posed to come up with a busy bag craft inspired by the colorful, flavorful cereal. As I started brainstorming, I thought up so many ways we could use these.
Sorting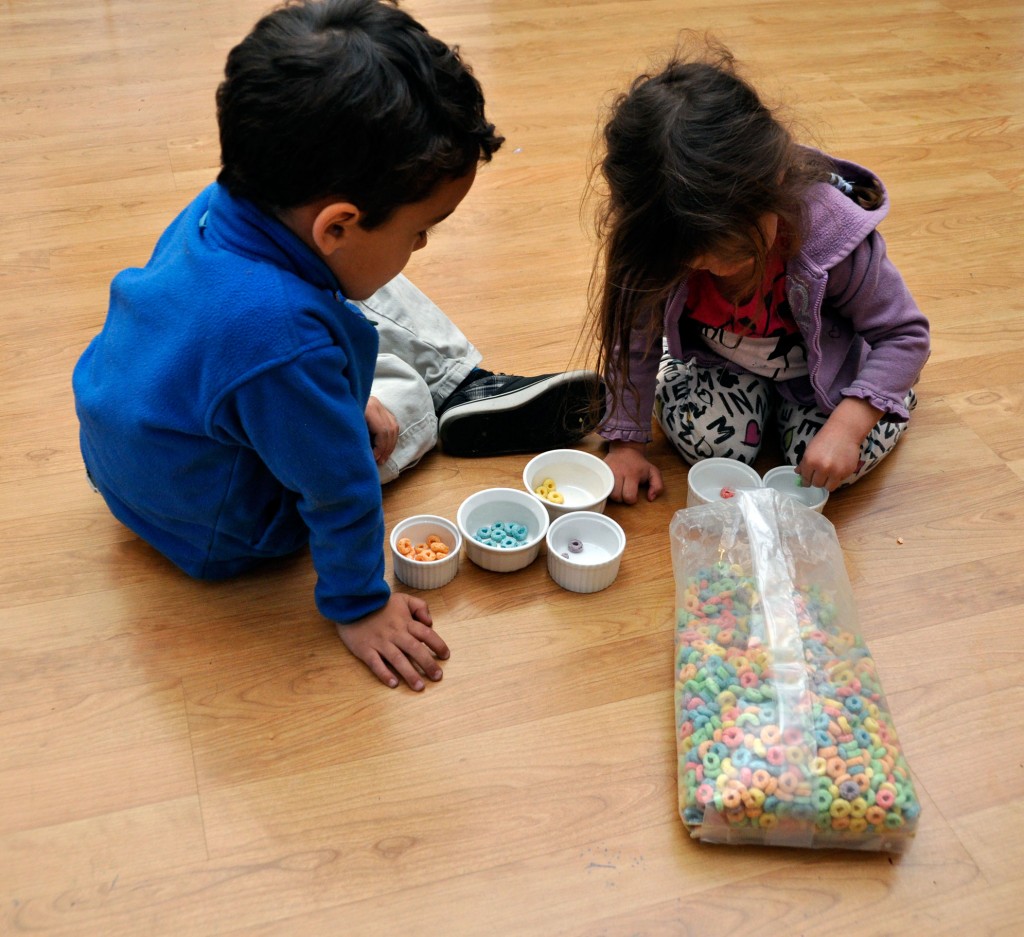 While my son is a pro when it comes to knowing his colors, my daughter is still just learning.  To prepare for the 3 crafts we were going to create that cold, wintery afternoon, I gathered some bowls and asked her to begin sorting the cereal by color.  During this time, I also talked to my children about the concept of more and less than and had them tell me which bowl needed more yellow or green or red.
Once we sorted the cereal, it was time to make our first craft.
Froot Loops Sand Art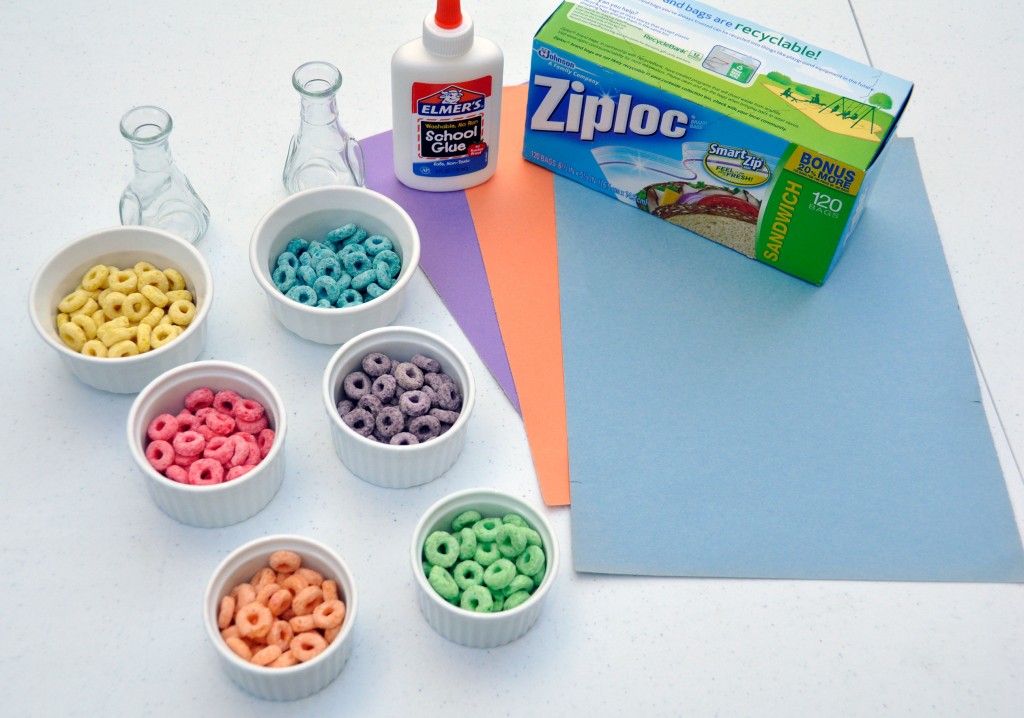 Supplies:
Froot Loops, sorted
Glass jars in a variety of shapes/sizes
Several Ziploc Bags
Funnel, if desired
1.  Crush the Froot Loops until finely ground.  Initially, my children enjoyed doing this with their hands. But they quickly tired so we ended up using our wooden pestle. I kept the cereal in the ziploc bags while crushing and as long as the pestle is smooth, the bag should remain intact.
2. Using a funnel, begin filling each jar with the desired color.  You could also cut a small hole at the corner of the Ziploc bag which is how we filled our jars.
3.  Alternate colors until the jar is completely filled.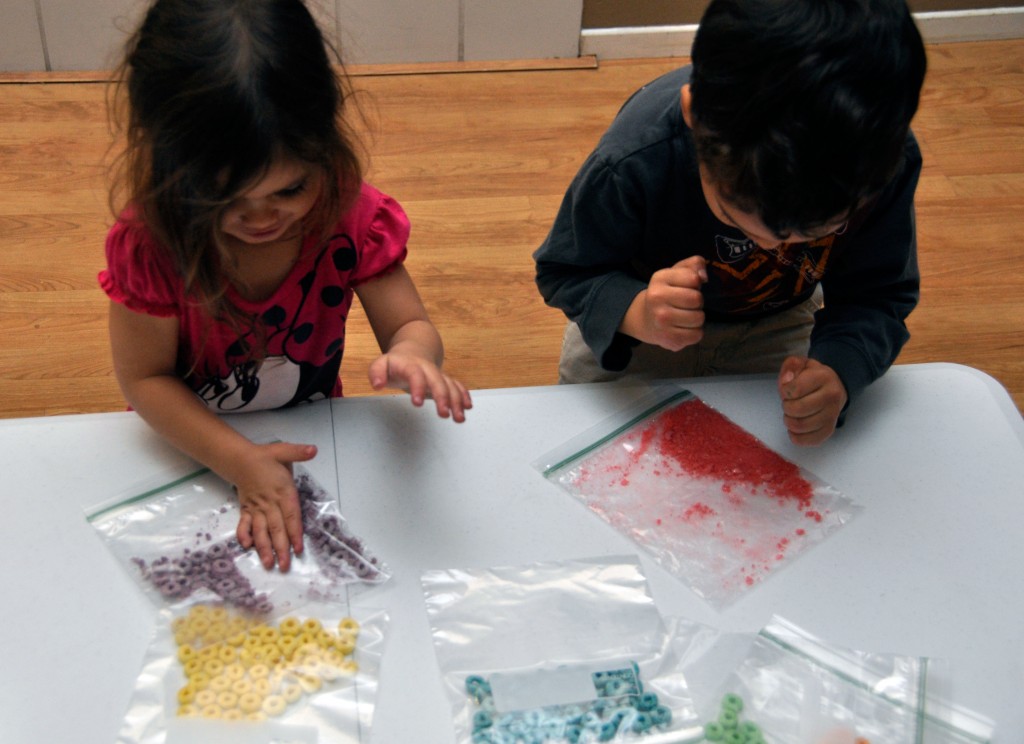 This was my childrens' favorite craft.  They loved crushing the cereal and were so fascinated by the colorful jars we created. This craft is idea for preschool and elementary school aged children.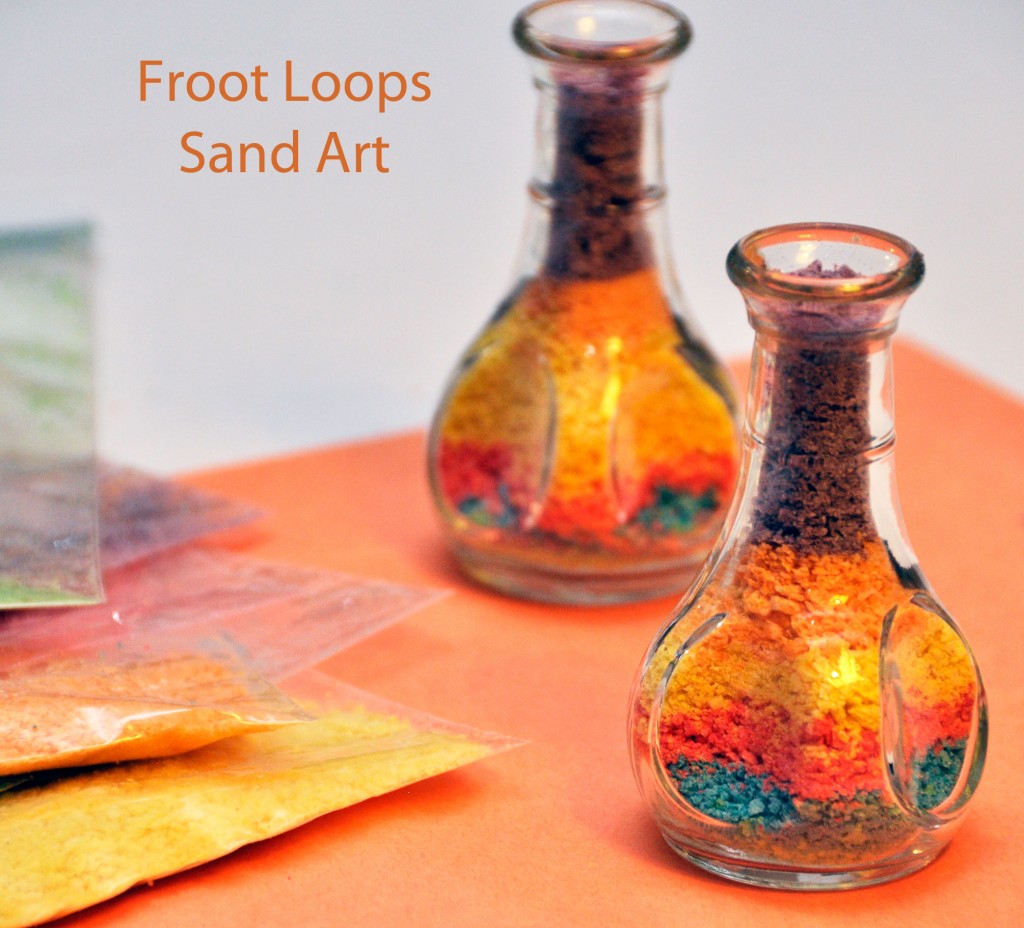 Froot Loops Picture Frame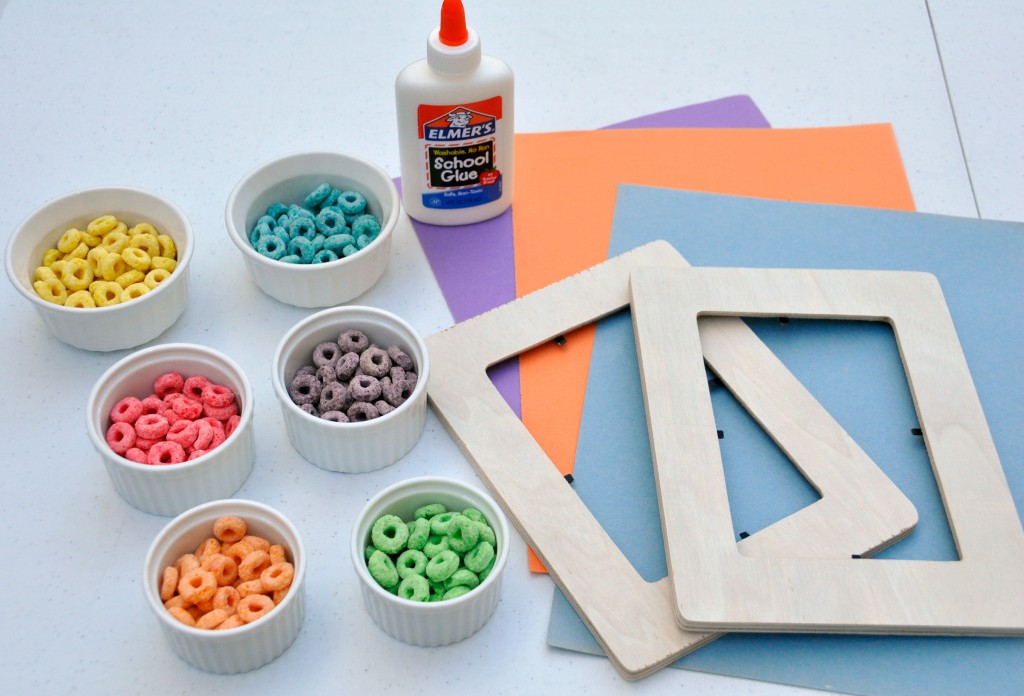 Supplies:
Froot Loops
Glue
Wooden Picture Frame
Traditionally, Froot Loops have been used to create an array of art projects, but everything I saw online involved paper.  I decided to change this up by having my children decorate picture frames I purchased at Walmart with the colorful cereal.  This was a very simple craft that even young children can enjoy
Froot Loops Jewelry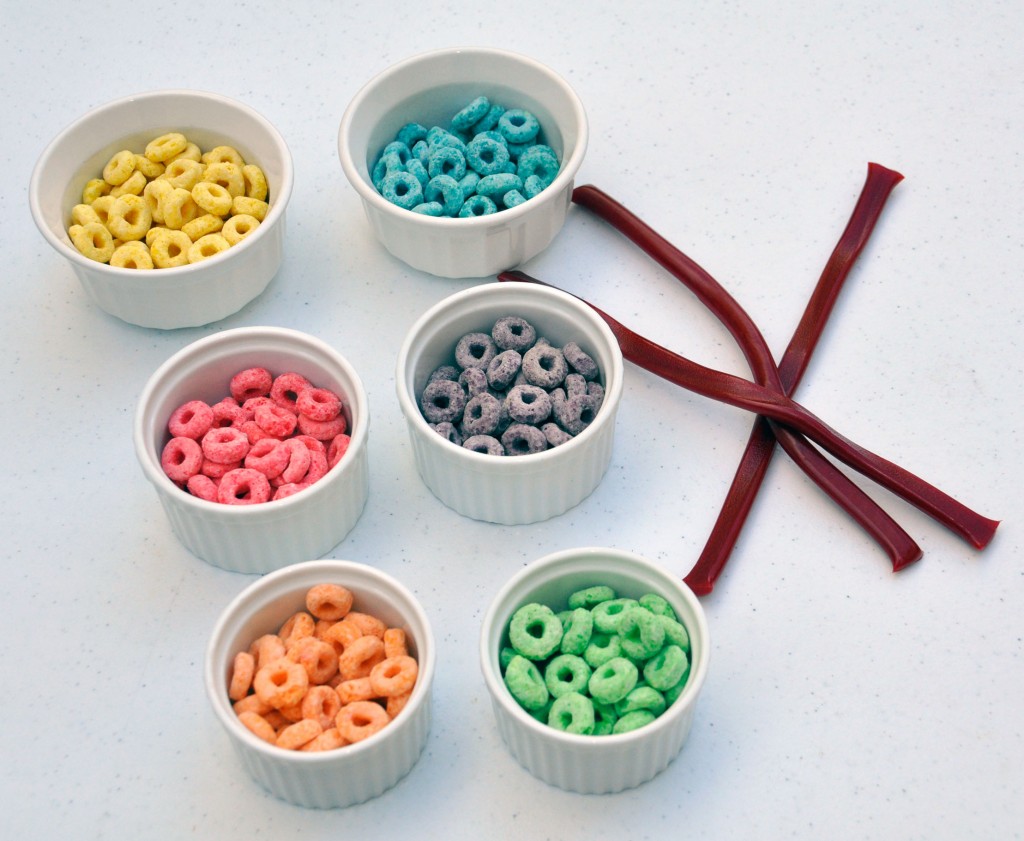 Supplies:
Froot Loops
Thin Red Licorice (You can use the Twizzlers Pull n' Peel variety)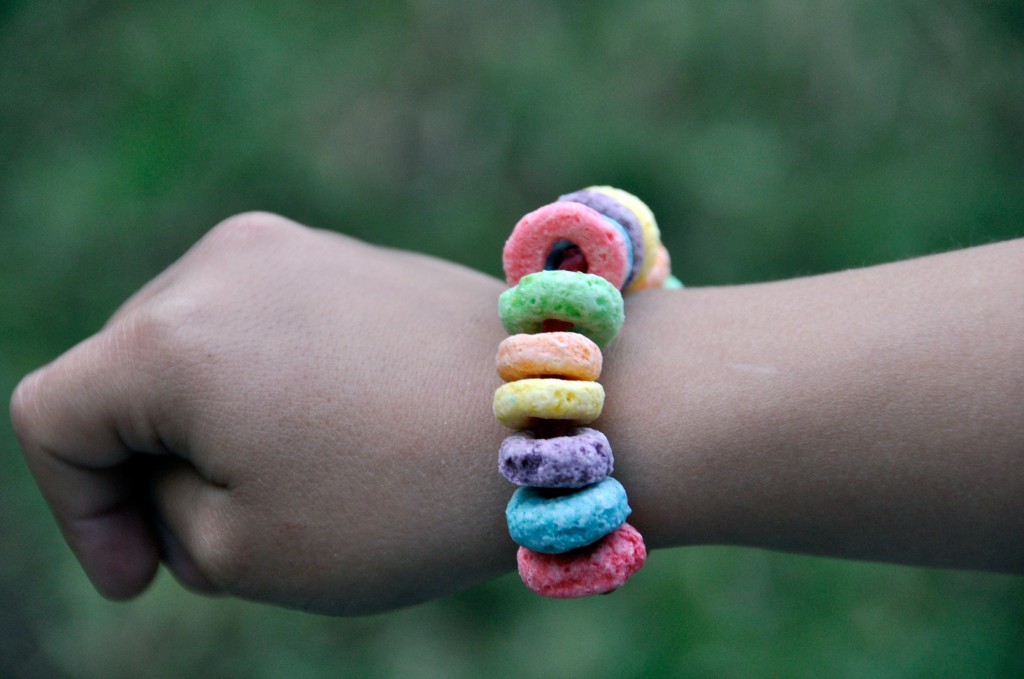 Simply have your child string the cereal in the colored pattern they desire.  To close the bracelet, I simply pinched the candy together since it is sticky.
My husband can attest to the fact that I'm not incredibly crafty, but as you can see, the above 3 activities were simple and didn't take too much time or require a lot of hard-to-find supplies.  My kids absolutely loved our afternoon of Froot Loop-inspired crafting and asked me what other ideas I could dream up.  So I headed over to their new Pinterest board which features a ton of ideas to get your creative juices flowing.  Additionally, you can download free educational printables like this Froot Loops Spelling Game which would be a wonderful tool to help my 5 year old learn to spell and read.
Be sure to check out the new Froot Loops Pinterest Page or Kellogg's Tumblr Site for more activities and inspiration.
Disclosure: This is part of a compensated campaign with Kellogg's.  All opinions remain my own.
Photos: Rockin' Mama unlesss otherwise noted.