Please remember to check back often as sponsors and giveaways are still being added to our Mother's Day Gift Guide!

Welcome to the first annual 2009 Mother's Day Gift Guide, brought to you by the fabulous Amanda from Mommy Mandy, Kristin from An Ordinary Life and Moi!  We have spent countless hours in search of the most sought after gifts for Moms!  Maybe you're like me, a mom in search of something special to "suggest" to your spouse/significant other.  Or maybe you're looking for that perfect gift for your own mother, grandmother, or mother-in-law.  What about your BFF who's ready to join the mothers of the world this May (Amy…the countdown is on!)?  I hope you'll sit down, take a minute to think about that special mother in your life, and look through our amazing selection of gift ideas.
The guide is broken down into sections based on the personality of that special mom you're shopping for.
The Sophisticated mom enjoys the finer things in life. Here is where you'll find a gorgeous array of handbags, jewelry, and home decor.
The Connected mom is always on the up and up with the latest.  Here is where you'll find our favorite tech gadgets.
The Eco mom does her part to provide a safe and healthy environment for her family. But that doesn't mean she has to be crunchy while doing it!  Eco Chic is where you'll find a selection of all-natural, organic, hand-made, sustainable products.
The Nostalgic mom finds joy in preserving memories through photographs and albums.  Here is where you'll find items that can be customized with pictures or items that will help you preserve those precious memories.
The Indulgent mom loves to be pampered.  Here is where you'll find romantic, luxurious items like flowers and chocolate.
And lastly, the Expectant mom, who has already endured her first badge of honor…pregnancy.  Here is where you'll find THE must-have gifts for that special mom-to-be.
Click on the Categories below to find that perfect gift this Mother's Day! Reviews will post throughout the next several weeks so please be sure to stop by and read what we had to say about each product.
Our FABULOUS sponsors have partnered with us to offer you a chance to win gifts from our Mother's Day Guide.  And…you'll have THREE chances to win (here, Mommy Mandy, and An Ordinary Life).  Take a look at the AMAZING list of items you will have a chance at winning this Mother's Day:

Elliott Lucca Pascale Foldover Clutch: Entries must be made on the post only on Rockin' Mama

(Monique)



An Eliiott Lucca Opal Solid Clutch only on An Ordinary Life
A PUR Water Filtration with Flavor Option

(Molly K)

A Mom & Baby Travel Pack from Spunky Sprout

(Jennifer gersch)

A bottle of Bio Oil

(April Jacques)



A Hana Professional iron from Misikko.com

(Kate)



Here is what you'll need to do to enter (it's going to differ a bit from my normal giveaways):
Take some time to visit each site featured in our gift guide. Make sure to visit all three blogs since each will have something unique.  Come back here and leave me a comment with your top three choices, should you win (except for the Elliot Lucca Giveaway, which must be entered on the post page).  Please remember to leave a way to contact you (comments not including contact information will be ineligible since I won't have a way to get in touch with you- BUT please don't put your email address in the comment- only in the email line… your privacy is just as important to me as it is to you!). Winners on my site will have 48 hours to claim their prizes.

Comments will close on April 27th, 2009 at 10 PM PST.  One comment per person, please (unless you do the extra credit). US residents only. Duplicates and comments not including the above information will be disqualified. Comments are moderated. If you don't see your comment in a reasonable amount of time, send me an email. Bloggers and non-bloggers may enter. If you don't want to leave your email address, please be sure to check back for my announcement on the winner. Please note that winners must respond within 48 hours of being announced/contacted or another winner will be drawn.
Want an extra entry? Do any or all of the following and submit an extra entry for each one.
Be sure to leave me a separate comment for each additional entry.
Add the Mother's Day Gift Guide Button to your site.
Visit Amanda and enter her giveaways.
Visit Kristin and enter her giveaways.
Follow me on Twitter AND tweet about the Mother's Day Gift Guide.
Subscribe to my feed via email or reader.
Blog about this giveaway. It doesn't have to be a separate post. Just include a blurb about it when you blog about other giveaways.
Place my button on your site. If you have difficulty, please let me know.
Click on one of the very cute buttons below and digg, stumble, fav, etc. Just let me know what you did in the comments!
Grab a button, spread the word, and come back to join us!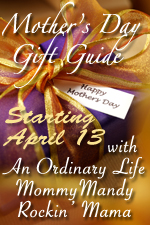 Latest posts by Caryn Bailey
(see all)