I remember hearing John Lasseter speak at a press conference several years back about the distinguishing features of Disney's films, and why they resonate so well with families. A compelling story, memorable characters, and a believable world converge to create an immersive experience for families. But what continues to bring families together around a film is the timelessness of those characters and their stories. Aladdin was the second of five live-action remakes produced by Disney this year.
Consideration provided by Disney.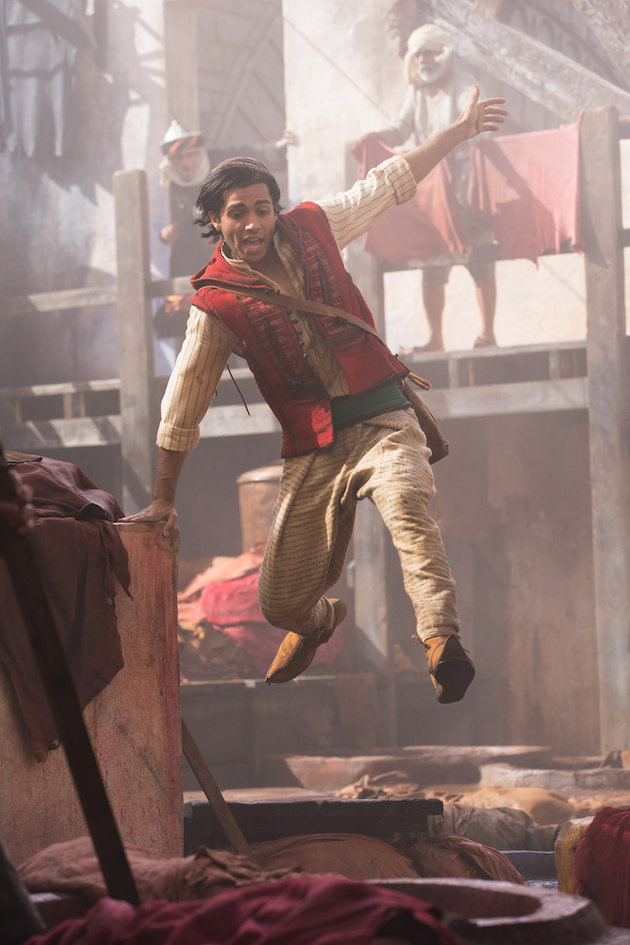 Disney's Aladdin
Embark on a magic carpet ride with the entire family when Disney's Aladdin debuts on 4K Ultra HD, Blu-ray, DVD, Digital, and Movies Anywhere. The live-action film stars Will Smith, Naomi Scott, and Mena Massoud, and families can enjoy an Aladdin-themed movie night with recipes, activities, printables, and all-new bonus features.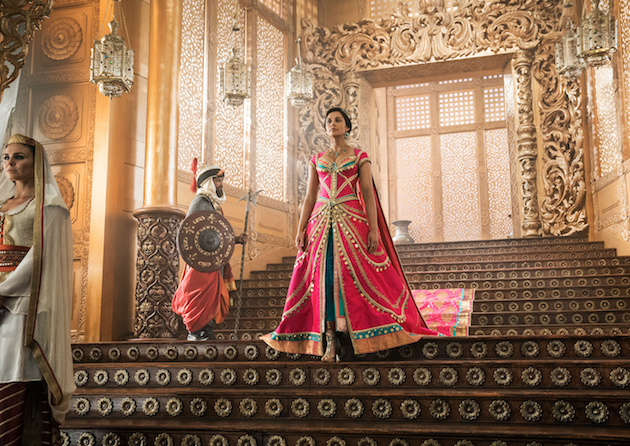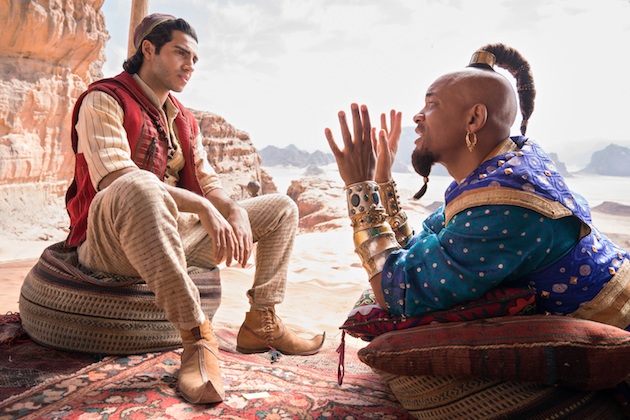 The home entertainment release of the live-action film coincides with the addition of the original animated classic film to the Walt Disney Signature Collection. You can own both movies, including the classic in 4K for the first time.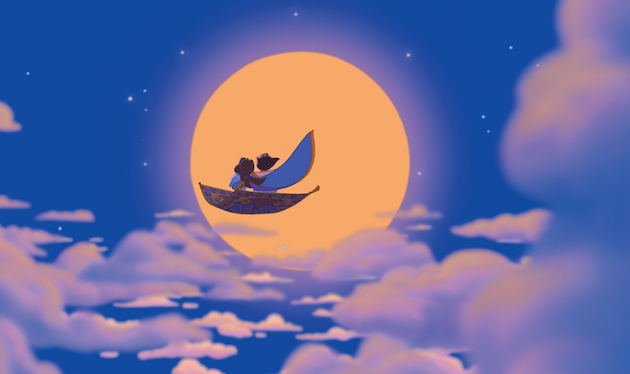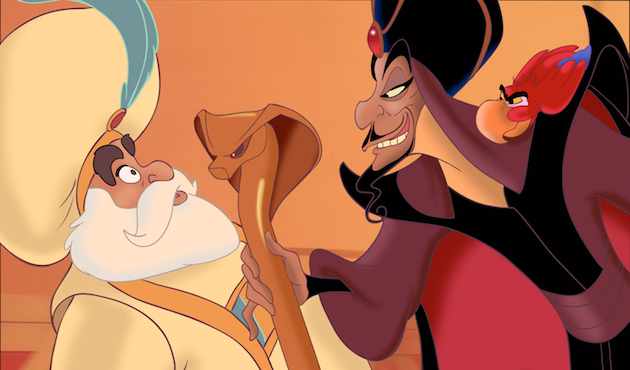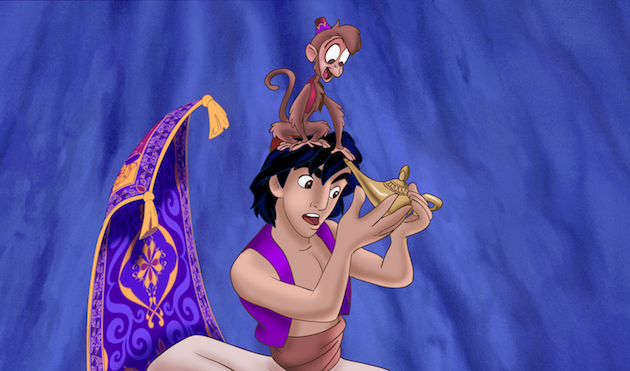 I was a teenager when Disney's Aladdin was released in theaters, and the film still continues to resonate with our family. At the time, I was far less traveled and the excitement and adventure of this magical tale with origins in the Arabian city of Agrabah drew me in.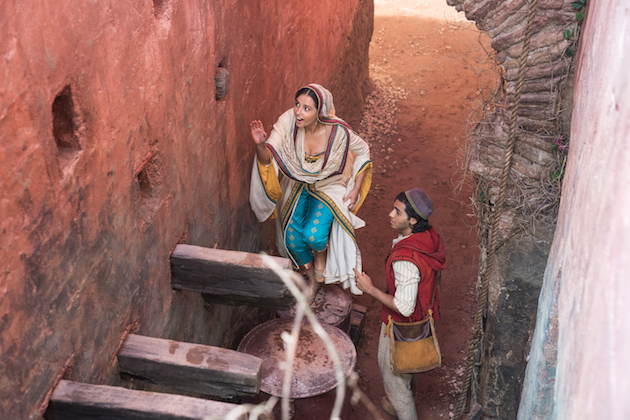 The classic story follows Aladdin and Princess Jasmine as they join forces with a 10,000 year old Genie to fight the evil sorcerer Jafar. The live action adaptation is thrilling, with vibrant cinematography and new recordings of the original songs written by Alan Menken and Oscar-winning lyricists Howard Ashman and Tim Rice. The film also includes two new songs written by Menken and lyrics by Oscar and Tony Award-winning songwriters Benj Pasek and Justin Paul.
Full Live-Action Review of Disney's Aladdin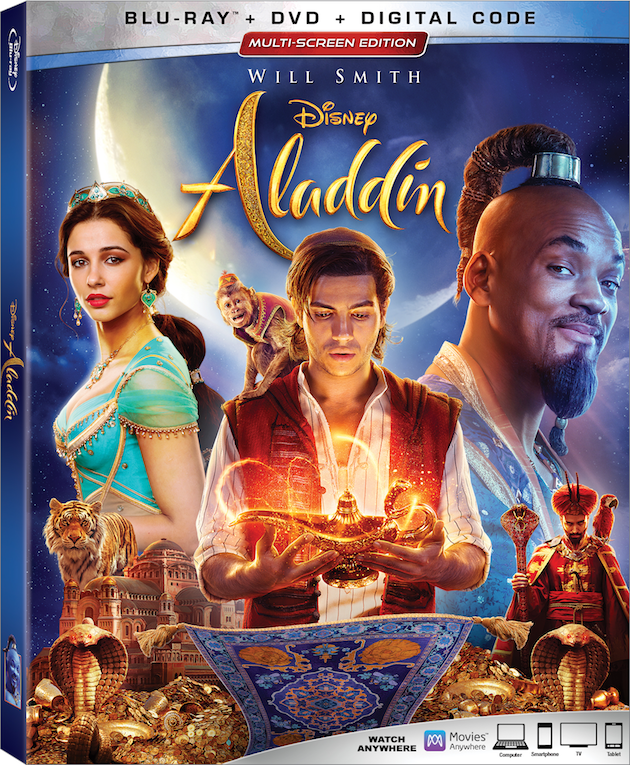 Live Action Bonus Features
Disney's Aladdin live-action bonus features explore the film's award-winning music, including a first look at the song "Desert Moon," which was deleted from the final film, character development, and the journey director Guy Ritchie traversed to reimagine the classic.
Digital Exclusive Bonus:
"Speechless": Creating a New Song For Jasmine: Follow the story of Jasmine's inspirational song "Speechless," written by Alan Menken, Benj Pasek, and Justin Paul specifically for this version of "Aladdin."
Blu-ray & Digital Bonus:
Aladdin's Video Journal: Watch behind-the-scenes moments captured by Mena Massoud (Aladdin) in this fun, fast-paced look at his personal journey.
Deleted Song "Desert Moon": Experience a moving duet performed by Jasmine and Aladdin, fully shot and edited, with an introduction by Alan Menken.
Guy Ritchie: A Cinematic Genie Discover why director Guy Ritchie was the perfect filmmaker to tackle this exhilarating reimagining of a beloved classic.
A Friend Like Genie: Discover how Will Smith brings talent, experience and his own personal magic to the iconic role of Genie.
Deleted Scenes:

Falling Petals Into OJ
Jafar's Magic Orrery
Anders' Gift
Wrong Wishes
Silly Old Fool
Post Yam Jam Debrief

Bloopers: Laugh along with the cast and crew in this lighthearted collection of outtakes from the set.
Music Videos:

"Speechless" – Music video performed by Naomi Scott
"A Whole New World" – Music video performed by ZAYN and Zhavia Ward
" A Whole New World" ("Un Mundo Ideal") – Music video performed by ZAYN and Becky G.
Animating a Classic – Disney's Aladdin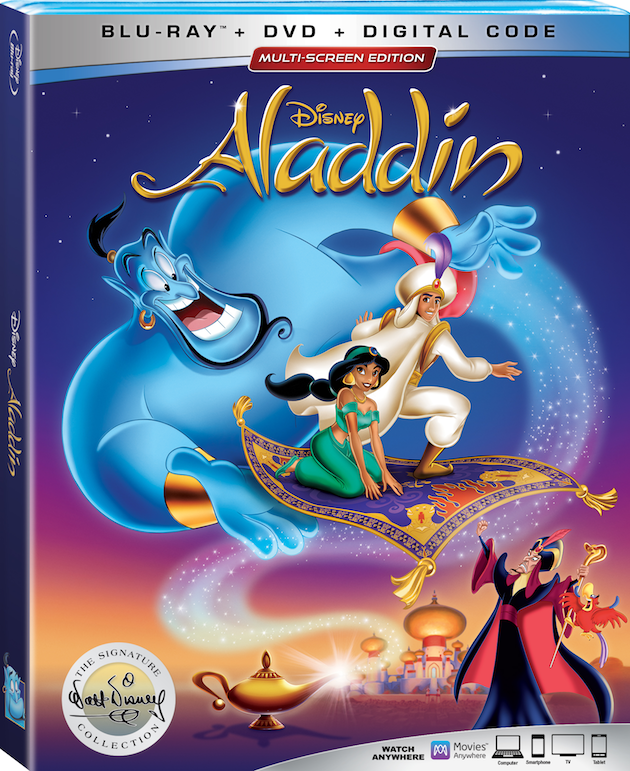 Animated Classic Bonus Features
The original, animated classic Aladdin, features the voice talents of the late Robin Williams, Scott Weigner, Linda Larkin and Gilbert Gottfried and music by Alan Menken. Available for the first time in 4K Ultra HD, the release will feature new bonus content, including alternate endings. This brand-new sing-along version includes original cast recordings and classic bonus material.
New Bonus Features
Sing Along With The Movie: Sing along to your favorite tunes as you watch the film with magical on-screen lyrics.
Scott Weinger on Aladdin: Join the speaking voice of Aladdin, Scott Weinger ("Fuller House"), as he reflects on almost 30 years of being Aladdin.
"Let's Not Be Too Hasty": The Voices of "Aladdin" – Take your seat in the recording booth and watch as the voice actors of "Aladdin" work their microphone magic.
Alternate Endings: Enter the realm of "what if" and see just how differently the movie could have ended.
Digital Exclusive
Drawing Genie: Join prolific animator Eric Goldberg as he draws and reminisces about the Genie.
Classic Bonus Features:Revisit over 40 exciting bonus features from previous releases including:
The Genie Outtakes
"Aladdin": Creating Broadway Magic
Unboxing "Aladdin"
Disney's Aladdin Printables, Recipes, Activities, and Coloring Sheets
In honor of the release of Aladdin on Blu-ray, DVD, Digital HD and Disney Movies Anywhere, here are my favorite Aladdin Printables and Coloring Pages!
Recipe: Aladdin Genie's Fig Jam Cookies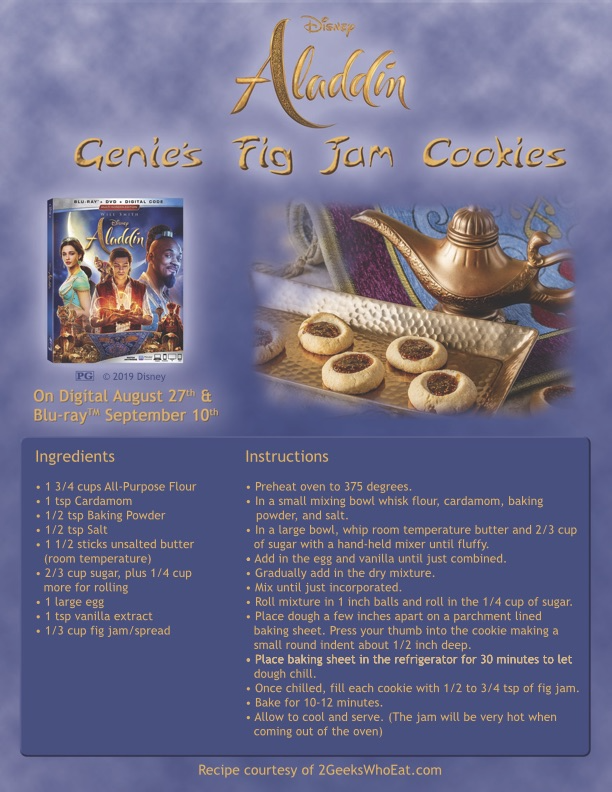 DIY Magnetic Flying Carpet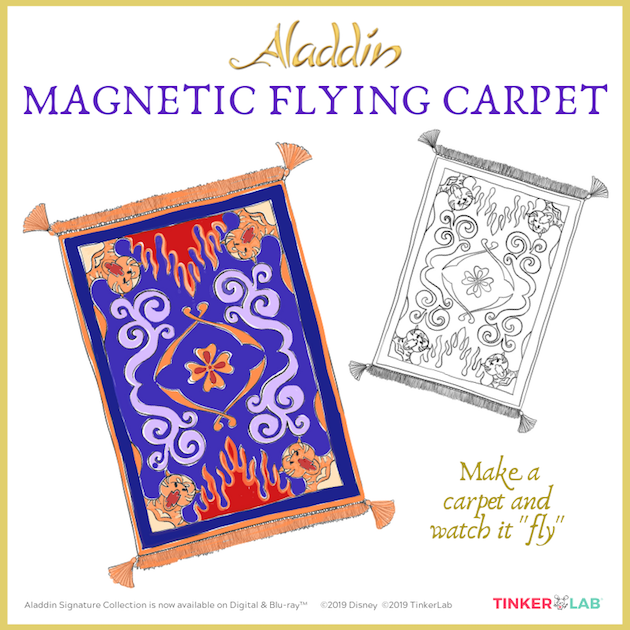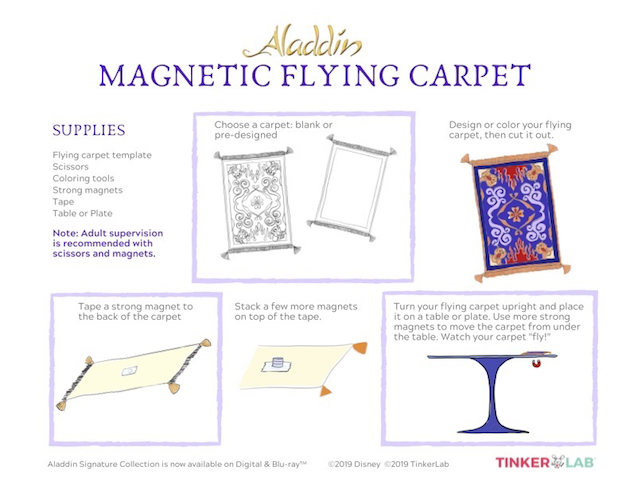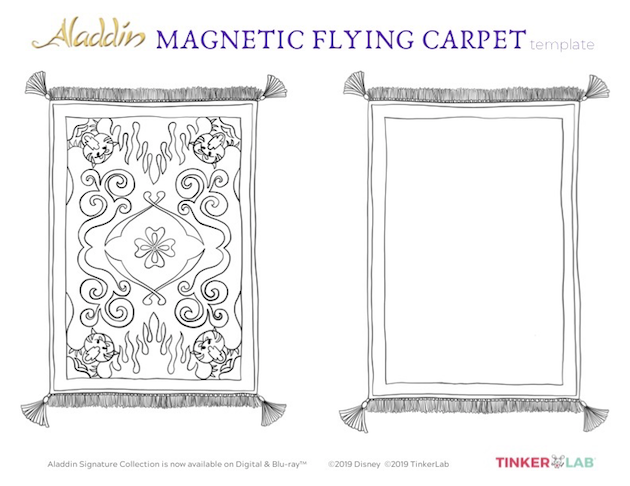 DIY Aladdin Rinestone Cuff Bracelets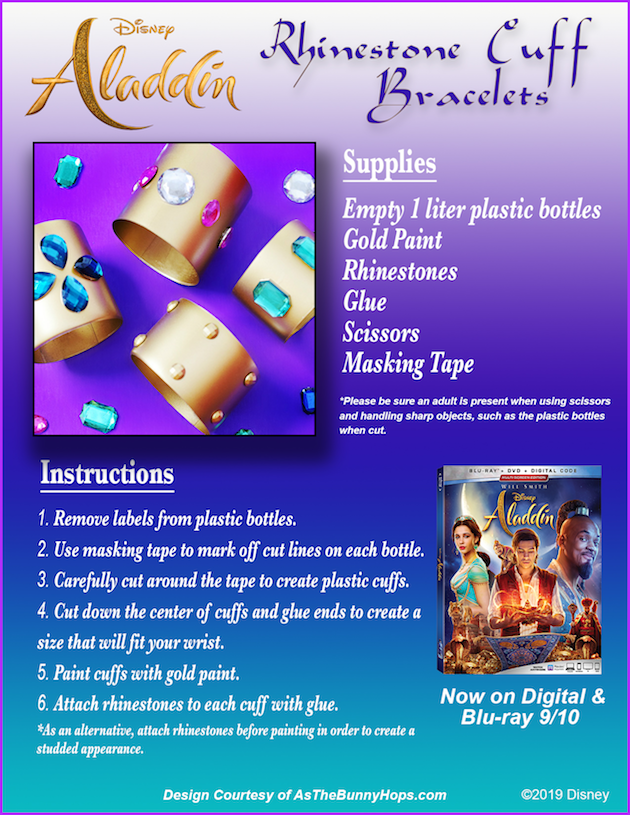 Draw Your Favorite Characters From Aladdin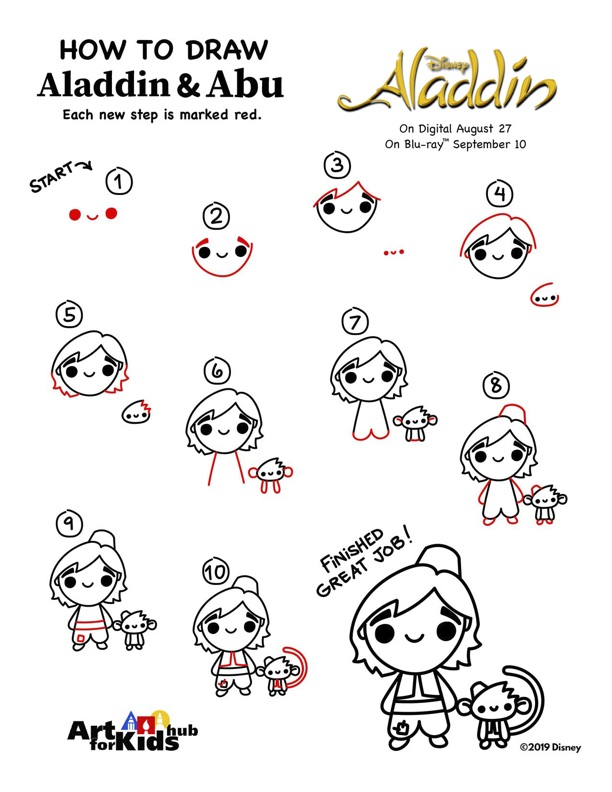 Aladdin Activity Sheets
Aladdin Bookmarks
Aladdin Coloring Pages
You can find even more Aladdin Printables by visiting Disney.com/Aladdin.