"Use it up, wear it out, make it do, or do without."
Proverb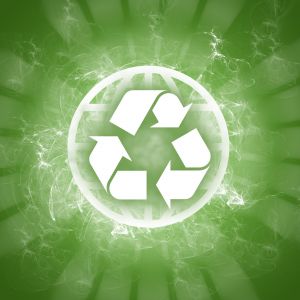 My husband and I live in a community that encourages and makes it relatively easy to recycle.  We have a "recycle" bin that gets taken out every week along with the trash bins.  All I really need to do is sort the trash into that which is and isn't recyclable (paper, plastic, cardboard).  I have to say that while it's not completely effortless, it gets quicker and easier over time.  We have learned what is and isn't recyclable simply by reading.
The one thing I should mention is that in my opinion, it's preferable to reuse before attempting to recycle.  I try to see if I can use something in another way before throwing it away (although I'm definitely not one who advocates clutter).  If I can't reuse it, I recycle it.
Here are a few tips on recycling to get you started (and please feel free to add in your own!):
1.  Set up a recycling area in your kitchen or utility room.
2. Place a recycle bin in your kitchen.
3.  Post a list of the items that are accepted for recycling in your community.
4.  Reuse or recycle as many of your empty health and beauty product containers as you can with your home recycling.  Many retails stores will take back your cosmetic tubes, bottles and jars (MAC and Origins are two of them).
5.  Research what to do with items you can't place in your recycle bin such as batteries, CFL bulbs, and plastic bags.  Your local solid waste management agency or Earth911 are great places to start your research.
6.  If you don't have a bin that will hold grass, weeds, etc., leave them on the lawn rather than bagging and throwing them away.  The grass will decompose and return nutrients to the soil.
7.  Recycle plastic packing peanuts by saving them for the next time you send a package.  Alternatively, take them to any UPS Store location.
I did not receive compensation for this post.  Many of the tips were provided by RecycleBank.
Latest posts by Caryn Bailey
(see all)