This giveaway is now closed.  Thanks for stopping by!  The winner is Jennifer.  Congrats!
I started teaching my son the alphabet around 18 months old.  I bought him an Elmo night night book which we read every night.  He's two and knows his entire alphabet.  Yes…I'm impressed too!  My favorite books and toys are those that incorporate learning, while still retaining fun and enjoyment for the child (so they don't know they're actually learning!).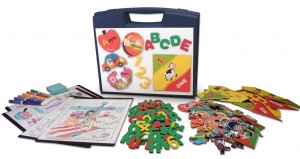 Recently, we pulled out the MagnaPlay Magnetic Activity Travel Set we received, courtesy of the company.  The recommended age is for children over the age of three (but you know how I don't pay strict attention to those rules!).  Actually, I could have pulled this out a little sooner.  It's a fantastic, educational toy/puzzle.  If you travel with children, then you know how difficult it is to keep them entertained.  We travel quite a bit because my husband's family lives in the Southeast.  Plane and car trips get quite boring for a two year old.  MagnaPlay offers parents a variety of travel toy sets to keep kids entertained and educated.  Here is a bit more about the company:
MagnaPlay strives to educate children and facilitate their creativity with its innovative educational activities.  From learning the alphabets and numbers to coloring, word games and puzzles, MagnaPlay offers fun activities for children of all ages.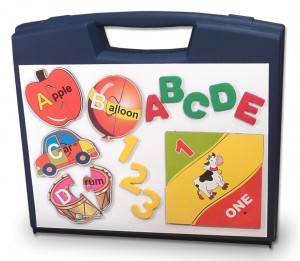 As soon as I opened this, I was immediately impressed with the quality of the toy. The Travel Set comes with a MagnaKase Magnetic Dry Erase Activity case, 2 magnet strips that secure coloring pages to the activity surface for coloring with crayons, color pencils or markers, and 1 wooden magnetic activity (my son received the Alphabet Picture Puzzle but there is also a Number Match Up Puzzle option).  Each of the "letters" of the alphabet spells a word and is broken up into 2 pieces.  Each word is a puzzle on a wooden surface in the shape of the object it represents (i.e. apple, fish, etc.).  My son was immediately attracted t it because he likes the alphabet, puzzles, and anything with bright colors.  He will spend a lot of time at the table "doing his puzzle," as he likes to call it.  The great thing about the set is that it's all magnetic so it can be tossed in the case and brought along on trips.  He can complete several of his "puzzles" right on the magnetic surface.  I'd like to get him the Number Match Up Puzzle to go along with it.  The puzzles come with a case so that the pieces aren't lost (thankfully!).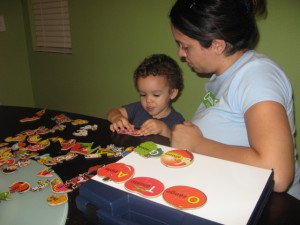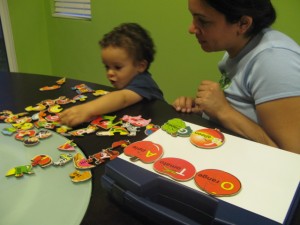 You can also use the MagnaKase for coloring activities.  The top of the case can be used as a dry erase activity board and you can secure coloring pages to the surface if your child wants to color with crayons or markers while traveling.  You can also convert this to a coloring travel set when you add one of MagnaPlay's Coloring Travel Toys.
Overall, I was highly impressed with this set. It's great for educating and entertaining children, it's priced reasonably, and made safely (considering it's magnetic!).  I definitely want to add to my son's set.
MagnaPlay offers a variety of activities on it's site to go along with the Travel Set.  Be sure to check out their Free Downloads page, filled with coloring pages and activities for parents and children on the go!
The MagnaPlay Magnetic Activity Travel Set retails for $34.00 (that's the sale price right now) and can be purchased directly from the site.
Win It! One of you will win a MagnaPlay Magnetic Activity Travel Set!  Simply leave me a comment with something ELSE you liked or learned on the site!  : )  Comments will close on October 13, 2009 at 10 PM PST. One comment per person, please (unless you do the extra credit). US residents only. Duplicates and comments not including the above information will be disqualified. Comments are moderated. If you don't see your comment in a reasonable amount of time, send me an email. Bloggers and non-bloggers may enter. If you don't want to leave your email address, please be sure to check back for my announcement on the winner. Please note that winners must respond within 48 hours of being announced/contacted or another winner will be drawn.
Want an extra entry? Do any or all of the following and receive an extra entry for each one.
Be sure to leave me a separate comment for each additional entry.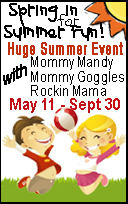 Add the "Spring In For Summer Fun" banner to your sidebar and leave me a comment (be sure to visit the main party post for more details on extra entries)
Follow me on Twitter AND tweet about the contest. Be sure to use the hashtag #SummerEvent
Enter Tanya and Amanda's giveaways (max 1 entry per site)
Subscribe to my feed via email or reader.
Blog about this giveaway. It doesn't have to be a separate post. Just include a blurb about it when you blog about other giveaways.
Click on one of the very cute buttons below and digg, stumble, fav, etc. Just let me know what you did in the comments!
Latest posts by Caryn Bailey
(see all)